With 63 dairy princesses in the books, South Dakota's next dairy royalty will be crowed March 26 during the Central Plains Dairy Expo.
The ceremony takes place during the welcome reception at the Denny Sanford Premier Center in Sioux Falls.
For perspective on the title and what it means for the young women who act as a dairy ambassador, the 39th dairy princess, Dr. Pandi Pittman, spoke with the Tri-State Neighbor.
She said her position as dairy princess enabled her to pursue her current path as the superintendent of the Wessington Springs School District in central South Dakota.
"(Dairy princess) benefited me because I was trained on delivering interviews and the messages I wanted to pass to the public," she said.
Pittman grew up in western South Dakota on a diversified dairy operation. Her family had goats, cattle, dairy cattle and crops. It was a busy operation, she said.
"Not only were we keeping up with dairy cows we were keeping up with the crops," she said.
Because of her background and her love for the family farm, she went to South Dakota State University for a degree in dairy production. But she eventually followed a different career path.
Pittman served as dairy princess in 1994. After running in 1993, Pittman tried again the following year and was awarded the title. Her year of traveling the state and meeting producers helped hone her ability to communicate and build relationships, Pittman said.
After seven years back on the family farm after college, Pittman used those connections and communication skills to pursue a different path – teaching. She began her career as an agriculture education teacher in Wall, South Dakota, and eventually moved on to being a science teacher. Later, she received her doctorate in school administration.
"Education wasn't a goal of mine at SDSU," she said. "If you told that kid that was a dairy princess that she'd be a superintendent, I thought you'd be off your rocker."
Her time has dairy princess was marked by town visits across the state. Each stop taking her farther from her comfort zone, Pittman said. But with her family background, she said she could effectively communicate and discuss dairy issues with the producers she met.
Char Hovland, knew right away that Pittman would succeed at the position. She works with the Midwest Dairy Association to put on the dairy princess program.
"I just knew when she was crowned that she'd be a self starter and knew what she was going do," Hovland said.
Hovland has worked with the dairy princess program for 33 years. Even after retiring in 2011, she continues to work as a consultant for the program. Her passion keeps her interested in it, she said.
Once Pittman was ready to move on from her family's operation, she sold her herd to a dairy farmer she met during her time as a princess.
Today, Pittman has been removed from dairy about as long as she was part of it on her own, but she said those skills she learned on the farm and as princess have carried with her. Her appreciation for agriculture allowed her to educate students who don't come from an ag background and teach them what makes the state of South Dakota tick.
"There's a lot of kids out there that don't have access to a farm and ranch that could really benefit (from additional education)," she said.
As the time has come to crown a new princess, Pittman said being removed from dairy for so long has unfortunately distanced herself from the program but she said she still can see the benefit.
"Always good to have an ambassador for things," she said. "I'm an ambassador for the school so I can see it there."
Hovland said those ambassador's are critical at a time when more and more dairies are shutting down under the harsh economic times.
"We need to keep the dairy industry alive and show all consumers the importance of dairy," Hovland said.
Each year, Hovland sees fewer princess candidates try out for the title, but she still sees the same passion in each of the young women that compete.
The 64th Dairy Princess will be crowned on March 26 at the Central Plains Dairy Expo in Sioux Falls. Morgan Kohl, the 63rd princess, will be on stage to hand over the sash to South Dakota dairy's newest ambassador.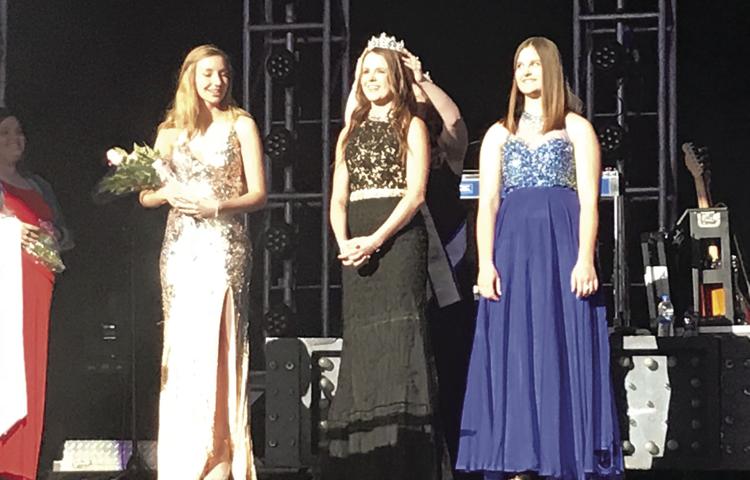 The program of the Midwest Dairy Association awards a $1,000 scholarship to the winner, and a $500 scholarship from the Central Plains Dairy Expo is awarded to the first runner-up. All candidates get a $250 scholarship.
Candidates are graduating high school seniors who have parents or guardians who are actively engaged in dairying. They are judged on their communication skills, personality, general knowledge of the dairy industry and enthusiasm for dairy promotion.