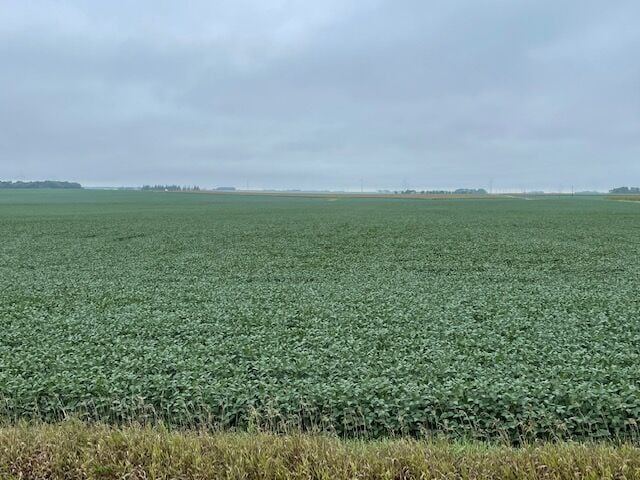 Since my last report, about 4.75 inches of rain fell with nothing other than a few branches down as the storm lines moved through. Most of that fell overnight Aug. 26-27 with 3.2 inches. As expected, nothing ran off.
How much the rain will help the 2021 crop is a good question that I don't have an answer to. The heat drove some soybean fields in the area rather quickly. Were they already about done due to early planting? Had those early fields set-up more yield early? Was there yield left to fill on any of the surrounding farms? On both soybeans and corn my answer is "I don't know." I'm guessing the rain helped put a finish on which would have been lost, as the crops were moving way too quickly.
This is the time of year when I start walking fields to evaluate my crops – looking, reviewing and thinking. I don't try to estimate yield. I know a lot of folks like to do that, but every time I try I am too far off. I start with a yield of "average" and spend a lot of time looking for variability or "differences" in corn. With soybeans, it's anyone's guess unless there's an underlining premature plant death issue killing yield potential.
When I was in the seed business, some agronomists I worked with were always talking variability, especially plant-to-plant. With the weather stress I know I am going to see more within the fields as well. One thing I watch for is weak shanks and soft stalks due to the moisture stress and plant cannibalization. One reason I use fungicides on corn is that I've seen the plants hold together better at harvest. Hopefully the treatments helped the plants hold out for the rain.
Years ago, in a moderately moisture-stressed year, I had a new hybrid from a small genetics sourcing (not breeding) company drop ears like crazy due to abscission layer ear release. You could walk across the field on ears. Just brushing them with my shoulders beautiful ears would drop – an unforgettable experience to behold. It wasn't due to corn borer either. I watch for that by feeling ear attachment and looking for a shrunken ear butt and small shank. I do a lot of stalk pushing and pinching trying to determine what percent of the plants and ears are "at risk." I wish you well in evaluating your crops.
Soybeans were mostly green when the rain came. However, since then, that ever so slight change in color has become evident. My earliest variety is a 2.1 maturity. We'll see how close to harvest they are in three weeks or so. Other fields will be gone before I will get started. Those fields were planted earlier than mine and moved faster early on, when the more bare soil warmed faster.
Corn silage harvest of tough fields looks completed but there's still more silage to be cut around me.
My new seed bean bins are completed other than some site leveling and grading. Electrical work is about done on both the new bins and updates on the corn side. I have a few things yet to do before the bins are finished and some work on the combine to do. With the drought, I expect no problem keeping all my crops at home. If I get full, it would be a pleasant surprise.
Hopefully you have had a chance to get away and see some country over Labor Day weekend. Traveling away from the farm has always helped me with my backyarditis. It makes me think about a different set of things even though agriculture seldom leaves my mind for long.
Tom Oswald farms in Cherokee County, Iowa. He is on the United Soybean Board, serving as chairman of the supply action team.