Hand County producers Tom and Renae Morog started planting corn May 16, but were only able to complete about 40 acres in three fields because everything was too wet.
Most farmers in the area were in the same boat, said Tom Morog, central South Dakota crop watcher.
"Everyone was trying to avoid getting stuck looking for dry spots," he said.
He estimated that most farmers had just a couple hundred acres or less of corn in the ground as of late May when corn planting should be wrapping up.
The St. Lawrence area where the Morogs farm received close to 6 inches of rain in the first few weeks of May. Between 1 and 3 inches came the weekend of May 18 and 19, and more was predicted for the days following.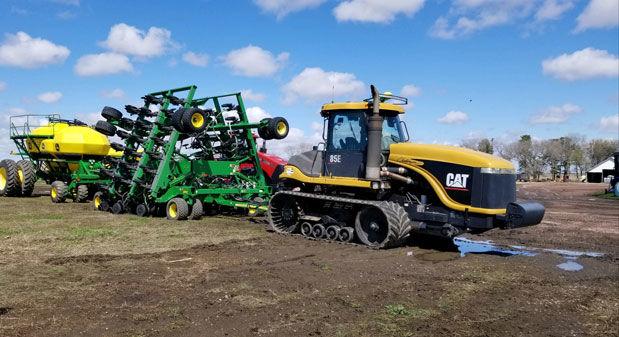 Morog expected the wet weather will keep fields soggy past the corn insurance deadline of May 25.
"There will be some corn planted into June if conditions permit, but a lot of acres will be switched to soybeans or other late-planted crops as soon as the fields dry out enough to get started again," he said.
While he waits to get into the field, Morog was delving deeper into his list of improvements for equipment, buildings and the yard. Some of the projects included installing additional truck fenders, tractor-mounted tow cables, windows and doors for out-buildings and rebuilding a sprayer trailer.
"The planting window is quickly closing, due to all the rain. It does not take much of a shower to make the soil surface too wet to drive on," he said. "We are hoping for sunny, warm and windy weather to help dry out the fields."