Southeastern South Dakota was a little short on rain in mid-June. Crop watcher Andy Lacey recorded about a half inch in the first two weeks of the month near his Trent, South Dakota farm.
He was busy preparing his irrigation system, greasing wheels and readjusting waterlines where the river bank had washed out, leaving pumps exposed.
With warm weather, weed growth has exploded. He noticed some broadleaf growth in his corn where he'll have to spray.
Hot temperatures also prompted Lacey to haul some corn. He'll be watching his two bins of soybeans for spoilage issues in the warm weather.
The Laceys were able to cut a grass hay mix and bale it before the half-inch rain. The cattle on pasture were looking good and healthy, he said.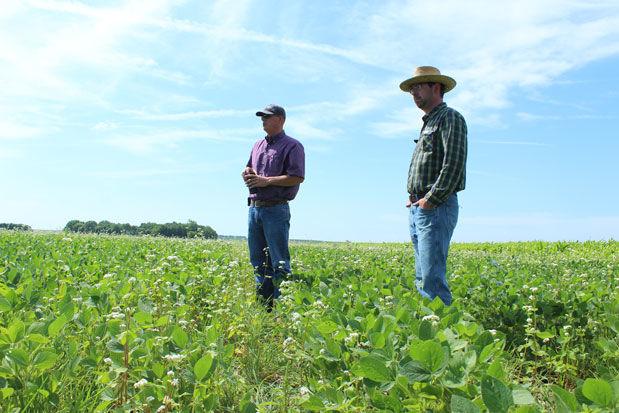 "Their coats shined up real nice," Lacey said.
A week after planting soybeans, Lacey put on a cover crop mix with buckwheat, rye and sunflowers. This year, he added lentils, flax and safflower to the mix. The small oilseeds are easier to separate when soybeans are harvested, and they can be used as an oil mix in feed.
In about two weeks, Lacey will be spraying barley as it reaches the flag leaf stage, hoping to keep insects from hurting it at pollination. This year, he's trying chitosan, a natural fungicide and pesticide.
"Instead of killing all the fungus, it deters pests and fungus and diseases from landing on plants," he said.
Andy Lacey farms in Moody County, S.D. He gave his report over the phone June 15.