After earning a degree in electrical engineering and working a few years in the industry, Kenny Weber returned to his home farm east of Bridgewater, South Dakota, where his expertise still comes in handy.
Weber farms with his brother-in-law Dave Even and runs a shop and consulting service called Innovative Ag in Canistota. The business specializes in building planters and other farm equipment, offering help with precision programs and field mapping, and doing custom application work. When it comes to designing tools or troubleshooting, his engineering degree is valuable, Weber said.
Weber will be the Tri-State Neighbor's crop watcher for southeastern South Dakota through this growing season. He and his brother-in-law farm about 2,200 acres, mostly in McCook County, running a corn and soybean rotation.
While he's usually in the field by April 20, it will be a late start to planting this year. In the last week of April fields were wet, and last fall's damp weather during harvest left some in bad shape. Combine ruts were filled with water after spring rains.
Last season brought a few challenges, too. It was wet, and Weber doesn't have much tiled ground to help with drainage, he said. Yields were down a little, but corn still came in at 185 bushels per acre for the farm average.
"It still hung in there," he said.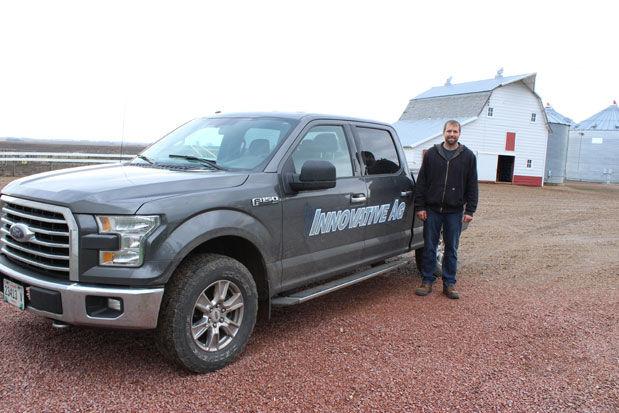 This year, Weber plans to experiment with planting narrower rows. He'll plant corn in 20-inch rows instead of the usual 30. His soybeans will be planted in 20-inch rows, too.
It follows more closely with what his brother-in-law does, planting soybeans in 15-inch rows. He hasn't seen a bump in yields, but it does cut down on weed pressure.
Weber, 34, earned his electrical engineering degree from South Dakota State University. After college, he worked a two and a half years in Cedar Rapids, Iowa. His young family decided to move closer to home, and he took a job at Raven in Sioux Falls and started helping his dad on the farm. As his dad moved into retirement, Weber took over. He also took over the precision planting business in Canistota and is now on his second year running Innovative Ag on his own.
Weber and his wife Lacey, a crop insurance specialist with Rivers Edge Bank in Bridgewater, have three boys: Jackson, 8, Levi 6, and Beckett, 3. When he's not on the farm or in the shop, Weber enjoys hunting and fishing.