When Anthony Bly was graduating from Garretson High School 35 years ago, he knew he couldn't be a farmer.
The financial picture wasn't good for any farmer in the mid-1980s, and the Bly farm near Garretson, South Dakota, wasn't big enough to provide another income. So the fourth-generation Bly made plans for a career off the farm.
That career, though, has led Bly to helping farmers across the state
He got a degree from South Dakota State University in agronomy and a masters in soil science. Bly spent just shy of 20 years working as a research associate for SDSU. When the soil testing service lab on campus closed down in 2011, Bly took the opportunity to help start a private venture in Sioux Falls. He was the lab manager for AgLab Express.
It was a lot of work but good experience to see a new business through the startup process. Ultimately, Bly missed the research aspect of his previous work, and he missed being in the field.
He remembers the summer of 2012 when widespread drought hit South Dakota. The lab was busy testing forage samples from producers wanting to know if their grass was safe to feed their livestock. He made quite a few calls warning products that nitrates were too high and educating them about potential poisoning, but he really wanted to be out there seeing how the drought was affecting things first-hand.
"The crops were falling apart and I was missing it," he said. "I wanted to get out and see what's going on. I like to move and see and experience things."
He missed research work, and that's when he realized working in a lab full time was not for him.
SDSU Extension had an opening for a soil field specialist. Now he works at the regional extension center in Sioux Falls, and he gets to be in the field again, working with producers and helping them find solutions.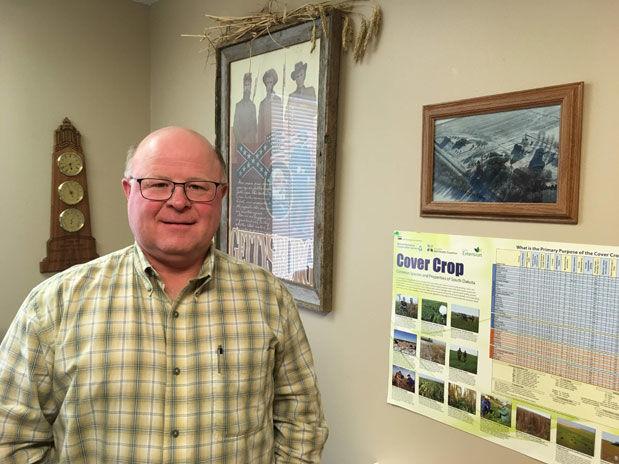 Bly hopes farmers keep building on soil health improvements by recognizing the importance of diversity in their fields. He hopes they realize that "Every Acre Counts" – the name of a new initiative he's helping to lead.
The collaboration between SDSU, the Natural Resources Conservation Service and the South Dakota Habitat Conservation Foundation launched late last year. It's focused on finding the best use for marginal agricultural land – those with erosion, flooding or saline problems.
Working with producers in four regions of the state, the project will look at the economics of farming these areas. The aim is to consider profitability acre by acre instead of field by field. In the end, the hope is farmers will be more profitable and the environment will benefit as well.
His early experience on his family farm influenced his outlook on farming practices. Because of their farm's location, on hilly ground south of Garretson, conservation farming started with his dad, Gerald.
To combat erosion, he reduced tillage, did contour farming and built terraces and waterways.
"That conservation ethic grew," Bly said.
His master's thesis was conservation-focused. By the time Bly took the soil specialist job with Extension in 2013, soil health was becoming a buzz word, and now efforts to improve soils have taken off across the country.
"My roots are now my job," Bly said.
Farmers today are making an effort to build organic matter in their soil. That's a shift from early in Bly's career when the percentage of organic matter was a largely ignored number on the soil test results.
"Now it's like the focus," he said. "We understand the importance of that."
His dad passed away in 2013, and Bly continues as the fourth generation to work the farm. He raises grain and is able to do so with his full time Extension job because conservation farming means field work is less time consuming.
"I do what I teach," Bly said.
Bly sees education as something that's fundamental, and he benefited from having several great mentors at SDSU that shaped the way he thinks.
Growing up, Bly was heavily involved in 4-H and FFA. He and his sister showed sheep.
"It was a big part of my life," he said.
During his senior year of high school in 1984, he was awarded the state's highest honor in FFA, the Star State Farmer Degree. He went on to win the highest national FFA award, being named a Star Farmer.
Now his kids are in 4-H, showing sheep and taking an interest in raising livestock. Bly and his wife Karla have two kids: Matthew, 12, and Katie, 10.