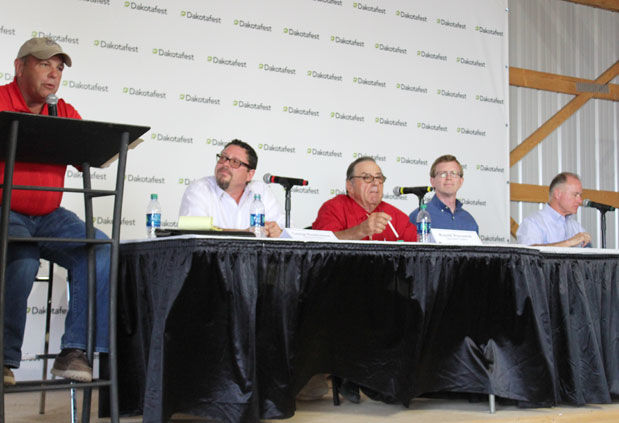 South Dakotans will have a new Congressman next year, and though they'll represent the state at a national level, candidates for the seat say local control is best.
Such was the consensus during a forum on agricultural matters - from the tariffs and trade to conservation and regulation issues - at Dakotafest Wednesday, Aug. 22. South Dakota Farm Bureau sponsored the afternoon forum, and American Farm Bureau Federation President Zippy Duvall moderated.
All four candidates from the South Dakota ticket participated in the 90-minute panel, answering prepared questions and taking a few from the audience. Libertarian George Hendrickson, independent Ron Wieczorek, Republican Dusty Johnson and Democrat Tim Bjorkman took the stage.
They all agreed that farmers face too many government regulations. Bjorkman, a former judge and lawyer, noted his experience with representing farmers fighting land use regulations.
"I know what Waters of the USA can do to family farms," he said.
Johnson noted that the Trump administration is working to roll back regulations. He pointed to a specific effort to give local control when it comes to protecting habitat for endangered species like the sage grouse. He also noted that during his time working in the governor's office in Pierre, he helped eliminate state regulations.
Wieczorek said small bankers and small businesses are overregulated. Many of his answers branched off to discuss the focus points of his campaign, including a national banking system and economic development mirroring China's New Silk Road program.
Hendrickson's response was the only time he mentioned legalizing a form a marijuana, known as cannabidiol. He has lobbied in Pierre to legalize the cannabis-based medicine that would help his son who suffers from a form of epilepsy. At Dakotafest, he referred to it only as CBD and said it takes someone with common sense to change regulations.
Major party candidates used the forum to call out their opponents. Bjorkman said the farm bill is one area where he differs from his Republican challenger. He's concerned the farm bill is creates loopholes that allow the biggest, wealthiest operators access to the majority of farm program payments, and it lets big chemical companies make more money. He said the farm bill should stand up for the environment and regular people.
"I stand with the farmer," he said.
Johnson said the House and Senate's versions of the farm bill have some strong components, highlighting the Soil Health and Income Protection Program (SHIPP) that allows for shorter term conservation easements and is more flexible with haying and grazing requirements.
"It's really a revenue protection program that I think it great news for South Dakota producers," he said.
The House's version of the bill repeals the Waters of the U.S. rule and puts money behind the wetland banking program created with the last farm bill.
Hendrickson agreed that Congress needs to work to close loopholes on corporate farms. He added that the bill needs to do more to bring the next generation into farming.
Duvall said by talking to farmers across the U.S., he's learned the shortage of labor is their No. 1 issue. Johnson and Bjorkman agreed that the current system for hiring immigrants is not working. The H-2A program covers only a small fraction of the workers needed in agriculture, Johnson said, and it needs reforming.
Temporary visas won't address the deep problems in this country, Bjorkman said, adding that many who are chronically unemployed need treatment for addiction and mental illness.
Asked why they are the best choice for farmers, Johnson said it's his hard work that will help him succeed in Washington. Wieczorek said he understands a collapsing economy from going through the 1980s and he wants to build infrastructure to put people back to work. Hendrickson said he will stay the course and fight for more liberty. Bjorkman said both parties are failing us and he is committed to standing up for ordinary Americans.
Janelle is editor of the Tri-State Neighbor, covering South Dakota, southwestern Minnesota, northwestern Iowa and northeastern Nebraska. Reach her at jatyeo@tristateneighbor.com or follow on Twitter @JLNeighbor.