The last few harvest seasons have been plagued by wet fall weather, making the dry start to this year's field work a welcome change. There's concern, though, that this fall's dry conditions could leave next year's crop hurting for moisture.
Between mid-September and the middle of October, much of the Great Plains saw half of the average precipitation of normal, or less. Much of the Nebraska Panhandle was in Extreme Drought, according to the U.S. Drought Monitor issued Oct. 13.
"It's really quite a change of pace from recent years," South Dakota State Climatologist Laura Edwards said.
She reported on recent conditions and the latest weather outlook for the North Central U.S. put on by the U.S. Department of Agriculture's (USDA) Midwest Climate Hub Oct. 15.
The upside is that dry weather has allowed harvest to progress at a rapid pace. Soybean harvest was nearing completion in South Dakota, Iowa and Nebraska by mid-October. It was the sixth fastest bean harvest for the nation, USDA meteorologist Brad Rippey said on the webinar. The quickest harvest was in 2010.
But drought conditions were a concern. Rippey noted that drought covers the biggest part of the lower 48 states since recovering from the 2012 drought. More than half of the country reported shortages of topsoil moisture — the top six inches of soil.
Reviewing the National Weather Service drought outlook for the next three months, Edwards noted that drought is expected to persist through much of the western states. The same goes for Nebraska and parts of South Dakota and northwestern Iowa. Drought is likely to develop through much of Kansas.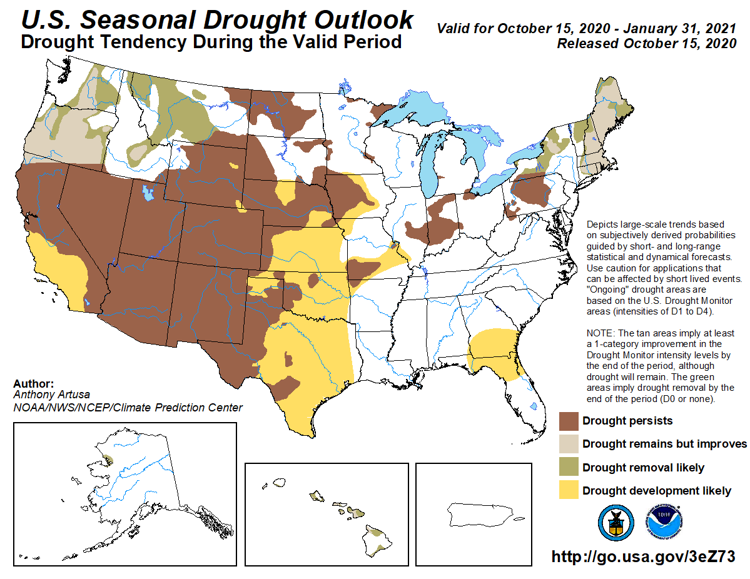 "We are beginning to be concerned about recharging that soil profile," said Dennis Todey, director of the USDA Midwest Climate Hub, joining the webinar from Ames, Iowa.
It's ideal that the soil profile would recharge by fall, he said, because once it freezes it's harder to get water down into the soil profile. There's good chances of a La Niña weather pattern developing, and that won't help matters in central and more southern areas.
"So far, we have not had a soil moisture bank," Todey said.
Coming weeks could bring some moisture. While heavy rain is expected to fall from Missouri to Michigan over the next few days, the Dakotas will be relatively quiet precipitation-wise, Edwards said. The end of October could bring cooler than average temperatures and weather slightly wetter than average, according to the outlook released Oct. 15.
November could warm up again. The outlook calls for warmer than average temperatures through much of the lower 48 states, but northern South Dakota, Montana, North Dakota and northern Minnesota could be cool. The precipitation chances are expected to stay low for Nebraska and Kansas next month.
Over the next three months, Nebraska and Kansas could see slightly higher than average temperatures. There's a slightly above average chance of a wetter pattern entering the northern half of South Dakota, but it's expected to remain drier in the south, in southern Nebraska and into Kansas.
Stating in December and into February is when the Plains will start to see a stronger impact from La Niña, Edwards said. That could bring below average temperatures in the northern states, including North Dakota, South Dakota and Montana. La Niña could bring wetter winter conditions to the northern half of South Dakota, Minnesota, North Dakota and Montana. Nebraska and Kansas have equal chances of being wetter, dryer or about average, and western Kansas could see below average precipitation.