A climate report released late last month brought a dire message for farmers – as the climate changes and temperatures warm, growing crops and raising livestock will get more difficult.
Farmers are optimistic, however, that continuing to innovate with precision practices and seeds tailored to ward off pests and drought will keep them going for generations to come.
"I think human ingenuity will find a way," said Jamie Beyer, a western Minnesota farmer.
Weather made for a challenging season in the tri-state area. Snow storms came late in the spring and kept planters out of the field. Rain fell in June when it was time to spray for weeds. Some areas saw record rainfall and floods. Then fall brought more wet weather, making it the latest harvest ever for some farmers.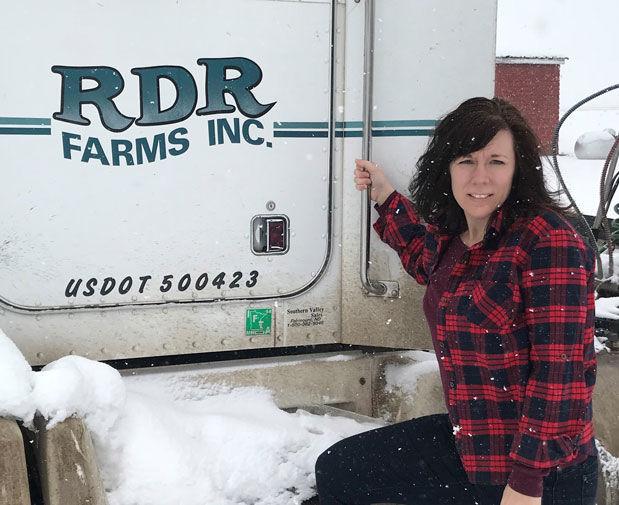 Despite the chaos around it, the Beyer farm had a near perfect year.
"It never works out like it did this year," said Beyer, who is in her second year serving as vice president of the Minnesota Soybean Growers Association board.
In the Red River Valley where she farms with her husband Rodd and his mother Darlene, past seasons have had them dealing with drought and flooding in the same year, she said. Their farm ground stretches from their home base of Wheaton, Minnesota, into Roberts County, South Dakota, and they grow everything from corn and soybeans to sugar beets and grapes.
They're used to dealing with extremes, Beyer said, and the key is to plan ahead. When it's looking like it will be a wet harvest, for example, it's important to have tools on hand to help you through it. That means being prepared to roll when field conditions are right and filling the propane tank for running the grain dryer.
According to the National Climate Assessment, a report by 13 government agencies assessing the impacts of climate change, our economy is in for serious damage 80 years down the road if we continue to emit greenhouse gasses like we do today. The Midwest will see warmer winters, warmer nights and more rain. The agriculture industry and rural communities closely tied to it will suffer, the report says, as crop failure becomes more common, livestock suffer heat stress and pests become more difficult to fight.
In Beyer's experience, farmers are already responding to climate change, and they deserve some credit.
"So many of the improvements we've made over the last 30 years are really mitigating those effects," she said.
On her farm, she puts the latest in precision technology to work creating soil maps and applying fertilizer at a variable rate to hit the areas that need it most and save on fertilizer costs elsewhere. She's also invested in drain tile to help deal with excess water. She's seen it save crops that would have been drowned out, she said. It also reduces erosion and keeps soil in place.
Upgrading to wider equipment is another way the Beyers save money on fuel and reduce their carbon footprint. Bigger planters and wider sprayer booms mean fewer trips up and down the field. Planting genetically modified sugar beets and Bt-corn designed to ward off the corn borer reduces trips to apply herbicides and pesticides.
Beyer and her husband do things differently than his family generations before him. They've reduced tillage and started growing cover crops like rye that over winters to the benefit of soil health after cash crops have been harvested.
"I'm not sure what my husband's grandpa would have thought if he saw a green field growing in November," Beyer said.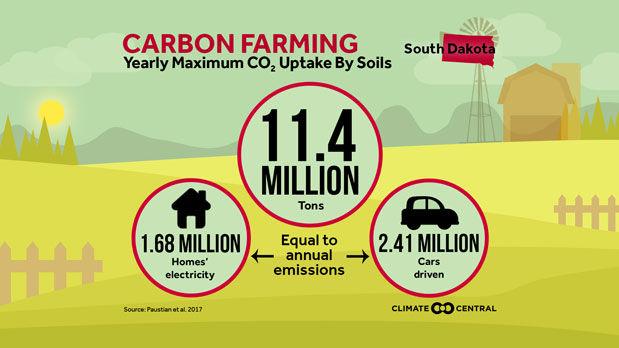 About 90 miles west of Beyer's home, John Horter raises crops and livestock in Andover, South Dakota, and serves as president of the South Dakota Soybean Growers Association board. He's also confident that farmers will adapt to a changing climate the way they have in the past. After dust storms of the 1930s, for example, farmers planted trees and put conservation practices to work.
"It was tough, but we found ways to get past it," Horter said. "We adapted."
Corn and soybean varieties are adapting as well, and Horter saw the benefits on his farm this year.
He had started to lose hope for a good corn crop when summer weather turned dry. Just three-tenths of an inch of rain fell in all of July and August, and it left his corn looking dry and mature well ahead of harvest. Seed technology came through for him, though. He had his best yields ever.
Without technological advances, extreme temperatures could reduce yields to what they were in the 1980s, the climate assessment said. Corn in South Dakota at that time yielded between 53 and 84 bushels per acre – about half of what we see today. A statewide average of 161 bushels per acre set records in 2016.
In future years, the southern half of the Midwest could be too hot for growing corn, the report said. The corn growing region has already shifted. The corn belt stretches further into western South Dakota, and it's being grown further north, into Canada.
Other climate trends are affecting farmers today. Wet fall weather like the tri-state area saw this year has become common, and increased rainfall in South Dakota and Minnesota have brought about more crop diseases, said Dennis Todey.
"That's a real problem," he said.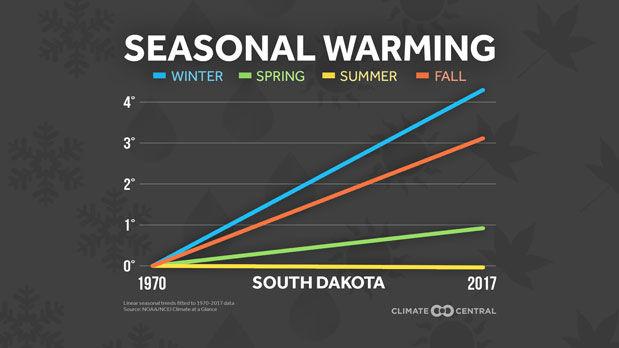 Formerly South Dakota's state climatologist, Todey has served the last two and a half years as director of the Midwest Climate Hub, part of the U.S. Department of Agriculture, in Ames, Iowa. He helped author a chapter in the latest climate assessment.
While the report predicts trends toward hotter temperatures and bigger rain events, Todey said it's difficult to tie specific weather events to climate change. He wrote a paper following 2013's October snowstorm known as the Atlas Blizzard, which killed herds of cattle in western South Dakota. He concluded it couldn't be attributed to climate change.
It is certain that any changing weather patterns are a major disrupter for the agriculture industry. Bigger rains mean more soil erosion and nutrient loss, Todey pointed out. Especially those downpours that come in the spring have the tendency to wash away the nitrogen a crop needs to grow.
Warmer winters are expected to be hard on crops in a way, too. More insect pests will be able to survive the coldest season. Already, new pests and crop diseases are moving northward as temperatures warm, the report said.
Bean leaf beetles and grasshoppers are two pests most likely to be affected. Bean leaf beetles are influenced most by air temperatures and ground cover, said Adam Varenhorst, entomologist for South Dakota State University Extension. Grasshoppers are influenced more by the first hard frost, he said in an email.
"Most insects overwinter as pupae or eggs and are really cold hardy," he said.
New plants and insects in our back yards are one of many signs that climate change is already affecting us, said Dr. Katharine Hayhoe.
"It's no longer a future issue," said Hayhoe, who is director of the Climate Science Center at Texas Tech University and is one of lead authors of the climate assessment.
She spoke during a webinar put on by Climate Central, a nonprofit science news organization. Her outlook was grim. Though we are making progress with lowering emissions and conservation, it's not fast enough to stop climate change, she said.
The agriculture industry can do its share by using regenerative practices, she said, and storing carbon in the soil where it's both good for the environment and good for agriculture.
On a positive note, agriculture has the ability to adapt to changing conditions, Todey added, and managing soil is a big part of that.
"If you manage your soils well they can respond to a large number of things," he said. "Soils have a resiliency to this whole thing."
Raising livestock will be another challenge as temperatures warm. Hot nights and humidity will be stressful for cattle, Todey said. Heat stress slows the rate at which they gain weight and can kill cattle at the extremes.
Horter, the Andover farmer, says there are ways to cope as temperatures get hotter. When summers are warm for his cattle, he provides them with extra water and shade. He rotates pastures and grazes cover crops to save on grass when it's dry.
Farming takes more intensive management than it did in the past, he pointed out. It's one way things have changed from the way his parents farmed. Now, the family hires an agronomist to keep a closer eye on pests and weeds. They study yield maps and soil samples and program their variable rate seeder accordingly to give their crops the best chance at a good growing season.
"There's more data at our fingertips," Horter said.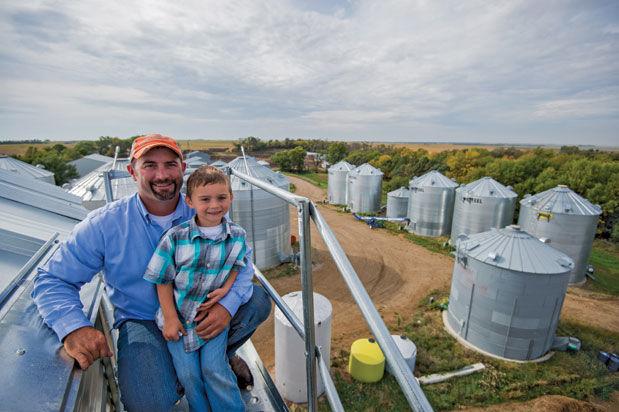 Practices will likely change again before Horter's kids are ready to farm. He has a son Dane, 8, who is known for giving crop reports from the Horter farm to adoring Facebook followers, and a 3-year-old daughter Raegan.
Horter said he's not worried that the changing climate will keep his kids from farming, but there are other stressors. Financial strain is one, with the amount of debt farmers carry and low crop prices making it difficult to come out ahead. Another is finding markets for crops that yield more each year.
"Right now, I'm more concerned about the financial situation than climate change," he said.
A changing climate

Here's a sample of what climate assessment predicts for the Midwest and Northern Plains:

Warm nights and high humidity: Daily minimum temperatures have increased in all seasons due to increasing humidity. Warmer nights during the growing-season lead to reduced grain weight in corn because of respiration overnight.

Heavy rains: The Northern Great Plains will see more heavy rain events with rainfall totaling more than 1 inch a day. Winter and spring precipitation could increase 10 to 30 percent by the end of the century, but the report predicts less snow.
A small percent of the precipitation that falls over the Northern Plains makes it to the Missouri River, the report says, so small changes in precipitation make for large changes in runoff.
Fewer hail storms are expected, but larger hail will be more common, causing more damage from the hail storms that do develop.

Impacts on crop yields: By mid-century, corn yields could decline 5 to 25 percent, but it's possible soybeans could produce better yields in the northern half of the Midwest.

Source: Fourth National Climate Assessment