Bison are making their way back to Rosebud this fall on the 27,680-acre Wolakota Buffalo Reserve.
In mid-October 50 head arrived at Rosebud from Badlands National Park and 50 more came from Theodore Roosevelt National Park in North Dakota.
The bison represent a return to the roots of the traditional Lakota way of life. By grazing, the herd of up to 1,500 will help restore the prairie ecosystem of south central South Dakota. The buffalo also provide opportunities for learning about everything from herd management to meat processing to cooking and tanning.
"They're going to be returning a keystone species that's been absent from our land," said Matte Wilson, director of the Sicangu Community Development Corporation (CDC) Food Sovereignty Initiative.
It's the prospect of making buffalo a part of the diet that's exciting for Wilson.
Through a grant, the Sicangu CDC will harvest two bison a year for the next six years and provide meat for the Lakota immersion school.
The buffalo reserve and a new meat processing center are part of a larger effort to change the way future generations think about food. The Sicangu Food Sovereignty Initiative has grown in recent years to include a community garden, farmers market and classes on traditional Lakota foods.
The 7Gen Food System project makes nutritious food the center of a stronger, healthier community for future generations.
The project was named one of 10 finalists for the Rockefeller Foundation Food Systems Vision Prize this summer. Finalists around the world were selected based on their potential to transform a specific food system in real ways by 2050. There are projects focusing on sustainable food for tribes in India and Canada, as well as feeding urban populations in Beijing and Kenya. The only other project in the U.S. is centered on the farm-to-table movement in Hudson Valley, New York.
All 10 projects are now in the accelerator phase where they get $150,000 and support from the Rockefeller Foundation through mentorship and planning. Top projects will be announced Dec. 14.
For some living on the Rosebud Indian Reservation, it's 40 miles round trip to the nearest grocery store. A lack of access to affordable, health food translates to high rates of diet related disease such as diabetes and heart disease. The 7Gen Food System envisions food as medicine, the way past generations viewed it. The goal is to create a system of agriculture where food is raised in a way that regenerates the land, creates jobs and provides nutritious sustenance to the community and its members.
"We started out with food because food is one of the biggest things in terms of being sovereign," Wilson said.
That was always an important goal of the native community, he said, but it became even more so with changes to the food distribution system during the COVID-19 pandemic.
"I think people are really in support of the local food movement," he said. "It's been hard to keep up with demand."
The farmers market in Mission is the third largest in South Dakota after those in Sioux Falls and Rapid City. This summer, it was common to sell out of eggs. Honey was popular, too, as were tomatoes and cucumbers. The farmers market features Honey Lodge honey produced by Lakota youth as well as products from other nations such as chokecherry jam and wild rice from Red Lake Nation.
Last year, Sicangu CDC launched mobile markets, transporting goods to weekly pop-up markets in St. Francis and Parmelee. This year, with a new cargo van, the mobile markets expanded to 16 of the 20 communities on Rosebud.
"One of our biggest challenges to accessing healthy food has been transportation," Wilson said. "We're hoping to eliminate that barrier by bringing food to the people."
The pandemic brought new challenges to raising local food. The stay at home directive on Rosebud Indian Reservation came just when seeds were being started for the Keya Wakpala community garden, located near Mission. Workers took plant starts home to care for them.
Then a summer storm damaged high tunnel green houses. They were replaced with smaller structures. With those and a geodesic greenhouse that's heated with a geothermal system, growers are able to extend their season into the fall months.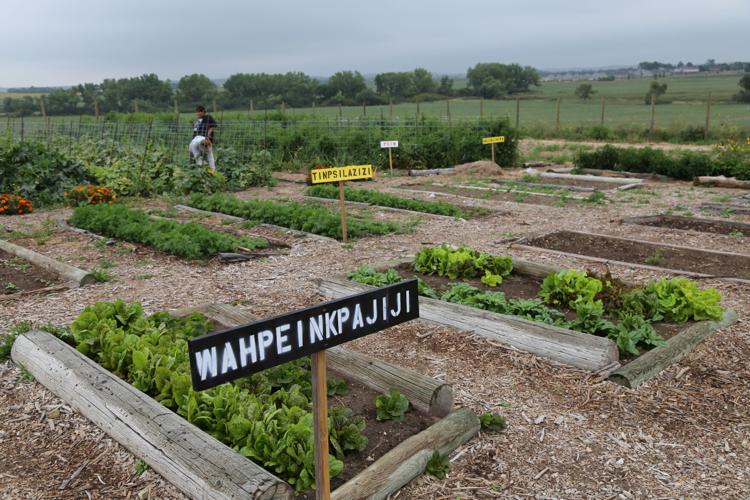 "We're still on track to be growing until we get a really good snowstorm," Wilson said.
An internship program supports first-time growers, giving them a 20- by 20-foot plot at the garden. This year's two interns are just wrapping up their year-long program. At the end, they can apply for seed money and home assignments on up to 10 acres.
Food is just one component of a grand plan for Lakota prosperity over 175 years – or seven generations. But food touches everything, and growing food with regenerative methods is a large part of it.
"We're trying to go back to way ancestors care for the earth," Wilson said. "It isn't just for soil and for agriculture – it's more for community."
Wilson hopes the 7Gen Food System will expand beyond Rosebud.
"We're hoping to be a model for other communities," he said.