Drafted during World War II, South Dakota veteran's stories stick with him
Merlin Boese didn't travel overseas to the war front during World War II, but he came home with plenty of stories to tell and a sense of pride for having done is part to help from a military hospital in the Seattle area.
Boese, 95, was a high school senior from a farm near Avon, South Dakota, when his draft number came up. His older brother was considered more experienced and therefore more essential to the farm, but their parents were strict in their objections to military affairs.
Boese first opted for the alternative to service, a labor corps called the Civilian Public Service. For a month helped build a dam near Hill City, in the Black Hills. But it wasn't the spiritual atmosphere he was looking for, he said. He and another member of the crew hitch hiked to Rapid City to enlist. Boese chose the Navy.
After 10 days at home, in the fall of 1943 he bussed to Minneapolis then to the Farragut naval base in northern Idaho for basic training. He thought he could put his farm experience to work and signed up to work in mechanics. The Navy had other plans.
One morning the men in his barracks were called to attention. The officer called five names and said the rest of the group – about 100 sailors – were going to medical school, Boese said, because the service was severely short of medically trained foremen.
He trained for two and a half weeks, then was sent to work at a Navy receiving hospital north of Seattle. It turns out, his farm background helped him there, too.
"I had probably a little bit of an advantage over city people. Living on the farm, we butchered our own cattle and chickens and hogs," he said. "I was kind of used to the sight of blood, but a lot of the kids got sick."
Boese saw some unsettling cases. Wounded sailors came in from the Pacific theater, the Philippines and Hawaii.
"There was always a run of people with malaria and diseases and broken bones," he said.
He remembers one paraplegic patient whose mother came to visit. When she saw him lying helpless, she had a fatal heart attack, according to Boese.
"Those are kind of nightmarish things," he said.
The sights stick with him, but he keeps his humor. "I still have flashbacks, but I can't remember what I did with my tools," he said.
Boese was assigned 40 cases in his ward and worked 10-hour shifts. He also saw civilians. One of his worst jobs, he said, was making splints for a 3-month old baby girl. The team worked for a couple hours with no anesthetics, and it was hard on the tiny girl. The doctor told Boese they chose him for the job because he was so caring and gentle with the other patients.
His ingenuity learned on the farm benefited his patients. One sailor with bed sores asked what Boese could do to make him more comfortable in his stationery bed. Boese collected some scraps from the wood shop and rigged up an inclined bed. Others asked for the same contraption.
"It kind of caught on a little," Boese said.
Boese is baffled with how far medical technology has come today. It's a big change from his days firing up a Bunson burner to sterilize the needles they would reuse.
Being a medic was an unpleasant job for Boese, but it afforded him a few particularly memorable meetings. One day at the hospital, two ladies came in with one leading the other. When he was introduced, Boese was told to talk slowly and loudly. It was Helen Keller, on a surprise morale-boosting visit.
Boese thinks often of how she put her hand to his throat and his temple to understand him as he spoke. She talked to the sailors about how problems in life can be quite a chore, but with the help of her teacher she was able to work through them.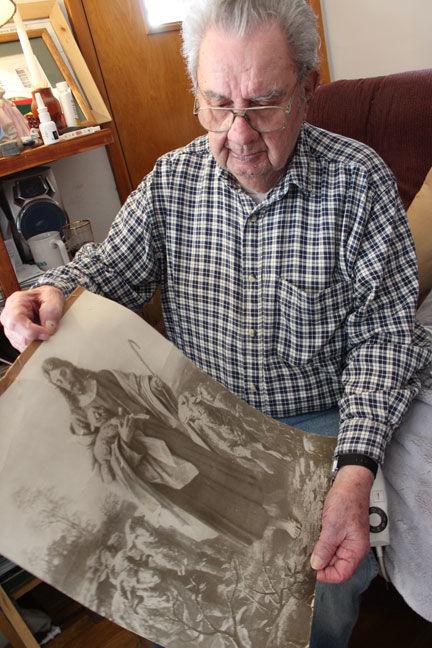 "It was quite an experience for me," Boese said. "I think about it often."
He met Harpo Marx in the same manner. And accompanied the patients with some mobility to downtown Seattle ballrooms for dances.
After 22 months in the service, Boese turned down the chance to continue in the medical profession. Graduating X-ray school would have earned him another $88 a month. He was discharged July 2, 1945.
He was still in the Seattle area when the war was declared over, Aug. 15, 1945. Taking a bus to visit a cousin who had moved to the Northwest to work in a ship yard, he remembers seeing crowds of people as he passed through the city.
"The streets of Seattle were like an anthill with people celebrating," he said. "It was exciting to have people celebrating something that we had hoped for a long time ago."
Boese used his $128 in discharge money to make it back home to South Dakota. He farmed with his dad and married his wife Hazel in 1950. They had two sons and a daughter. Hazel passed away in March 2019. Their sons live in Sioux City and Yankton, working as a long haul trucker and a highway employee, respectively. Daughter Donna Quigly cares for her dad at his home in Tyndall, where he keeps busy in his wood shop.
Boese keeps his military uniform in his cedar chest – all but the pea coat, which someone stole from its hook on his bunk before he left the Northwest.
"It was a really nice, warm jacket. Somebody was colder than I was," he said.
Though his religious family didn't agree with fighting wars, Boese said his parents never questioned his decision to join the Navy. Though, he was glad to get home to the farm, he said he was also proud to be able to do something for the benefit of mankind.
"I'm glad that I did what my heart told me to do," he said.