Lake Preston farmer Paul Casper has made an impact on South Dakota farmers throughout the state by helping develop local and foreign markets, but one of his proudest accomplishments is bringing a fifth generation to work at his family farm.
Casper is being honored this year with the Governor's Ag Ambassador Award, which will be presented July 11 at a luncheon during the Governor's Ag Summit in Sioux Falls.
"He's very deserving of it. He's put a lot of time into agriculture, not only for his own community and family, but for the state also," said Doug Hanson, a farmer from Elk Point who worked with Casper on the South Dakota Soybean board.
Casper got his start in farming as a freshman in high school. He grew oats in an FFA program sponsored by Quaker Oats in 1972. Small grains were a big crop on the Casper farm. The family grew barley that was made into beer for Anheuser-Busch until the company moved its contracts to Colorado.
That's when Casper got into growing soybeans. He had a lot to learn in terms of how to incorporate them to a rotation and which chemicals he could use, and he decided the best way to catch up was to jump right in.
"I thought there was no better way to learn this than to get involved," he said.
Casper joined the South Dakota Soybean Association in 1989. He served on the board from 1992-1997 and again from 2009-2017. He not only learned to successfully grow beans, but he helped develop the market for them both in South Dakota and overseas.
"Paul is a visionary for seeing the big picture and rallying people together. He's a consensus gatherer," said Dave Iverson, a farmer from Astoria who represents South Dakota on the United Soybean Board.
Iverson has known Casper since they competed in high school sports against each other. He took Casper's spot on the soybean association board in the late 1990s and worked with him closely through the commodity group in the decades following.
Hanson appreciated how Casper used humor to get board members back on task in a meeting, asking "what are we doing here?" He's good at getting people motivated, Hanson said.
"He was a true leader and he was a guy that was always thinking out of the box," he added.
Early in his time on the board, Casper and other South Dakota farmers attended a meeting of the National Oilseed Processors Association in Santa Barbara. They were convinced that someone needed to build a soybean processing plant in South Dakota.
"We thought, 'why don't we just do it ourselves,'" Casper said.
That's how the seed was planted for the state's first farmer-owned soybean processing plant, South Dakota Soybean Processors Cooperative in Volga. Casper served as president of the co-op board for 13 years.
It made sense to have a local market, he said, and South Dakota livestock producers, including some Hutterite colonies, were happy to have a closer source of feed.
"Instead of opening up the end gate to someone else, we began opening up the end gate to ourselves," he said.
Casper was also involved in helping South Dakota farmers move their soybeans to other markets. Transporting soybeans to the Mississippi river was costing farmers up to 50 cents per bushel, Casper said. That prompted him to get involved with developing rail lines.
"Paul's positive outlook in all situations is contagious," said Jerry Schmitz, executive director of the soybean association. "He has used that positive attitude throughout his life for the betterment of agriculture. His mark has been left upon many communities, in many states, and even in other countries."
Taking a trip to China in 2001 made him see even more possibilities for South Dakota soybeans. There was huge demand for soybean meal in the Asian market. It needed to move out of ports in the Pacific Northwest, and South Dakota had the westernmost soybean fields in the U.S.
"Everything was geared toward getting this stuff to Asia," Casper said.
Now that trade relations are rocky with China, he hopes President Trump can work out a deal soon without losing those important relationships his groups helped to build. That said, Casper supports the president's efforts to establish a fair trade deal and keep China from manipulating the markets like the country has been.
Closer to home, Capser has also helped establish ethanol plants, and more recently he helped Prairie Aquatech get going. The fish food company built a plant next to Soybean Processors in Volga and uses soybean meal made there. Next, Casper would like to see Lake Preston host a shrimp growing operation like the Tru Shrimp harbor being built in Madison.
While Casper has dedicated much of his time to improving agriculture, family remains his focus.
"He's passionate about agriculture and passionate about helping improve agriculture, but something I appreciate about Paul is his family is important," Iverson said.
"Him and Korlyn are a fantastic farm couple," added Bob Metz, a former member of the soybean checkoff board from Peever. "It doesn't happen without a good spouse at home."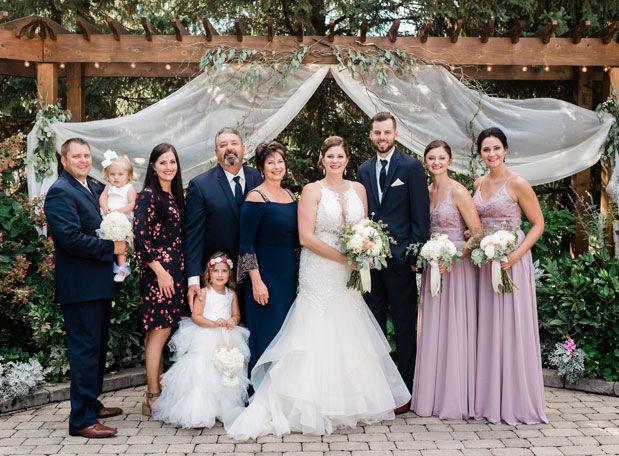 In the years while Casper was taking up the cause for farmers across the Midwest, his dad liked to joke that he was part of FFA – fathers farming alone. But Casper, 61, credits his parents for helping him succeed.
"There's no way I could have gotten any place without Mom and Dad getting me along so far," he said.
Dad, Warren, is 84 and retired last year but still loves to run the tractor and combine. Mom, Carolyn, was on grain cart duty until recent years when it became her job to shuttle family, food and parts to the fields at harvest time.
Paul's son, Drew, joined his dad on the farm after working in landscape design in Chicago and driving tanker trucks during the North Dakota oil boom. His dad is happy to have him home.
"That's pretty neat to have some young legs around again," he said.
Paul and Korlyn also have three daughters who all live in Minneapolis. Jessika works at U.S. Bank. Jaryn works in accounting for a nursing home group and is recently married to Zach Huth. Khrysta works in home healthcare. Drew and his wife, Amanda, have two girls: Madi and Veda.