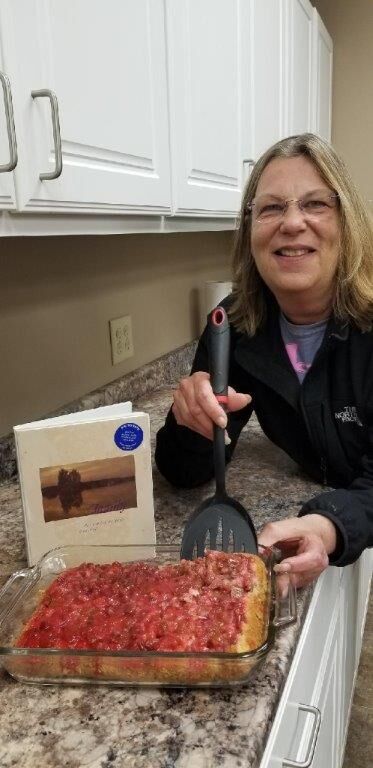 One might say Deb Barglof, of Sioux Rapids, Iowa, is somewhat of an expert in formulating recipes.
The poultry nutrition specialist for Rembrandt Foods spends 50 to 60 hours a week formulating recipes for chicken pullets and layers and cage free and conventional birds in several states. In the middle of the night, Barglof has been known to formulate a recipe or two for cookies, muffins, cakes or fajitas, to name a few, for entry in baking and canned goods competition at the Clay County Fair in Spencer, Iowa.
Barglof started her love of entering fair competitions in the mid-1980s.
"I entered the textiles years and years ago and then got out of it. I am a crocheter by trade. I took a break from the action to see how I compare to others exhibiting at the fair," she said. "My mother kept hounding me to enter. She said, 'you cook, I cook.' She would go to the fair to get the entry books and then she said, 'you know, there is money to be made here.'"
Unfortunately, her mother, Marjean Hanno, of Spencer, died in June 2018, but not before the mother-daughter team baked their way to success at the Clay County Fair for many years.
"It was so much fun with her. Mom was a trooper. She was so tickled when she placed second in the Christmas memory contest one year with her pfeffemusse recipe. She had to include a story which basically said that pfeffemusses were all a 9-year-old girl received as a Christmas present while growing up. The lady judge started to cry. That was one of the last contests she entered before she passed," Barglof said.
"That first fair after she passed was so hard but my granddaughter, Adrianna Barglof, stepped in where grandma left off and said that grandma would want us to continue this tradition. And we have," Barglof added.
Adrianna, now 16, won the King Arthur contest for her peanut butter cookies when she was 8 or 9. She plans to enter brownies, toffee bars and she loves canning jalapeños, peas and green beans.
As for Barglof, she said the car would be full of canned goods, muffins, bars, cakes and more.
"I find the judging interesting. I have learned a lot. Cookies must be the same size and uniform. I have learned over the years that a person should enter the contests where there are not a lot of entries. Everyone does chocolate chip cookies. I'm looking for unique, innovative recipes," she said. "I do a lot more than I should. Muffins are easy and I can do a lot of twists with them. I've never had a muffin fail. Last year I won best of show."
To get all of her entries done in time for judging, Barglof bakes for several weeks prior to the fair. She plans to take the whole nine days of the fair off.
"There are things I can bake and put in the freezer and they will come out beautifully. I had tons of cookbooks before mom died. Then I inherited mom's eight totes of cookbooks. You might say they are my gloomy days of grief," she said. "I love reading her cookbooks that are marked with her favorite recipes. One of the more interesting cookbooks I have is from Calumet, Iowa. The binding is on its last leg but it has my great, great grandmother's recipe in it. The cooking temperature is based on corn cob heat."
In addition to numerous canning and baked good items, she plans on entering15 to 20 crocheted items.
"I won Louise Piper's pie contest once but I haven't done worth a darn since. I have had epic pie disasters like I didn't flute the pie crust and the apples were not done one year," she said.
When she has spare time, Barglof likes to garden, crochet, can pickles, tomatoes and salsa and even some spicy dill pickles which are "not for the faint of heart," she said.
"I do all my cooking for the week on Sunday. I do clean-up in my tiny kitchen but it is my downfall. I'm a messy slob when I cook," Barglof said. "When I cook for the fair, there are pans in the laundry room and dining room."
One of the best memories Barglof has of her late mother, is a special cookbook.
"Two weeks before she died, she brought me this book. She said I wouldn't be able to call her someday for a recipe. Inside were all of her favorite recipes," she said. "My mother was the happiest woman. She never criticized anyone. The recipes include an old fashioned oatmeal cake which was my great-great-grandma's recipe. Every Easter she made hot cross buns. That recipe is included. Every Christmas she made candy, cookies and snack mixes. Everyone in the family received what they liked best for Christmas."
Barglof's family includes husband, Doug, of almost 42 years. The couple have two sons, Derrick of Spencer and Drew of Sioux Rapids, and two grandchildren, Arianna and Kaydon.