If you've visited a Costco, Hy-Vee, or any supermarket in the last several years, you've probably noticed an increasing amount of food labeled organic. From meat to small grains, organic labeling, registration, and production have risen year-over-year for as long as it has been tracked.
But the reason for that growth, several experts said, is not as simple as it's made out to be.
From a market perspective, organic products are more than just a flash in the pan. Over the summer months, organic imports skyrocketed to accommodate a growing demand for organic feed for animals. Ryan Koory, the director of economics for Mercaris, said that poultry drove the rise.
"We've had some rapid growth in organic feed demand from organic poultry production," he said.
Mercaris is one of the leading analytics company for organic products in the U.S. While Mercaris focuses heavily on organic and non-GMO data, Koory said it can be a challenge to collect the information as the U.S. is most heavily invested in tracking information on conventional agricultural.
"It makes it hard to get concrete numbers from a supply and demand perspective," he said.
Nevertheless, Koory said as demand increases and production in the U.S. struggles to accommodate, the country will be importing more and more organics. Rough numbers suggest that 30% of all organic corn and 70% for organic soybeans is imported.
That demand is in part due to American consumers' growing desire for what they see as healthier food. But along with consumer demand, some agricultural producers see organic farming as a more sustainable future.
The life of an organic farmer
Producing organic food comes with challenges such as restrictions on certain chemicals for weed and pest control. Some organic producers turn to cover crops, crop rotations, soil health techniques, and cool-down periods to keep weeds in check.
Even if you have a perfect plan, it can still go wrong said Larry Nilson.
Nilson farm organically outside of Alcester, South Dakota on the Iowa border. Having just turned 80, he said organic farming is more difficult than it ever was in the past.
His operation began organic farming in the 1960s. Nilson's father decided 30 years before organic certifications became a standard, that using fewer synthetic chemicals and raising a healthier product was the only way he could justify what he was doing.
The Nilson farm started with 50 acres of organic corn to see if it could work. After 35 years, the Nilson organic plot rose to 1,000 acres split between soybeans and corn.
"At 1,000 acres it'll consume your life, especially if you're out in the hills here," Nilson said of the rolling landscape of southeastern South Dakota.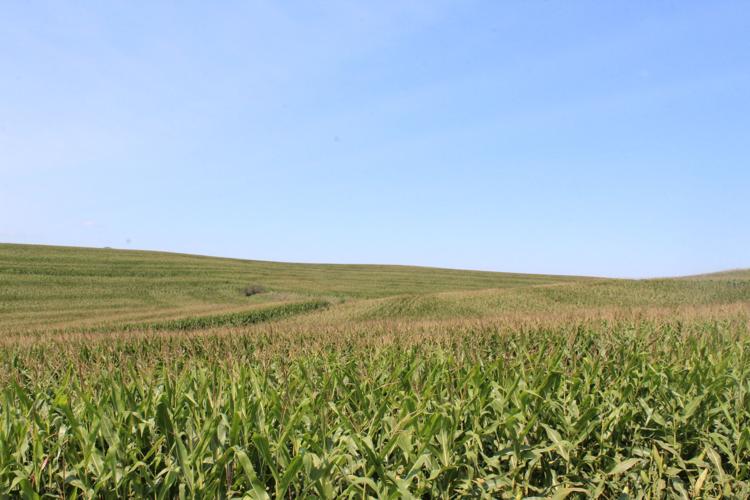 As his family grew, Nilson realized that farming 1,000 organic acres was taking too much time away from his family. Because of the time it takes to care for his organic crop and a need for income, Nilson's operation isn't solely organic.
But producing organically was never about profits, Nilson said. Even though organic grain and products typically fetch a price 20 to 30% better than their conventional counterparts, he said it made most sense to him to be more sustainable.
"The farmer is just driven by economics," he said.
How to make it work
Producing the crop, regardless of your intentions, is the tricky part. Getting started can be even harder.
To label a product as organic, producers must go through a certification process. While there are many different boards that will certify an operation as organic, there are overreaching rules created by the National Organic Standards Board. This is where Michael O'Donnell comes in.
O'Donnell is an organic and diversified agriculture extension educator for Perdue University. He a leading expert on organic certification and production, and he is one of the only organic educators in the country.
At the most basic level, a field must be chemical-free for at least three years before it can be considered for organic certification. That three-year transition period is often the ultimate barrier for more organic acres in the U.S.
It's a challenge, O'Donnell said, especially when farmers are struggling financially.
The harsh reality farmers will face, Koory said, is that when they are in that three year transition period, they can't sell to organic markets and yields will likely be under the average in the conventional markets. On top of that, to be considered for organic certification, an operation has to have outstanding record-keeping to prove that no synthetic chemicals were used on those acres.
"It's dangerous to understate how much more specific that record keeping is," he said. "If you realize your records haven't been that great, you've wasted that time."
Purdue University Extension put out a budget transition spreadsheet farms can use to calculate how much income they'd lose over that three-year period and how sustainable the transition would be. The tool can also help map out a 10-year rotation for getting fields conditioned to grow organic crops.
"You'll definitely see a reduction in earnings during that transition," he said.
With the market downturn, O'Donnell fields a lot of calls from producers looking for a simple switch. Unfortunately for them, O'Donnell said, those who focus on profit are the ones who will have the hardest time transitioning.
"If you're really far away from any components that make up an organic farm, I'd really recommend you look at a way longer transition than that three years," he said.
He said he always suggests farms first step into cover crop rotations and planting non-GMO seed before considering the transition to fully organic acres.
A lot of soil health-building techniques, such as no-till management, can be counterproductive to organic farming, where tillage is one of the premier methods used to control weeds.
"We've got to have some soil disturbance in the system to manage weeds," O'Donnell said. "There are ways to be smarter to how that tillage is utilized."
The transition, he said, should focus on making sure a farmer can manage weed pressure and nitrogen levels without additives.
"The less we rely on getting that nitrogen from manure or expensive additives, the better off we will be," he said.
He encourages producers to visit with others who manage organic acres.
"Whether it's field days or weather conferences – get out and spend time learning on those who got in it," O'Donnell said. "Reach out and find that network that can support you."
Not many extension programs have organic-focused resources. This is a struggle that O'Donnell thinks is being ignored at most universities.
South Dakota State University has no extension educators devoted to organics, but there is research into organic farming. Peter Sexton of the SDSU Southeast Research Farm has begun implementing small organic plots at the farm to study its effects in South Dakota, where less than 1% of the acres are farmed organically.
Sexton started small with a 4-acre field of organic alfalfa to gain experience controlling weeds and expanding the knowledge base. It's been a great exercise managing insects and weeds in unconventional ways, he said.
A big barrier to organic farming is that large-scale organic operations are nearly impossible, given what it currently takes to produce the crop, according to Sexton. Heavy weed pressure and insect populations keep farmers like Nilson at a relatively small 1,000 acres or so.
Without the ability to produce organic products at a massive scale, more research is turning to techniques that could make organic production easier, Sexton said.
"People are developing the tools and the varieties specifically for organic systems," he said, adding that strides are also being taken to see if organics can coincide with no-till.
At the Nilson operation, the last two years have been tough because of the wet weather. Planting and farming in endless moisture can be even harder for organic producers compared to conventional, who are struggling just as much.
Today, Nilson farms 440 acres of organic crops with 75 acres committed to corn. Over the last three years, he has been cleaning out his cornfield with organic alfalfa.
"Because of the weather, I just can't plant as many row crops," he said.
Through the rain and cool weather, Nilson said he planted "the worst soybeans that you've ever seen" and struggled to make the small grains work. It was a balance of spending the time and money to make a good crop and just getting by.
"It'll be interesting to monitor yield in those decent areas compared to the rough ones," he said. "Other than saving my ego, I was not going to get rewarded by spending $40,000 in the field to save it."
How we got here and what's the future
While Nilson's experience in organic is a 40-year-old journey, his is very unique. Organic acres increased nationwide. The number of organic farms increased 26% in five years, according to the 2017 U.S. Department of Agriculture's Census of Agriculture.
But that's not the whole story.
Since the 1990s, organics has seen double-digit growth every single year, according to O'Donnell. But since 2002, when the National Organic Standards Board was refocused and redefined, he said the conversation around organics has gotten less taboo and more accepted.
"It's a really positive shift, but it doesn't necessarily mean a massive amount of acres shifted all at once," he said.
Koory said he believes the shift was bound to happen as the U.S. economy grew and the overall agricultural economy shrank. It made for a "perfect storm" for organic production, he said. Extra spending money allowed consumers to be choosier with their food, and many chose organic.
In the time the number of organic farms went up 26%, organic sales more than doubled, according to census figures. Nationwide sales went from $3.12 billion in 2012 to $7.27 billion in 2017.
He said the market is ripe for further growth, and he expects more farmers make the switch to organics, prompted by the growth of organic markets and the recent slump in exports and biofuels.
Still, organic production in South Dakota lags other states. There are 82 organic farms, according to the 2017 census. South Dakota is one of 13 states that lost organic farms in the last five years.
One reason South Dakota is behind, according to Sexton, is the state's small population. In Illinois, for example, organic producers have the ability to direct market to outlets in a major city like Chicago. While Sioux Falls is growing, it remains 21 times smaller than its Midwestern counterpart.
"For people who can direct market, organics work very well," Sexton said.