Three decades ago, Paula Vogelgesang had a beef with the recipes and household hints she saw published in newspapers and magazines.
For one thing, most recipes left out the beef.
For another, she felt that while many suggestions were intended to make housework easier, they were not necessarily about saving money.
"I got to thinking about all the older ladies who gave me advice when I got married years ago," Vogelgesang said. "What they taught me was not what these (columnists) were talking about."
She decided to try offering a country-wise alternative to the Heloises and the Good Housekeepings of the time. Thus was born PennyWise, the eight-page tabloid-size newspaper Vogelgesang has been publishing out of her Jackson County, South Dakota, farmhouse since March 1993.
From the outset, the goal of PennyWise was how to get by on almost nothing, especially in lean years when crops fail, cattle prices tank, children outgrow their clothes, and bankers refuse a loan.
Long before "reuse" and "recycle" were eco-statements, they were Vogelgesang's mindset. The purpose of PennyWise, she said, has been to offer readers "stupid ways to use stuff you've got."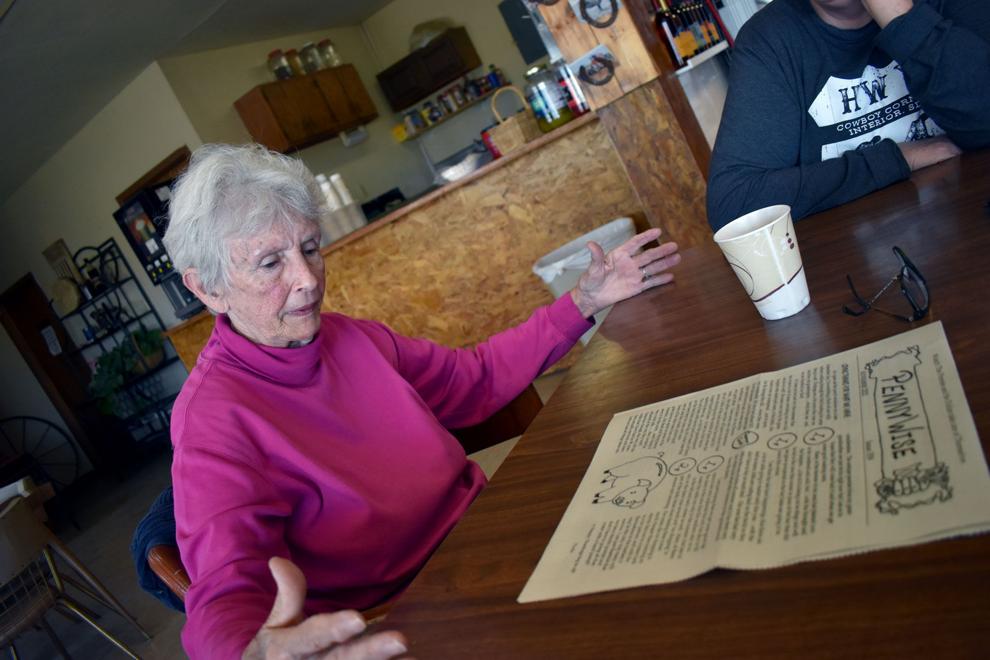 Examples: Cut plastic jugs into scoops for children to play with in the sandbox. Employ used dryer sheets as odor-absorbers in the car. Lengthen coat sleeves by sewing knitted cuffs at the wrists.
"That's the way people got by all those years," she said. "When I got married, there were still a lot of people around who had been through the Depression, and they are the ones who taught me how they got by."
'Champion diaper hanger'
Born in Orlando, Vogelgesang spent her early childhood in Denver, where her father was an Air Force pilot and World War II veteran. When she was 3, the family moved to Kadoka, where her grandfather operated a ranch. The eldest of eight children, Vogelgesang cared for her siblings and learned to keep house at an early age.
"Mom was eternally pregnant," she quipped. "She had six kids in seven years, and I became a champion diaper hanger."
They had no running water and had to get water from the well. She was 4 years old and taking on the task of dumping the chamber pot.
"At that time of life, you didn't question your parents," she said.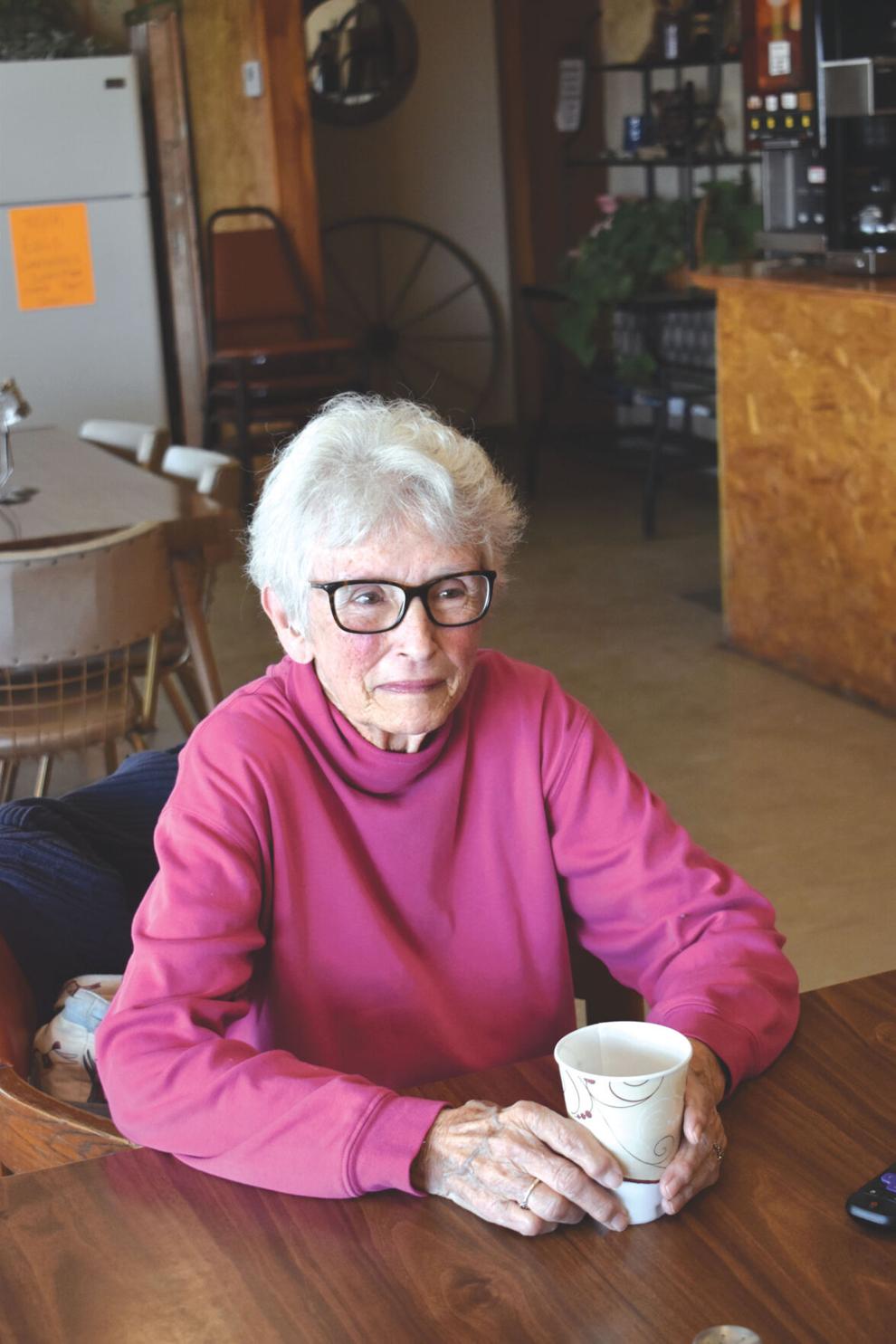 She married local rancher, Conrad Vogelgesang, and they raised three children on their operation outside of Wanblee. The couple had been married nearly 37 years when he died of cancer in 2009. One son and his family still live on and operate the ranch. Her daughter lives in Kadoka, and another son lives in North Dakota. Vogelgesang has four grandchildren.
Vogelgesang saw a need for practical advice and recipes, and decided to act on it, but not because she needed something to do.
"I didn't need an extra job, for crying out loud," she said. "We were raising hogs and calves and children … it was kind of a circus."
She consulted Wendell Long, publisher of the Bennett County Booster in Martin, South Dakota. She told him she noticed a lot of recipes left out meat. The Vogelgesangs raised beef and hogs, and there weren't basic recipes out there, she said.
She also wanted to offer instructions for simple dishes without costly, hard-to-find ingredients.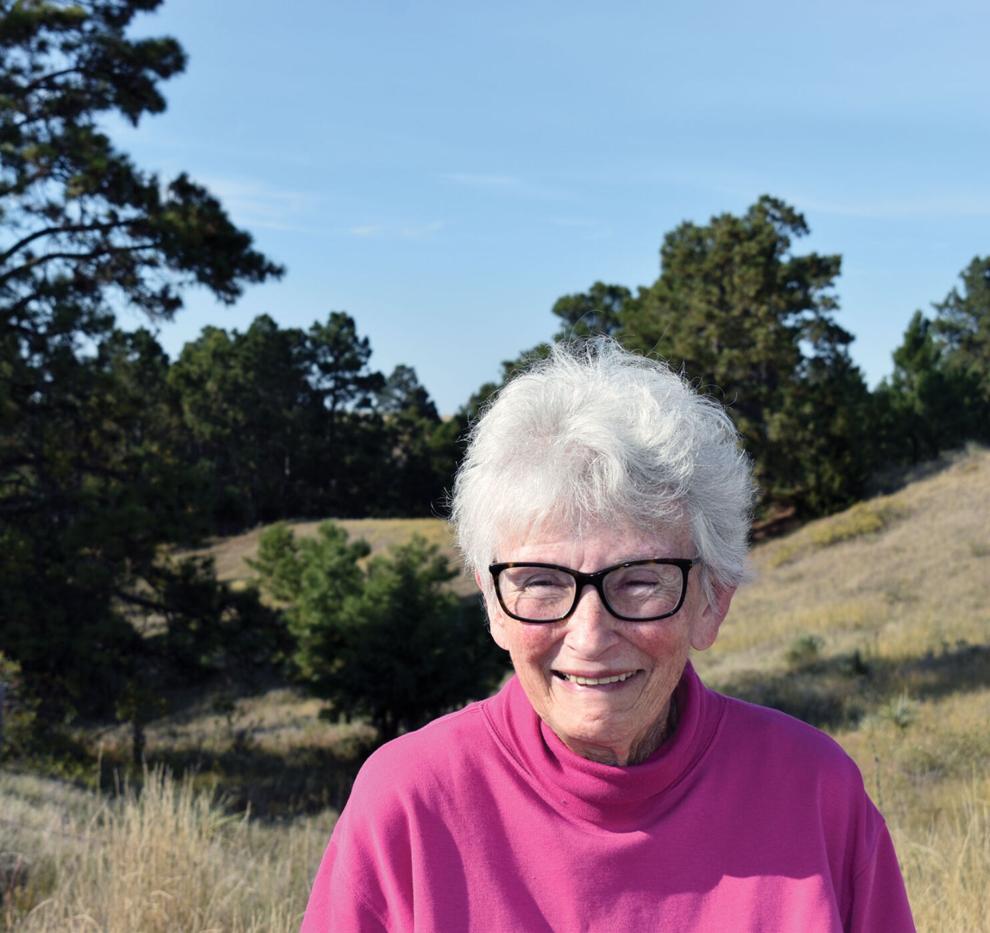 "If you're on a tight budget, you don't necessarily buy fancy ingredients," she said. "If you live on a farm, and your income varies from one year to the next, you can't afford to buy that stuff.
"I grew up with salt, pepper and cinnamon. Mom's spice cupboard was about six items long."
Started with manual typewriter
Vogelgesang envisioned a newsletter-type publication, written on a sheet of typing paper. Long, instead, guided her to publish on newsprint. Vogelgesang used a manual Underwood – picked up secondhand by Conrad when a high school closed at Interior, South Dakota – to carefully type her prose in the correct width to fit two columns on a tabloid sheet. She hand-lettered headlines with a black marker. She drew the signature piggy bank that graces the front of each edition, and her sister-in-law drew a hand holding a fistful of dollars that is part of the PennyWise logo.
Vogelgesang published the first edition of PennyWise in March 1993. Its front-page slogan, "Watch the Pennies and the Dollars take care of themselves," is a quote from a friend's mother-in-law who lived through the Great Depression.
For that first issue, Vogelgesang saved the money she earned from selling cream to use for postage. She mailed the inaugural issue free to everyone on her Christmas list and "everyone I knew" – about 300 people, hoping they would subscribe. The rate – $12 for 12 issues – just covered printing and postage.
At first, she hand-addressed each paper. Later, Long supplied labels upon which she continued to write addresses by hand. Eventually she obtained a printer for the labels, but she still affixes them by hand, and sorts the papers herself for mailing from Kadoka after printing at Martin.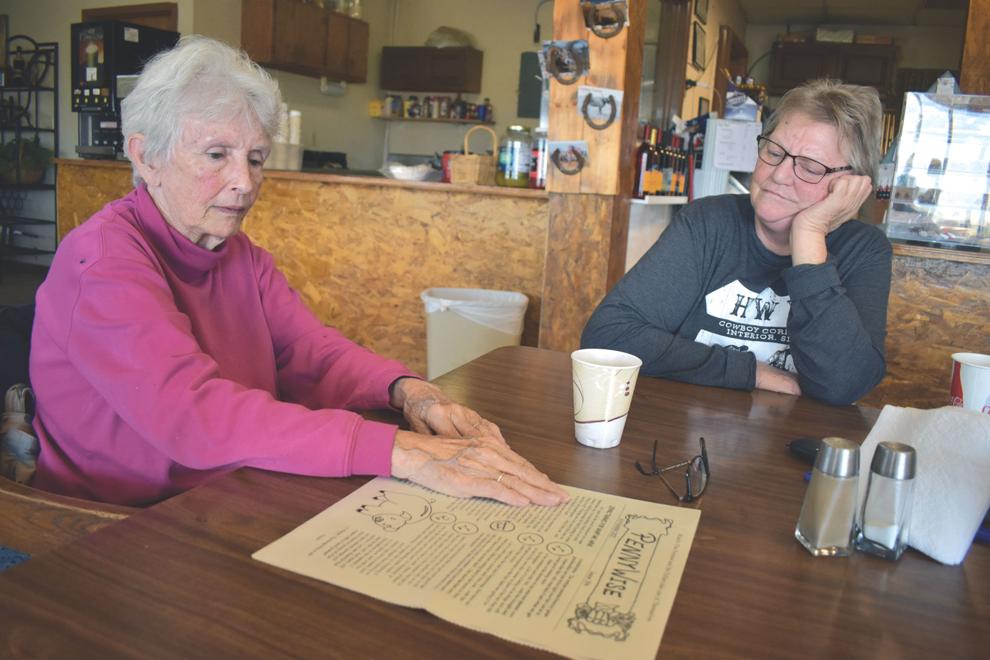 "I always got enough subscriptions to pay to print the next issue," she said. "That's the way it went for several years. I thought if I didn't get enough subscribers to pay the bills, then it was done."
Readers liked Vogelgesang's homespun advice, and they signed up. At its highest, PennyWise reached 1,200 subscribers all over the United States – and some abroad, stationed with the military. Currently she has 900 subscribers who pay $20 for a 12-month subscription.
Like a letter to friends
The front page of every month's edition is a column written by Vogelgesang. It reads like a letter to friends, telling of family life on the ranch, reporting how the crops and cattle are faring, and occasionally commenting on changing times ("Now days most parents take their children to a costume party in town and the old folks don't get to see them," she wrote ahead of the recent Halloween holiday.)
Inside, Vogelgesang devotes five pages to hints (such as "Cleaning gunky drains," "Crafts for kids on a snowy day," "Weed killer for sidewalks," and "Easy curtain hanging") and two pages to recipes. All are still carefully typed – on a computer, instead of a typewriter – in two columns to fit the tabloid newsprint.
Running out of ideas is never a problem, with an inbox full of reader emails offering recipes and moneysaving tips.
"I never know what I'm going to get. One lady said she stuffs an old hot water bottle with worn-out socks and uses it for a kneeling pad in the garden," Vogelgesang said. "It's just amazing, the things people come up with, ways to use things that most people would just throw away."
Sometimes they ask advice.
"Young people will ask, 'How can I stretch my food dollar?' and I tell them to go back to basics. If you can find a box of brownie mix on sale for under a dollar, fine. But otherwise make your own. Learn how to bake bread. If you make your own – I don't care what it is – at least you know what's in it.
"It saddens me that a lot of schools don't have home economics or cooking class anymore. Some people don't know how to cook. All they know is to go buy a box, and then dispose of leftovers in the trash. My grandmother had a jar in the refrigerator to collect leftovers. Beef stew from lunch became beef and noodles for supper.
"Grandma never threw food away. Some of it was recycled 14 times," Vogelgesang said with a laugh.
Not everyone agrees with her philosophy. An acquaintance once scoffed at Vogelgesang for wearing blue jeans bought at rummage sales. "What? You wear other people's clothes?" the woman asked her.
"Yeah, and all it takes is a washing machine," Vogelgesang retorted. "When you're shopping for new clothes in a store, how many people have tried them on before you?"
Shortly after she began publishing PennyWise, the Tri-State Neighbor added her to its pages as a columnist. For the past dozen years, she has been a guest once a month on Rapid City-based KOTA-TV's noontime show. Her three-minute segment offers moneysaving hints and educational demonstrations, such as how an old-fashioned butter churn works. The Kansas-based High Plains Journal also publishes her column.
December issue will be the last
After 28 years, Vogelgesang has decided it is time to stop publishing. The December edition – Issue No. 360 – will be her last. She announced her retirement from publishing in a summer issue of PennyWise.
"I'm 78 years old, and I have a house to clean," she said. "I haven't done much housecleaning in the last 28 years. It's all shoved in corners, and I need to get rid of stuff."
In truth, "retirement" would not be an accurate description of Vogelgesang's current state. Inspired by her grandmother who was a professional seamstress for a Denver department store, Vogelgesang has been sewing since she was 12. She has quilting projects in the works. She and a group of friends also craft heavy quilts for homeless veterans and for area high school graduates.
"The kids are given strict orders: If you are in the car by yourself in the winter, that blanket is on the seat next to you. Don't put it in the trunk. If you land in a ditch in a blizzard, you are going to have to hunker down and try to stay warm."
She and a group of friends are also renovating Kadoka's railroad-era Pearl Hotel, turning it into a community center.
Undoubtedly Vogelgesang will never know how much her homespun advice and friendly writing style have influenced readers.
Not long ago, a subscriber wrote that she gave her daughter-in-law a subscription but did not know if she would appreciate it. "But now she's picking up on some things," the reader wrote.
Vogelgesang donated extra copies of PennyWise to the library in Kadoka, to be handed out at the town's holiday festival this year. She hopes her words have been helpful over the years.
"I just hope some of these young people have learned how to stretch their money."
Sheri Poore grew up on a Day County dairy farm and is a former Tri-State Neighbor editor now living in Sioux Falls.