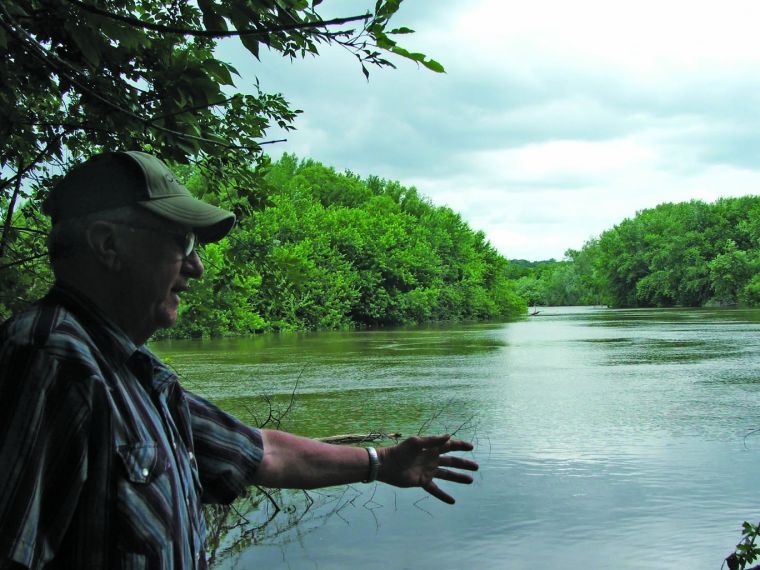 Retired farmer John Hogan certainly has done his part in the conservation field with his 1.5 miles of riverfront along the 335-mile Minnesota River, which cuts across the entire state from the South Dakota border to the Mississippi River.
Hogan has 800 acres between Redwood Falls and Morton along a river that many view as a shining star in continuing efforts to improve water quality and recreational and fishing use. He has about half of his farm enrolled in some type of conservation program.
He no longer farms the river bottom or flood plain. That land is now a mixture of native grasses, trees, deer food plots and a 33-acre restored wetlands area. Most of the land is in either the Conservation Reserve Program (CRP) or Reinvest In Minnesota (RIM) program.
A 100-foot to 300-foot grassland or forest buffer protects the river all along his property. There is also what is thought to be the only remaining mesic maple-basswood forest in Redwood County on his land, as well as a silver maple and cottonwood floodplain forest.
Up the hill and down the road on the river bluffs from his Cedar Lane Farm, which his grandfather started in 1902, is another major conservation area with an eight-acre constructed pond and a recently repaired earthen dam on what used to be a cattail bog. Next to it is 30 acres of native prairie that never has been plowed. Hogan also has more than 5,000 feet of windbreaks spread across his land and about seven acres of seasonal wetlands that have remained undrained and in permanent cover.
The goal, of course, is to keep the water on the land and reduce sediment washing away into the river.
Hogan, a former agriculture teacher and FFA adviser, said members of his family – which includes a son, two daughters and six grandchildren – enjoy the hunting and fishing that results from his work, too. His mission is to leave a legacy for his children and grandchildren to enjoy.
He finally has been receiving recognition for his conservation work. Two years ago, he first was a Minnesota Association of Soil & Water Conservation Districts local district winner, then was a regional recipient of the "Outstanding Conservationist" award. Last year, he applied for the Century Farm award although he was well over the required 100 years.
Historically, the farm was a grain and dairy operation but was converted to beef in the early 1980s. Hogan still cares for some of the cow/calf pairs, although he also sold his herd and rents the pastures and farmland. He makes sure, however, that conservation practices are used on the pastures and remaining cropland.
"John has really done his part. He's just done so many different things," said Marilyn Bernhardson, district administrator for Redwood Soil and Water Conservation and an almost 40-year veteran of the office. She has been a tireless promoter of conservation practices in the county where almost all of the wetlands have disappeared and where she has seen several lakes drained.
She's most proud of meeting one of her goals of having a buffer zone along the entire river in Redwood County using mostly RIM funds – except one small stretch that floods almost every year anyway.
Hogan isn't done pursuing his goals yet. With Bernhardson's help, he's tackling a new project that will start this August. He'll use a series of catch basins or plunge pools and pipes to control water runoff and erosion into the river in a major watershed ravine on his property.
Bernhardson said a recent study has found that about 68 percent of sediment in the river is coming from ravine and bluff areas. Larry Gunderson, project manager for the Minnesota River for the Minnesota Pollution Control Agency (MPCA), said that study found that the banks, bluffs, ravines and gullies contribute more sediment than upland fields.
Tackling efforts to control sediment runoff has been one of Gunderson's priorities in recent years, and progress is being made.
Also, the river has seen dramatic decreases in phosphorus levels, but that was mostly downstream nearer the Twin Cities where wastewater facilities were improved and discharges were reduced during low-flow conditions.
Hogan and Bernhardson both gave a definite "yes" when asked whether the water quality has improved on the river.
"I've seen fish in the river coming back that I haven't seen since I've been here," said Bernhardson.
Hogan said walleyes are much more prevalent and sturgeons have returned to that stretch of the river.
Scott Sparlin, executive director of the Coalition for a Clean Minnesota River, agreed that sediment and phosphorus numbers are down significantly, especially during the critical low flow.
"Much of the flood land has been restored, creating an incredible jump in wildlife populations and serving to slow the water down during high flow," he wrote in an email.
He said 100,000 acres of cropped flood land along the river has been restored permanently, thanks primarily to a CRP enhancement program.
However, not all is bright along the river and in other areas of southern Minnesota. A report released late last month by the MPCA on nitrate levels took some of the wind out of the sails of the many farmers and government officials working to improve the river's water quality.
The report said nitrogen contamination in southern Minnesota is so bad that 27 percent of the region's lakes and rivers could not be used for drinking water. It added that 40 percent of the streams and lakes in southern Minnesota have excessive nitrogen, which can be harmful to fish and other aquatic life and is the state's most widespread form of water pollution.
Dave Wall, an MPCA hydrologist, said nitrate levels on the Minnesota River get worse the closer they get to the Twin Cities. Near Jordan, he said an annual average of about 116 million pounds of nitrogen has been carried in the river during the past 20 years. In the entire Minnesota River basin, Wall said, about 11.3 pounds per acre per year ends up in the river downstream.
About half of the nitrogen that ends up going down the Mississippi River from the state is from the Minnesota River, he said, although much of it pours into the Minnesota River from other rivers in the area from New Ulm to Jordan.
Statewide, about 73 percent of that nitrogen comes from cropland, Wall said.
If there are any positive signs, Wall said, river trends are showing stabilization of nitrate levels, with decreases in some testing locations.
"But it's not decreasing at the rate that we'll get to our reduction goals," he said.
Wall said putting out the report helps keep the issue on the radar and challenges people to come up with more possible solutions.
One method known to reduce nitrates is to increase the efficiency in the use of nitrogen based on rates, timing and type of fertilizers. Two other key ways that farmers can help is to manage tile drainage water and get more roots and vegetative cover on the land in the spring and fall through cover crops.
"With continued research and innovation, I think we can make progress," he said.
Sparlin added that "farmers are one of our greatest sources of ideas."
"We have worked with producers and drainage innovators to come up with solutions to keep more water for longer periods in the subsurface of the soil during times when plant growth can improve with additional water availability," Sparlin said.
Gunderson said farmers can be "very effective" if they look at their land and identify priority areas to use conservation practices.
He and Bernhardson both said that keeping as much water on the land as possible is the best way to help.
Cooperation among the many players is also a key to improving water quality, said Gunderson.
He said it's gratifying to see so many different groups and people working on river efforts.
Hogan knows that well. He said he has worked with five different agencies on all of his projects on his riverside farm. They have included Bernhardson's district conservation office, the Farm Service Agency (FSA), the Natural Resource Conservation Service (NRCS), the Minnesota Department of Natural Resources (DNR) and the Minnesota Board of Water and Soil Resources (BWSR).
He hopes one day part of his family will return to live on the river valley land that surrounds him. At least on his small part of the 335-mile river, he has done more than his share to improve water quality, save the land and boost wildlife and fish numbers.