It's normal for South Dakotans to pass semi trucks full of grain heading to the elevator, drive down highways flanked with fields of corn and soybeans and see cattle grazing in pastures.
"We see farming all around in rural communities, but sometimes we don't see the product of it," said Alissa Krause, who opened the Farm to Plate Marketplace in Clear Lake, South Dakota, offering farm-raised goods just miles from where they were grown.
People don't always recognize the result of those local labors on their grocery store shelves. When grain and meat make it to the store, they have usually been processed and repackaged, making it impossible to tell if the food you buy is what you saw growing outside your windshield.
A few small shops are looking to change that by bringing locally produced goods from farmers directly to the people of their communities.
At Farm to Plate Marketplace, among the things Krause sells is beef raised less than 5 miles away on the farm where she grew up. Today her dad, Robb Krause, works with his sons Riley and Landon to raise Angus beef and grow corn, soybeans, wheat and oats between Clear Lake and Brandt. Her mom, Becky, retired from 30 years in the ag lending field, helps out, too, and Alissa does her share during the busy seasons.
Sitting in the grain cart this fall is when she dreamed up the idea for opening a farm to market shop, she said. She graduated from Mount Marty College with a teaching degree, and her substitute teaching gig had just ended. The timing was right, and the trend was, too. People are more and more interested in locally grown food, and Krause likes to be around people. So why not bring them the food?
"People want to know where their food is coming from and how it's being raised," she said.
In this case, she's seen firsthand how Krause cattle are brought up.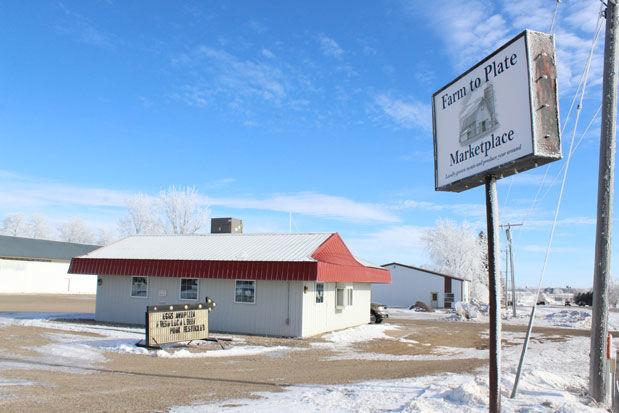 She opened Farm to Plate Marketplace in a former drive-in restaurant on the corner of Highways 15 and 22. The eatery had been closed four years, and her family has long pondered opening some sort of business in the space they drove by on every trip to town.
The location has proved beneficial. Long haul truckers stop as they hit the highway junction. Snowmobilers and people on their way out for ice fishing pop in for beef jerky snacks. She's gotten Minnesota residents on the way to a holiday visit and people driving to their cabins at Lake Cochrane.
"It's a great corner to be at," Krause said.
The first month of business was particularly busy leading up to Christmas. She has big plans for summer, too. People on their way to the lake can pick up burgers and brats for the grill. She also plans to serve cones topped with SDSU ice cream and host a farm-style breakfast Sunday mornings.
In that way, Farm to Plate Marketplace is more than just a grocery store. Businesses that focus on local goods often offer a greater community connection. That's part of the mission behind Dakota Butcher, which does custom work, smoked meats and sells other South Dakota-made food at shops in Clark and Watertown, South Dakota. They support the Boys and Girls Club and other local activities
"We want people to understand that we're there for them in the communities," owner Randy Gruenwald said.
He and his wife Karen, started the business in 2009 when they revived the locker in Clark after it shut down, and they decided to focus on custom work and local products. They sold Dakota Style Potato Chips and sunflower seeds from Clark, cheese from Dimock and from the Kasemeister Creamery at the Spink Hutterite Colony, and Grandma's Kuchen that was developed in Eureka, South Dakota. Dakota Butcher's sausages, bacon and beef sticks are sold at their shops as well as other South Dakota convenience stores.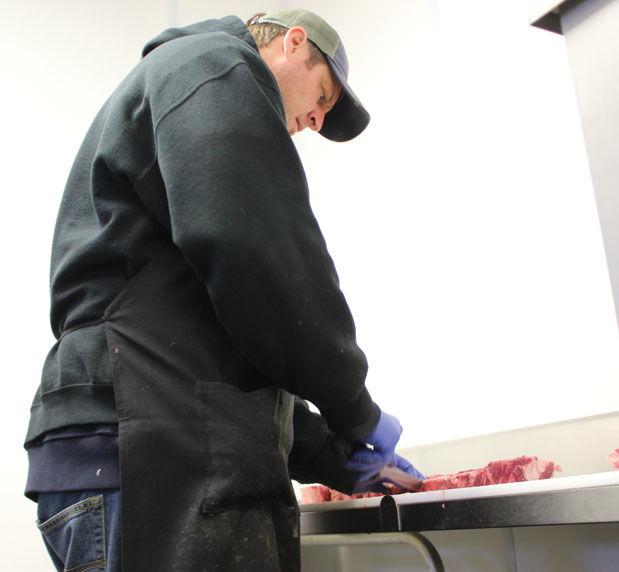 The concept has been popular, and Dakota Butcher is growing rapidly. They invested about a million dollars to expand the sausage kitchen in their western Watertown store. A year and a half ago, they opened a store in a new development on the east side of Watertown, which is connected to the Dakota Butcher Steak House.
This spring will bring more expansion. The Gruenwalds are planning to take over the old Lunkers restaurant at Watertown's Lake Kampeka and open a steak house and events center at the lake. Another retail location is planned in Volga.
"We're trying to find out what works and expanding on it," Gruenwald said.
He's found that what works is catering to their customer's needs. Krause has learned the same at Farm to Plate Marketplace. At her customers' request, she offers soup bones, liver and heart – cuts of meat that aren't normally in the grocery store meat case.
She's able to request it direct from the farmer – her dad. They normally market their cattle and send them to JBS in Omaha, but a few they butcher for themselves and the store are processed at a locker in Bruce, South Dakota.
In addition to Krause beef, Farm to Plate sells Ebbers pork raised in nearby Estelline, and lamb raised by Krause's uncle. There's a changing selection of produce, currently provided through the Dakota Fresh Food Hub – which sources from farms throughout southeastern South Dakota.
During summer months, the produce will be grown even closer to home. Krause has plans to sell offerings from the local greenhouse, Sodak Gardens, located just down the road.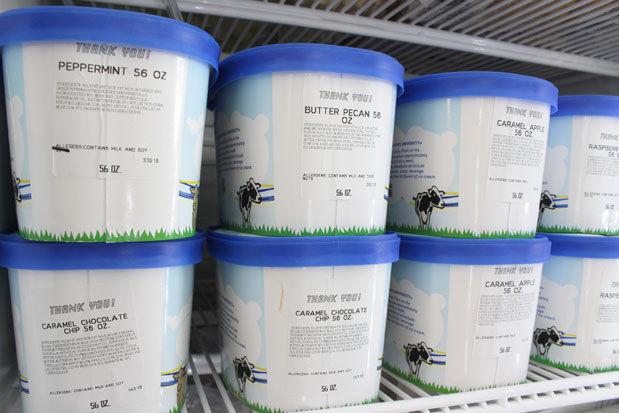 Other products are local favorites. There's Quail Honey from Brandt, Dimock Cheese and SDSU ice cream by the quart.
"It's good stuff, and it's hard to beat," Krause said of the university-made ice cream.
The Ebbers from Estelline also supply eggs and popcorn. Other sweet treats for sale are made in Clear Lake by Save Your Fork Bakery.
Krause has gone local with the decorations, too. One-hundred-year-old photos hang on an old wooden door salvaged from the Brandt elevator.
The food hub that Krause uses is one way locally grown goods are distributed in the state. Since it launched in 2016 as South Dakota's first such venture, the Dakota Fresh Food Hub has grown to offer an array of products to shops, restaurants and even hospitals.
About a dozen small-scale farmers market their meat and produce online through the food hub. One of them is Kristianna Gehant Siddens, who grows garlic near Astoria, South Dakota, and serves as president of the food hub's board of directors.
The food hub allows her to focus on what she likes to do – the farming.
Gehant Siddens lives far from a metropolitan market where her culinary garlic would sell best. Instead of visiting each restaurant or store that may want her garlic, she can list what she has available on the food hub website and it's in front of more than 50 customers.
"I have exposure for my products to a much, much larger array of customers," she said. "It really saves a lot of my time in the marketing department."
The food hub and its manager do the marketing.
"Producers aren't always good at that part," Gehant Siddens added.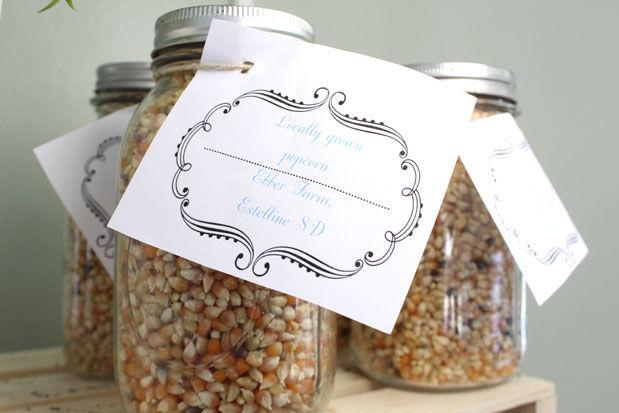 Some of the food hub's biggest buyers are grocers in Sioux Falls – Co-op Natural Foods and Pomegranate Market. Avera Health System's restaurants are a big buyer, too.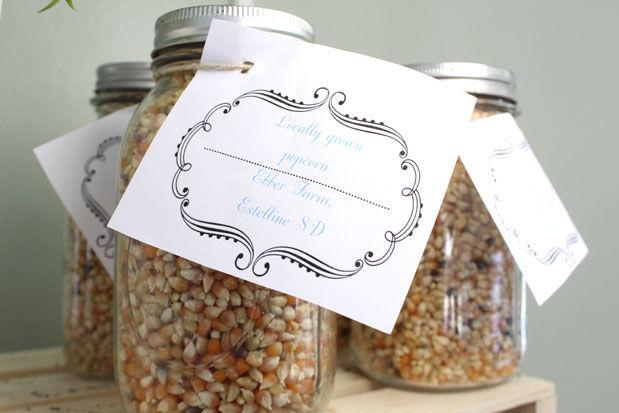 "It's more than doubled my sales," Gehant Siddens said.
So far, all the connections Dakota Fresh Food Hub makes are wholesale, but that will change this spring when sales will open to everyone. People will be able to customize a box of locally produced food through the food hub website and pick it up at delivery sites. The first pick up sites will be in Sioux Falls, but Gehant Siddens said they hope to branch out to other communities – wherever there are enough orders.
Shoppers in South Dakota's largest cities have several options for finding local foods. Now small business owners are bringing local options to rural communities.
In Clear Lake, Krause is looking forward to what the coming year brings for her business. The community has been very supportive, she said.
"It's been a lot of fun," she added.