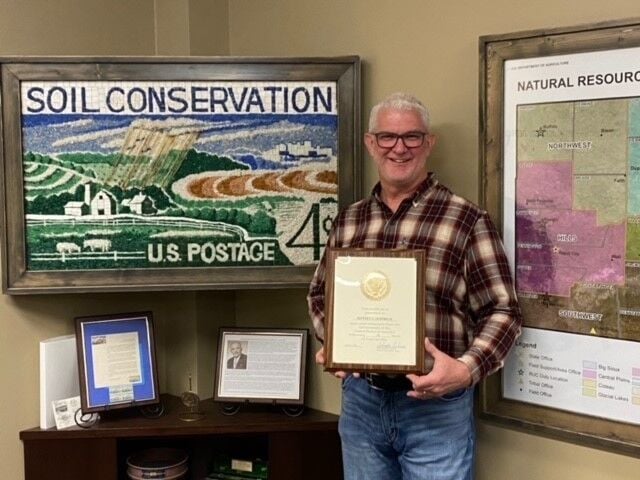 Jeff Zimprich, State Conservationist for the United States Department of Agriculture's Natural Resources Conservation Service (USDA NRCS) serving South Dakota will retire Jan. 2.
Zimprich has served as the state conservationist for South Dakota for over eight years.
"It's been an amazing career," he said. "Right out of the gate I knew I wanted to work as a professional with natural resources."
He started his conservation career in Montana as a student trainee for the then Soil Conservation Service while attending the University of Montana in 1983. Upon graduating, Zimprich served as a soil conservationist and district conservationist in three Montana field offices.
He transferred to Iowa in 1988 and worked in two area offices and the Des Moines state office, and later as the assistant state conservationist for field operations in southwestern Iowa.
Zimprich served several details at NRCS National Headquarters and was acting state conservationist of Illinois before returning to his home state of South Dakota to be the state conservationist.
Reflecting on his nearly 40-year career, Zimprich noted out his outlook changed.
"As a young conservationist I was very foolish," he said. "I believed that conservation issues would all be done and accomplished by the time I retired. Conservation issues continue to evolve and I don't think that will ever come to an end."
Retirement won't stop Zimprich's dedication to conservation. He plans to be an active member of the conservation community as an agricultural producer.
"My mom and dad blessed me with the opportunity to grow up on a small farm and develop a love of agriculture and nature, and I believe it's time for me to go back there and do everything I can to give back to that," he said. "I know I have more work to do in conservation, just from a different seat."
Zimprich plans to return to his family farm near Brandon, South Dakota, and to spend more time with friends and family.