It takes only a couple hours to get from Kerkhoven, Minnesota to Brookings, South Dakota, but for Josh Woodford, that journey from home took more than a decade.
Woodford is a Marine Corps veteran. After joining the military in 2003 prompted by a profound desire to serve post-9/11, he served his four years and one tour before an injury ended his military career.
His post-military life led him back home to a career in an area he never even thought about.
"When you get out as a vet you think you'll be fine, but when you get out you don't have that camaraderie that you had going in," Woodford said.
Woodford serves as the plant supervisor at one of South Dakota's largest wind farms, the Buffalo Ridge II project based in Brookings County. He followed a career path that has now opened up to many veterans – renewable energy.
Woodford, along with four other veterans on Buffalo Ridge II's team of 13, discovered renewable energy jobs by accident.
As he was leaving the military, Woodford was told to take some time off from work and settle back into civilian life. Woodford didn't want that.
Coming out of the military left him with three major goals, he said: have a successful career, lay down roots, and start a family.
"I didn't want to be held back from being successful," he said. "I had to do something."
Through a series of family connections, Woodford returned home to Minnesota to work at a local steel plant. He tasked himself with doing research on avenues the company could take to come out of a sales slump. During his research, he came across an ad for a two-year technical degree in wind energy from Minnesota West Community and Technical College.
After going back to school for two years, Woodford left Minnesota West with an internship and was hired shortly after to work at a wind farm in North Dakota, which is now owned by his current employer, Avangrid Renewables.
Woodford's boss, Nick Thiel, isn't a veteran himself, but has family connections to the military. His brother served and his family has a history of serving in the military. For Thiel, the work ethic is everything. When he found out his new supervisor would be a Marine veteran, Thiel couldn't have been more pleased.
"Josh can adapt to multiple scenarios," Thiel said. "Each individual from their branches (seems to be) destined for what they do at this company."
Thiel and Woodford's team at Avangrid Renewables has members from the Marines, the Navy, the reserves and the Air Force. Each background has given the team a unique understanding of tasks at hand, which Thiel said has made them all more productive.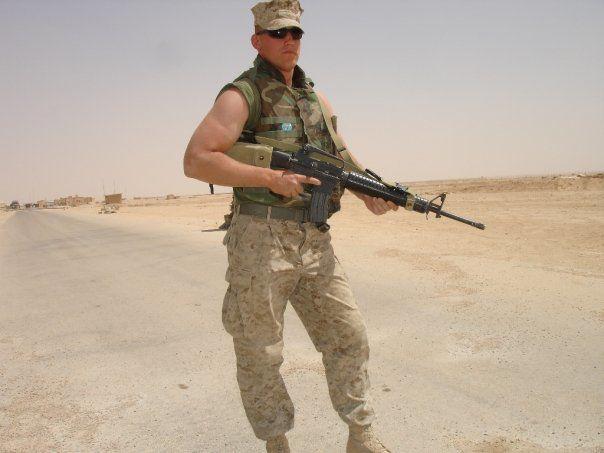 But hiring veterans isn't a marketing gimmick for Thiel or Avangrid Renewables, he said. The goal for every hire is to get someone who can do the job most effectively, which Thiel said lends itself to the work ethic and discipline instilled in each veteran.
"I've got the best," he said.
For Woodford, the hands-on nature of wind turbine maintenance and repair has been an easy transition from his time in the military. On a deeper level, working with his team is a dream, he said, because each of them understands the plight of the average veteran.
"It took a lot to explain things people don't understand about what you go through," he said. "No matter what, we have that common thread."
Paul Copleman, the communication director for Avangrid Renewables, said working with veterans makes the most sense for the company that has designed its systems around a culture of safety. He said when veterans get on-the-job experience, they realize that repairing and maintaining power plants of various natures is very similar to the work they had done to maintain systems in the military.
"All the parts are the same, regardless of where it's coming from," he said.
Thiel's bosses are also all veterans and have helped define the culture that many renewable energy companies are now following.
"We owe a lot to these veterans," Thiel said.
As of 2019, companies like Avangrid Renewables now offer on-the-job training for those who are coming out of two-year technical schools. Copleman said that Avangrid has partnered with several schools throughout the country to work closely with training and development.
As far as working with teams like Thiel's, Woodford said training to be a technician at one of these power plants boils down to the innate ability to work under pressure, rather than any strict technical knowledge.
"We can take guys off the street and train them up," he said. "You can teach the technical stuff, but discipline and things like that is something you can drive a successful career off of."
While Woodford and Thiel both get close to 10 years on the job, they said putting in roots in the community has been the most appreciated aspect of their job thus far.
Woodford has settled down, and started a family. Thiel has gotten to return home to the Midwest after growing up in Estherville, Iowa and traveling around the country in various jobs during his career and has a young child. Even though family was the main focus for both Thiel and Woodford, their at-work family has become just as important.
"The guys pull people in and we become a family," he said. "You need to have that family to trust the people with you."
"These are jobs at height and with moving parts. The teamwork to watch the backs of your fellow crewmembers is something folks coming out of the military are very familiar with," Copleman added.
As job opportunities in wind expand, and more wind farms go up around the country, both Thiel and Copleman said they're happy technicians working on these plants will get to return to where they grew up and resettle in their home communities.
"We're putting machines in parts of the country that 10 years ago we never thought would be efficient enough," Copleman said.
Thiel said he's even noticed that schools have begun teaching more and more about STEM topics and robotics, something he didn't see before renewables moved into the rural communities.
"The younger generation is getting interested in it and seeing more of what technology has to offer," Thiel said.
The wind energy industry employs veterans at around a 74 percent increase over the next highest industry. Wind technician has become the second fastest growing job in the country, according to data pulled from various veteran organizations.
Not far behind wind, the solar industry employs veterans at a 45 percent increase over the national average.