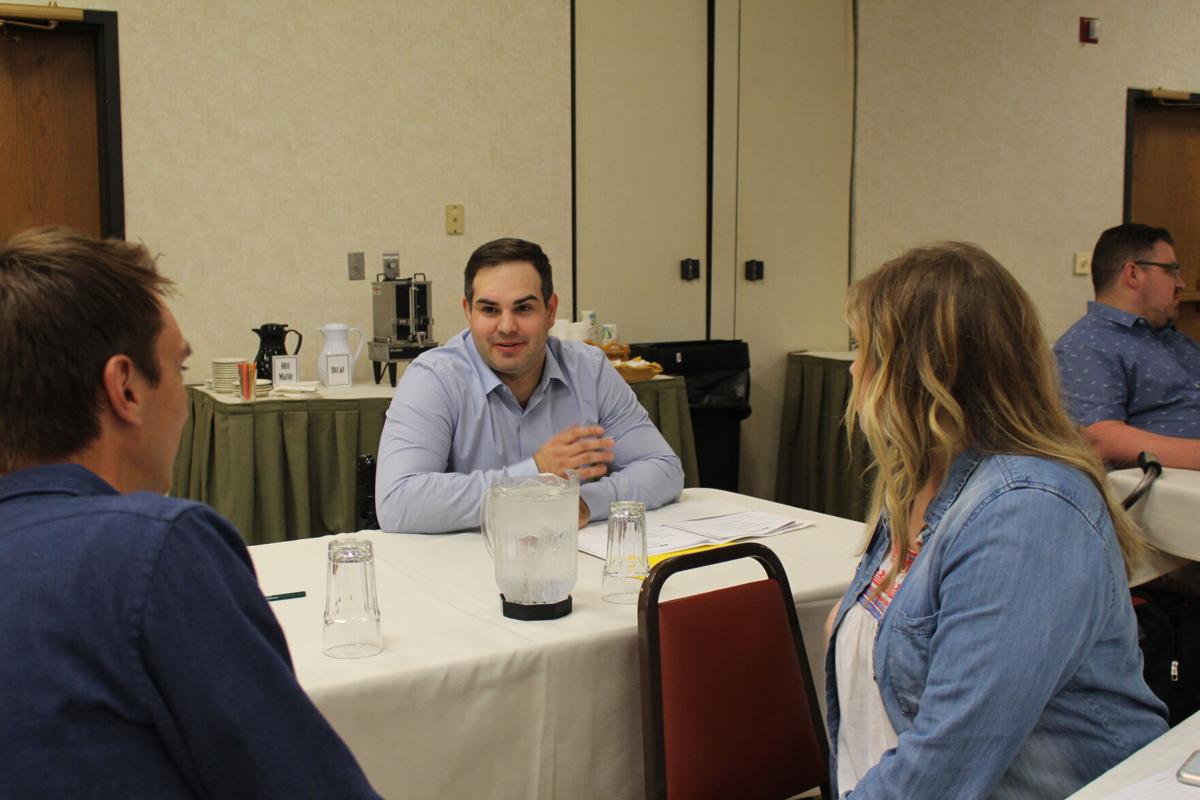 Britton, South Dakota farmer Kermit Pearson sees the value in rural cooperatives. He's dedicated nearly 40 years of his life to serving on the board of rural electric cooperatives.
"The co-op business model is an exceptional business model, and it works really well in rural America to provide the good and service that private organizations have a hard time doing at a cost that's reasonable," Person said.
Running a rural cooperative takes dedication from local people willing to serve on its board of directors, but in areas with small populations it can be hard to find people to step up into those leadership roles.
The Rural POWER program (for Powering Opportunities While Energizing Rural), announced March 24, aims to address that shortage. Part of the Billie Sutton Leadership Institute, the year-long program will focus on developing leaders to serve rural communities, particularly on local cooperative boards.
It's not a role many people think about stepping into, as is the case for many public service positions, Sutton said. He didn't consider running for the state Legislature until he was asked, he said, and it snowballed from there.
"We're trying to build interest and create that pipeline of people interested in serving," Sutton said.
Even if they don't end up taking a board position after completing the leadership program, he hopes people will at least learn more about what goes on in their rural cooperatives and rural communities.
"The younger generation have maybe looked passed what it means to serve your community, which then energizes your community and building community-minded people," Sutton said. "It fits in well with what we started with the leadership institute. Our mission is the same."
While the program has some commonalities with the South Dakota Agricultural Rural Leadership program, which has been around 20 years, Sutton said there's room from them both. Rural POWER will have a special focus on cooperatives while SDARL is geared toward broadening people's experience with agriculture.
Rural POWER branched out of the Billie Sutton Leadership Institute, which offers a more broadly focused year-long leadership program for rural and urban alike. Classes started two years ago and continued virtually through the pandemic.
The classes already had an online component, and Sutton said it only made sense to adapt to changes brought on by COVID-19.
"You're going to have adversity in life. One of the best leadership qualities you can have it to be able to roll with the punches, to be open to going in another direction," he said.
The Rural POWER and the leadership institute programs will be held in conjunction, but the POWER program will have additional sessions with a rural focus.
Applications for the next round of classes are open through May 1 at suttonleadership.org. About a dozen members were selected for the first classes through a competitive process.
"We want the classes to be small enough where we can get to know the people and work with them closer," said Suzie Jones Pranger, executive director of the Billie Sutton Leadership Institute.
The program starts with a weekend retreat in Chamberlain/Oacoma. Each month, public figures and business people speak to the group about their path to leadership and what they've learned.
Chris Studder, spokesman for Madison-based East River Electric Cooperative, plans to address the Rural POWER group about what's involved in serving a rural cooperative. He'll cover the financial structure, how to read a balance sheet and how patronage works.
Rural electric boards have anywhere from five to 11 directors who serve three-year terms.
Pearson was asked join the Lake Region Electric board as retirement neared for Art Jones, one of the early pioneers in the state's rural electric movement. Like Sutton and his service in the Legislature, Pearson hadn't given it much thought until the nominating committee reached out to him.
At the time, Pearson was farming in partnership with his dad and brother. He had returned to the farm after teaching vocational agriculture in Redfield, then serving as State Fair manager from 1972-1975. He still does some farming, but he credits the help from his family in the early days for allowing him to dedicated time to the electric cooperatives.
"They covered for me," he said. "Without that, I wouldn't have been able to handle that."
He started serving on the board of his local electric distribution co-op, Lake Region Electric, in the early 1980s. Each local co-op selects a member to serve on the board of the transmission co-op, East River Election. Pearson took on that roll in 1989, and about 10 years later he became one of East River's representatives on the Basin Electric board.
The Basin Electric board requires the most work, he said. While the other boards require one or two days of work a month, Basin Electric takes about three or four days of his time, and he travels to meetings in Bismarck, North Dakota.
Electricity can be an especially complex business, but there are education programs for board members at various levels once they're elected. Pearson said he quickly caught on to all of the government programs and industry acronyms.
"You don't need to know the physics of electricity," Pearson said. "It's running a business like everything else."
Through the decades, he's found his time on the cooperative boards to be enlightening and rewarding.
"You provide a valuable service for the rural members," Pearson said.
In addition to learning what local service involves, Rural POWER participants will take on community engagement projects of their own. Learning to ask questions and take in other people's views is important as well.
"It's very much about developing your skills as a leader and making sure your action oriented," Jones Pranger said.
The program is offered at no cost, paid through private fundraising and sponsorships. South Dakota Farmers Union is sponsoring the Rural POWER program.
Janelle is editor of the Tri-State Neighbor, covering South Dakota, southwestern Minnesota, northwestern Iowa and northeastern Nebraska. Reach her at jatyeo@tristateneighbor.com or follow on Twitter @JLNeighbor.