Either in the classroom or out in the pens, Cody Wright has excelled at teaching students at South Dakota State University for many years. Now the animal science professor has earned the U.S. Department of Agriculture's Excellence in College and University Teaching Award for Food and Agricultural Sciences. 
Wright has become one of the main faces of SDSU's continued growth as one of the top agricultural colleges in the country. The South Dakota native had worked with SDSU in several capacities before getting a permanent teaching opportunity on campus. But since then, his passion never wavered from teaching.
"Cody Wright has been the recipient of just about every teaching award we have here at SDSU.
He was a pretty obvious choice to nominate for this USDA award," Dr. Don Marshall said.
Marshall is the associate dean for academic programs with the college of agriculture, food and environmental sciences at SDSU and is the man who nominated Wright for the award.
The nomination process was extensive and exhaustive, but Wright said the hoops he had to jump through have helped him become a more rounded educator. The nominee puts together a portfolio showing why they think they should win the award. With comments from superiors and colleagues, as well as students, Wright submitted a package that he thought showed why he and SDSU excel at teaching agriculture.
"Essentially you have to brag about yourself, which is pretty hard to do," Wright joked.
The award was presented this past fall by the Association of Public and Land-grant Universities in San Diego.
When it comes down to it, teaching isn't about the awards to him. It's about the students that he influences every day.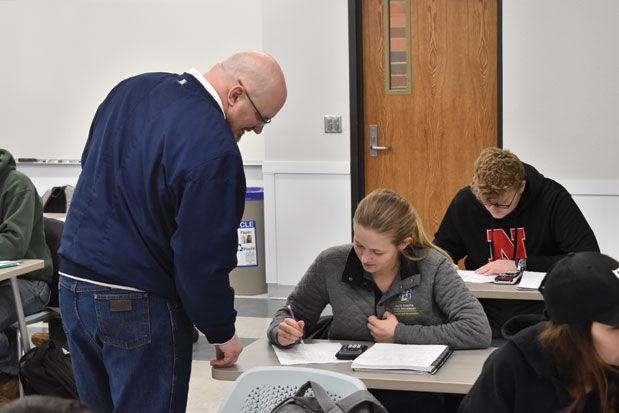 "I love being with them. They keep me young," he said. "It's something that I really, truly enjoy."
What makes an award-winning teacher?
Realizing one's passion is a key step to success in most people's lives, but for Wright, that passion for agriculture didn't involve teaching until well after college.
Wright grew up on what he refers to as a hobby farm. His dad bought lambs and hogs, and he was always around agriculture. However, Wright went to school for mechanical engineering at first. He switched to animal sciences as he realized his true passion was back in agriculture.
After visiting with a family friend after college, Wright was asked about his thoughts on teaching agriculture, rather than operating a farm himself. Even after submitting paperwork to attend graduate school, Wright was still skeptical.
"I still wasn't convinced I would be a teacher," he said.
Kansas State University housed Wright for several years while he worked toward his master's degree. Then he moved back to South Dakota to work with SDSU Extension as a beef specialist. Nearly a decade into his role as an extension educator, SDSU professor and extension swine specialist Bob Thaler, asked him to help out as a teacher for fall semester 2007.
"When I collected my thoughts about what I enjoyed about the extension, it really was teaching," he said. "It took me until I was 35 years old and switching positions to discover that passion."
After more than a decade of full-time teaching, Wright said the passion from day one is still there.
"I want this to be a great place for the students to be," he said.
But it's not just about the students, Wright said. His colleagues and fellow researchers have become a second family, with whom he has shared decades of friendship. Opening the doors to new colleagues and old, and bouncing ideas off of them keeps education fresh and exciting for the students, and it's one of Wright's favorite aspects about working at SDSU.
"Working with the end in mind and making it all about the students," he said. "A lot of people are pretty excited."
As an SDSU alumnus, and part of a family full of Jackrabbits, Wright said pushing professors and students to make SDSU the best place to be is the key for the university moving forward because ag education is the basis for most of the newest young producers to build from.
"Here's what we know and here is the foundation to build new knowledge on," he said. "Being a life-long learner is a reality."
Wright has watched the university grow from a local name to a national leader in agricultural education. In that time, enrollment expanded from a student body of mostly South Dakota natives to students from all over the country and sometimes international locations.
"Part of it is because it's reasonably priced, but we have a quality education," he said. "I'm a bit competitive by nature but I'd put our undergrad education up against anybody."
Wright's competitiveness and eagerness to give the students a great education is what makes him special, Marshall said adding that Wright has a unique ability to contextualize information and make it relevant for the students.
"Students are much more likely to learn about material, to see how it relates directly to them," he said.
Wright hasn't become complacent in his time at SDSU, Marshall said. He continues to push himself to learn the latest techniques and hear from producers daily on how to best show students what the real-world applications are for the information he teaches.
"He brings that to the classroom to help illustrate the important concepts," Marshall said.
SDSU tries to nominate a professor every year for the USDA Excellence in College and University Teaching Award. Marshall said you can't expect to be considered without putting in the effort. Wright would love to see his colleagues showcased for awards in future years, and he believes it's just a matter of taking time to fill out the nomination forms.
"They're highly deserving, and this is not new," he said. "There were people here (who were deserving of the award) when I was a student. A lot of what I do goes back to what those guys did."
The award comes with $2,000 that Wright will decide how to use. He's looking forward to sitting down with department heads to figure out the best application.
"Maybe we use it to bring in a speaker or something along those lines," he said.
Overall, Wright gives credit to SDSU, his colleagues and the students for the award. Without them, he wouldn't have found his passion in life, he said.
"It's a testament to the support and the environment that they have here," he said. "It's an absolute honor."
Reach Reporter Jager Robinson at 800-888-1380, email jager.robinson@lee.net or follow on Twitter @Jager_Robinson.