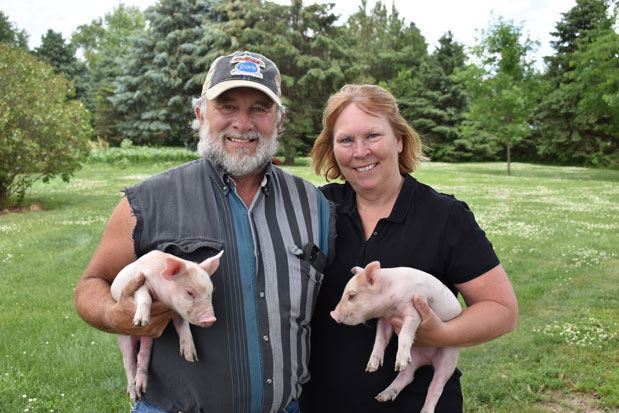 Ferlyn Hofer started his own pig farm at a difficult time. It was the early 1980s when interest rates were high, but he expanded. The family farm continues today, and now three adult sons are involved – something that strengthens their bond.
The Ferlyn and Karen Hofer Family of Canistota, South Dakota will be honored by the South Dakota Pork Producers Council with the 2020 Family of the Year Award at the Master Pork Producers Banquet Jan. 13 in Sioux Falls.
This award was created to honor a pork-producing family who has contributed to the long-term success of the industry through leadership and pork promotion on the local, state or national level.
Ferlyn Hofer grew up on the family farm east of Canistota where his parents had a farrow-to-feeder pig operation and eventually a farrow-to-finish farm.
After graduation from Canistota High School in 1978, Ferlyn started his own 75-sow farrow-to-finish operation using outside finishing lots a mile north of his parents' farm.
In the early 1980s, even with high interest rates, he expanded his hog operation to 150 sows and built new farrowing, nursery and finishing barns.
Ferlyn and Karen were married in 1987 and over the years working together grew their sow herd to approximately 350 sows. In 1991 they purchased the original family farm where Ferlyn grew up and now the gestation and farrowing operations are located at the home farm while the nursery and finishers are at the farm Ferlyn started.
The Hofers also raise corn and soybeans and grind their own corn in their feed mill to feed the sows and pigs.
The couple was blessed with three sons who are all married now. All three boys grew up working on the farm and are still involved today.
Ryan not only is the family's electrician, owning Great Plains Electric, but he also farms crop with his parents. His wife Amber teaches second grade at Terry Redlin in Sioux Falls.
Tyler and DiAnn own and operate TH Custom Manufacturing where they make freestanding panels, dumpsters and roll-off containers. That business was started on the home farm and has since moved into a larger facility at Wall Lake. Tyler is also the family's welder when things need to be repaired.
After working as a lineman in North Dakota for a few years, Nolan returned to work full time on the family farm. He not only is involved in the day-to-day operations, but also manages the family's feed mill and crop farm. His wife Krystal works at the Ortman Clinic in Canistota and occasionally helps out in the gestation barn breeding sows.
Both Ferlyn and Karen are active with South Dakota Pork Producers Council. Ferlyn serves on the executive board and committees and is past president. Karen is on the trade show committee and helps with pork promotions.
Ferlyn is a supervisor for Greenland Township,, past member of the Cenex board, and the Hofers are members of United Church of Canistota, where they have both served on church council.
The couple said they feel privileged that their sons want to be involved on the farm and feel that the family bonds are strengthened when everyone has a part and works together.