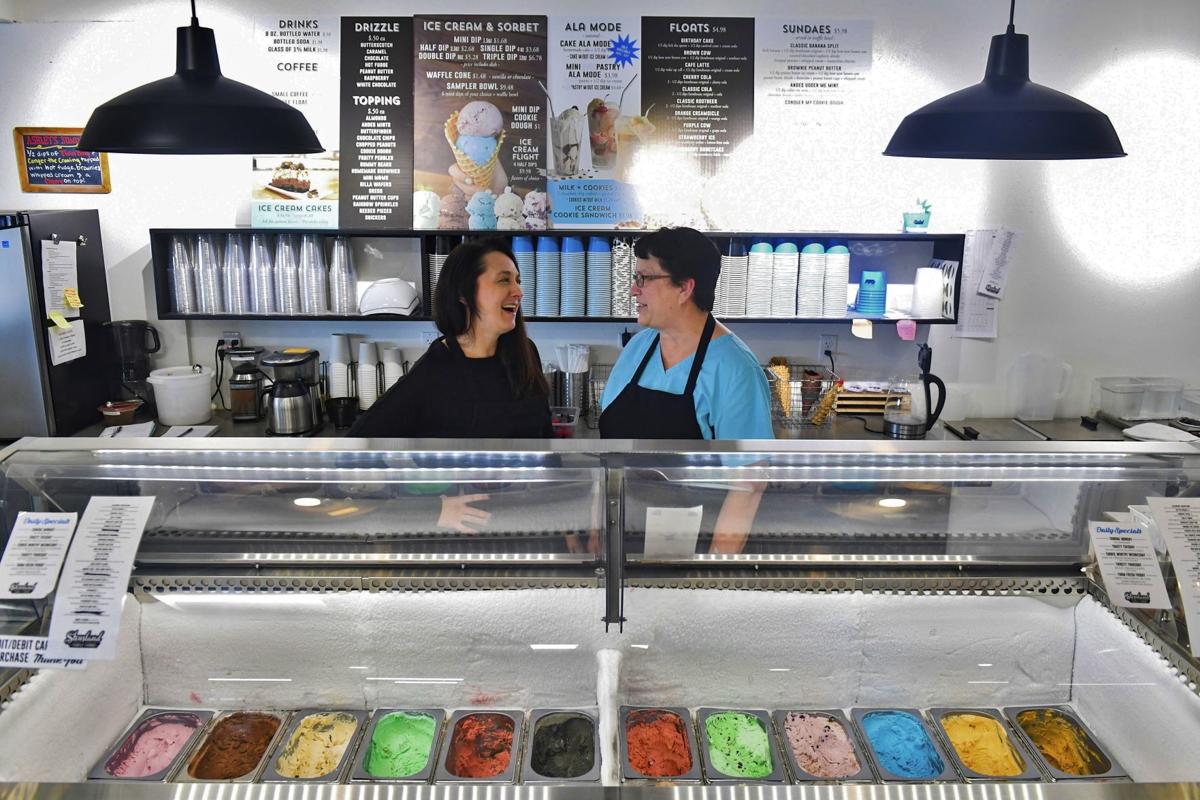 Most South Dakotans think of local foods as seasonal items. But even through our cold winters, more and more local food hubs, farmers markets and direct to consumer producers are open for business year-round. Our access to fresh, healthy local food has never been better.
Several farmers markets and food hubs across the state are open year-round for online ordering, pick up or delivery.
The Vermillion Area Farmers Market has been year-round for 10 years, and offered online ordering and pickup for the first time this year, which became a popular option in winter.
"It was a good decision to go online," market manager Amy Schweinle said. "We just keep growing our year-round sales and selection."
Stensland Farms delicious dairy products are sold in many grocery and Lewis Drug stores around Sioux Falls, but their ice cream parlours also carry local milk, cream, cheeses, organic eggs and pizza made with all local homemade ingredients fresh from their farm. You can even buy the sauce. Curbside pickup and shipping is available.
Other options include South Dakota-produced grain and meats. Belle Valley Ancient Grains out of Newell offers whole grains and fresh milled flour. Evergreen Ranching & Livestock in Custer offers a range of meats and grilling bundles. Not located in these communities? Producers are willing to ship.
"We have inexpensive shipping within South Dakota, even for bulk shipments, and even free shipping over $35 on our Etsy site," said Brian Stambaugh, Belle Valley Ancient Grains owner and operator.
Other locally grown, then preserved products are also available. Sunset Gardens on the Minnesota border near Sisseton has a wide range of herbs and value-added products.
"We have a large variety of organically grown and naturally dried culinary and medicinal herbs. We also make teas in bulk packages and individual tea bags. And while supplies last, we have verified value-added products such as jams, salsa and pickled beets," Bev Lamers, Sunset Gardens owner and operator said.
A listing of food hubs, farmers markets, and producers who have local foods available through the winter in South Dakota is available online at sdspecialtyproducers.org. Contact sdspamarketing@gmail.com if you would like to be added to the list.
• Black Hills Farmers Market, Rapid City, SD
245 E. Omaha St, Rapid City
Online ordering for pick up on Saturdays 9 a.m. to 12 p.m.
• Falls Park Farmers Market, Sioux Falls, 309 East Falls Park Drive, Sioux Falls
The market offers an online option for Saturday pick up the 1st and 3rd Saturday of the month. Orders taken from noon Monday prior through Wednesday.
• Vermillion Area Farmers Market, Vermillion, 312 Bower St. Vermillion, SD 57069
Winter markets 2nd & 4th Saturday each month, online orders taken until Thursday prior to market.
• Dakota Fresh Food Hub, Brookings & Sioux Falls Pick up sites
A farmer-owned collective that offers the ability to purchase directly from many local farmers with one order via an online marketplace year round. Weekly delivery.
• Glory Garden, Sioux Falls 
Partners with other local farmers to provide a variety of products- eggs meat, honey, mushrooms, produce, organic dried beans, wheat berries, and flaxseed. Monthly deliveries on the 2nd Tuesday of the month with ordering open the Friday before delivery.
• Stensland Farms, Larchwood, Iowa
Sioux Falls East 4712 E 41st St; (605) 271-2962
Sioux Falls Central 3101 West 41st St, 57105; (605) 271-0833
Ice cream, milk, cream, organic eggs, pizza
• ABerry Acres, Canton
Honey
• Albrechts Angel Honey, Huron
Honey
• Bear Butte Gardens, Sturgis
Greens, salad mix, herbs, potatoes, and meats
• Belle Valley Ancient Grains, Newell
Certified Organic heirloom wheat, flax Ancient grains, and flour
Etsy Site
• Black Hills Honey Farm, Spearfish
• Raw Honey
• Desjarlais Farm and Winery, Stugis
Honey
• Evergreen Ranching & Livestock, Custer
Grass fed, Grass finished beef, Free range eggs and chicken, wild caught fish, and more.
• Farmlife Creamery, Ethan
Cheese
• Gundy's Farmers Market, Yankton
Grass-fed beef, pork, lamb, poultry, eggs, value added goods, aronia berries
• Happy Hydros, Pukwana
Lettuce
• Heikes Family Farm, Vermillion
Honey, CSA Shares, 605-222-1423
• Lakota Youth Development & Honey Lodge, Herrick
Honey, Candles Body Care, Gifts, 605-654-2050
• Prairie Coteau Farm, Astoria
Garlic, 605-832-2062
• Prairie Moon Herbs, Vermillion
Teas, herbal plants, 605-670-0540
• Prairie Sky Farm, Corsica
Poultry products, Some limited delivery to major towns in South Dakota.
• 2nd St Produce, Pipestone, Minn.
Microgreens, 612-280-9788
• Serendipity Farmstead, Hot Springs
Eggs, beef, pork and yak, 605-223-1125
• Sturgis Meats, Sturgis
Beef Jerky
• Sunrise Hives, Spearfish
Honey, 605-641-2289
• Sunset Gardens, Browns Valley, Minn.
Organically grown, naturally dried culinary and medicinal herbs. Teas, jams, salsa and pickled beets, 605-742-4174
• Svec Farm, Estelline
Grass-fed Beef, grass finished lamb, 605-873-4770
• Warners Produce, Montrose
Produce, 605-201-7409