It's great to be back. Back on the pages of the Tri-State Neighbor. Back among old friends. Back to South Dakota.
It's as though a lifetime has slipped by in the past quarter-century, but that feeling doesn't apply to just me, does it? "A lot of things have changed" is an understatement.
When I started at TSN in the early 1990s, we still made long-distance phone calls and were barely beginning to use email for our business communication. South Dakota's interest in cellphones spiked when it was discovered they had aided in the rescue of a northeastern South Dakota woman stranded in her truck in a blizzard.
While I was on staff, we had a notion to rename the newspaper, shortening it to "The Neighbor." That's what everybody called it, right? And besides (we reasoned) the readers live in more than three states: Iowa + Minnesota + Nebraska + South Dakota = four.
That should have been one of those "if-it-ain't-broke-don't-fix-it" moments. I don't recall when the name reverted back to Tri-State Neighbor, but I'm glad it did. (I don't think any of the four states is offended.)
During my time as editor, Congress and local farmers and ag leaders were debating the not-yet-enacted North American Free Trade Agreement, the term "corporate farming" was uttered with suspicion, farmers were starting to use precision machines with GPS technology, and only a few hard-working migrant farmworkers had yet made their way to the region.
Roundup-ready crops were headed to a field near you about the same time I resigned as editor and headed – literally – for the hills.
Or, rather, mountains. My first son was just a year and a half old when we moved to Virginia's beautiful Appalachian Mountains, where his dad had grown up and had a new job. Transplanted to the Blue Ridge stretch of that range, this prairie girl felt a bit claustrophobic: Couldn't see the sun rise. Couldn't see it set. Couldn't figure out my compass directions. (By comparison it's so easy here, where the roads are generally laid out in square one-mile grids.)
And farming was so … different. There was only one dairy farm in all of Roanoke County, and it disbanded while I lived there. There were no endless acres of corn, no amber waves of oats and barley along busy Interstate 81, where semi rigs roared their goods between Winchester in the north and Bristol in the southwest.
Nevertheless, agriculture is Virginia's largest private industry. Apples, tomatoes, tobacco, cotton, turkeys, cattle, hogs, winter wheat, peanuts, eggs, pumpkins and even fish are among its prize commodities. My mountainside neighborhood was once an apple orchard. (Tip: If you don't like the taste of straight moonshine, there's always an apple pie-flavored variety.) Vineyards were within a short drive from my home in nearly every direction. There were peach orchards on Bent Mountain, just five miles from us. Our diet every late July and early August consisted of mostly peaches, when I bought them by the bushel. (My mom says if there aren't apricots in heaven, she's not going. I say the same about peaches.)
I grew accustomed to winding mountain roads and the sight of tiny farms nestled on a mountainside. I fell in love with the breathtaking fall colors outside my back door.
Virginia became home. Twenty years and raising two children in a place does that to a person. There are two states I love fiercely, and by now you know which ones they are.
There's much more to tell, but it will have to wait for future columns. Briefly, though: As Janelle tells you in her column, for several years I was a copy editor at The Roanoke Times, later becoming that newspaper's food writer.
It's fitting that in this issue, where we're celebrating 35 years as your regional farm publ…
I sometimes referenced South Dakota connections in my stories. If you'd like to read about a Virginia culinary arts professor and pastry chef who bakes kuchen as homage to his South Dakota relatives, go to bit.ly/2HS4G9A (or do an internet search using my name plus "Roanoke Times" and "John Schopp"). I also had fun introducing Roanoke readers to chislic. You can find that story at bit.ly/2WxAYKn (or do a search for my name plus "Roanoke Times" and "chislic").
Sioux Falls, too, has changed in two decades. It is like Roanoke in size, growth, downtown revitalization, expansion of medical facilities, outcropping of breweries and bike paths, and forward-thinking civic leaders. I'll tell you a bit more about that in future columns. I also want to tell you about the transitions we have faced regarding the family farm. Many of you will relate to that story, and I hope you'll share your own stories.
Janelle says I have the entire state for column material, so I want to hear from you. Experience tells me that readers have the best ideas. My email address is posted on this page … and that reminds me: The name of this column has a double meaning. We all find forks in the road, and the paths we choose can impact the rest of our lives. But I was also inspired by the delightful names of a group of sister restaurants in Roanoke: Fork in the Market, Fork in the Alley and the former Fork in the City. Sometimes I'll write about food; sometimes I'll write about other forks, the kinds we meet in life.
My retired-dairy-farmer dad called me one Sunday evening: "The Tri-State Neighbor is looking for a columnist. You'd better get in touch with the editor." I emailed Janelle, and now here we are.
So, dear neighbors: Depending on how this goes, we can either blame Dad, or thank him.
Since I raved about Virginia peaches, I want to share an easy recipe, printed originally in my Roanoke Times column, for what Southerners call "Cuppa Cuppa Cobbler," so named because it calls for a cup of this and a cup of that. Here in South Dakota we'll have to wait to bake it until summer, when the peach shipments arrive from out of state.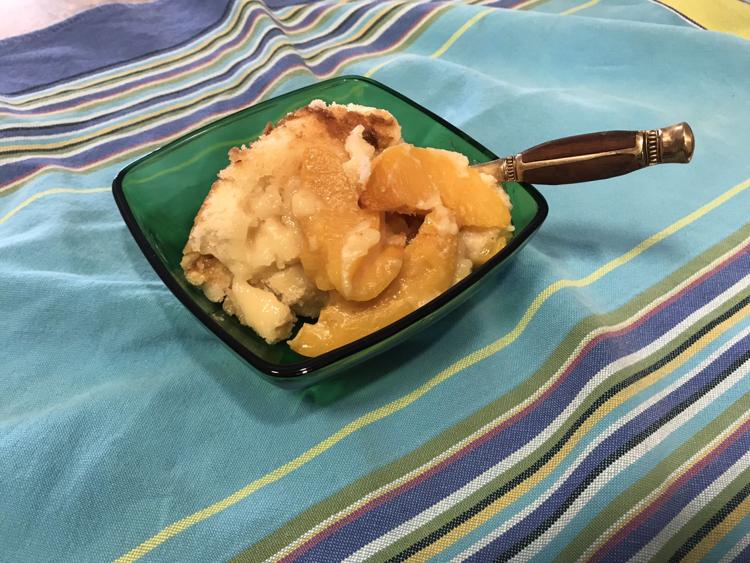 Cuppa Cuppa Cobbler
1/4 to 1/3 cup butter
1 cup white sugar
1 cup self-rising flour
1 cup milk
3 cups peaches, peeled (if desired), pitted and sliced
1. Preheat oven to 350 degrees F. Place butter in a deep 2-quart baking dish and place in oven to melt.
2. In a medium bowl, mix sugar and flour. Stir in milk, a little at a time, until wholly incorporated. Pour carefully over the hot butter in the dish. Spoon peaches over batter. The peaches will sink to the bottom as the cobbler bakes.
3. Bake, uncovered, in preheated oven 35 to 45 minutes, until crust is puffed and golden.
Notes: If you don't have self-rising flour, you can make a substitute by stirring 1 cup all-purpose flour with 1 1/2 teaspoons baking powder and 1/2 teaspoon salt.
Sliced fresh nectarines, or a 29-ounce can of sliced peaches, or two cans of your favorite fruit pie filling, may be substituted for the fresh peaches.
If you don't want to heat up the oven, make it in the slow cooker. If you do so, be sure the cooker is hot and the butter melted before pouring in the batter. Cover and cook on high for 1 hour; check to see if it's done and cook up to an hour longer if necessary.
Adapted from allrecipes.com.