Please change your mind about rhubarb. It's not just for dessert anymore. If you like rhubarb, good for you, but maybe you only know it in pies, crisps and jams. If you don't like it, give it another look, because now is a good time to capitalize on rhubarb's savory side.
June rhubarb is like August zucchini – everywhere you turn, someone's trying to give it away. Next time they offer, please accept so you can benefit from the plant's superfood properties: among them fiber, Vitamin C, potassium, manganese, Vitamin K and antioxidants.
I tried to grow rhubarb when I lived in Virginia, but neither the cuttings I bought at the garden center nor the ones I transplanted from my parents' farm in Day County thrived in the clay soil in my back yard. And "pie plant," as it's nicknamed, likes our frigid prairie winters.
Sure, it was available at Virginia's farmers markets and in the freezer section of grocery stores, but there was something that felt odd about paying for rhubarb, when I grew up in a place where it grows practically like a weed. I took to harvesting the stalks during summer visits to South Dakota and hauling them back east in a cooler.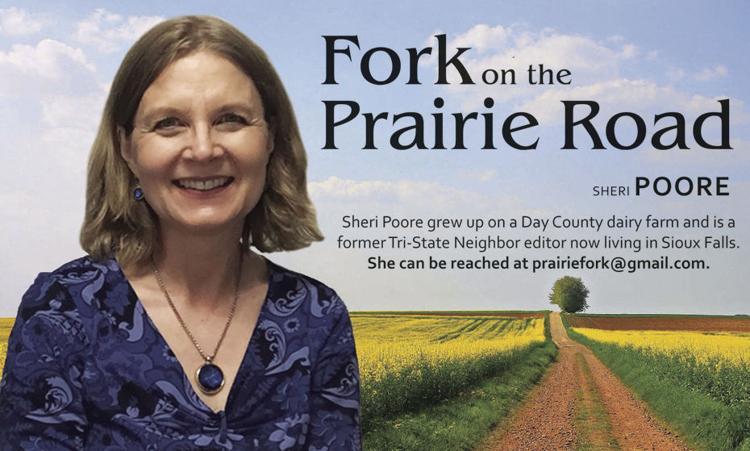 I enjoy pie as much as the next rhubarb lover, but this spring I tried a few unusual recipes. My surprise favorite is the rhubarb salad dressing. I took it along one evening to supper at a friend's house, and she served it over field greens with dried berries and sunflower seeds.
If you still don't want to eat rhubarb, consider drinking it. A couple of years ago, I made infused vodka for a family reunion. I won't give my concoction the credit for the fun we had, but when the gathering ended, there wasn't any rhubarb vodka left over.
Rhubarb Salad Dressing
Adapted from Good Housekeeping
Marinating the rhubarb pieces for a while in a vinegar-honey-oil mixture mellows their tartness. Use your imagination: This dressing with its crunchy rhubarb will be good on spinach-strawberry salad with nuts, or nearly any tossed greens.
2 tablespoons honey
2 tablespoons white wine vinegar
3 stalks (each about 8 inches long) fresh rhubarb, washed and cut into ½ to ¾-inch pieces
¼ cup olive oil
Salt and pepper, about ½ teaspoon each, or to taste
In small bowl, whisk together the honey and vinegar. Add rhubarb and stir to coat. Let stand about 10 minutes, then add olive oil, salt and pepper. You can serve it immediately over salad, or let stand up to an hour to allow the flavors to further blend.
Note: Use slender stalks about the diameter of your pinkie finger for this dressing. Rice vinegar or another mild vinegar may be substituted, but don't use distilled white vinegar, as the flavor is too strong.
Tomato-Free Barbecue Sauce
Adapted from allrecipes.com
This barbecue sauce smells so good while it's cooking! Yields about 4.5 cups.
4 thick stalks rhubarb (about 10 inches each), washed and chopped
1 (12-oz) can soda such as Dr Pepper or Mr. Pibb – store brand is fine
1 cup apple cider vinegar
1 sweet onion (such as Vidalia), chopped
1 cup brown sugar
¼ cup molasses
1 tablespoon Worcestershire sauce
1⁄2 teaspoon ground cinnamon
1⁄2 teaspoon ground allspice
1⁄2 teaspoon salt
1⁄2 teaspoon ground black pepper
1⁄8 teaspoon ground cloves
¼ teaspoon ground dried chipotle pepper or a pinch of cayenne pepper
¼ teaspoon garlic powder
2 teaspoons liquid smoke flavoring
Combine in a saucepan; bring to a boil, and reduce heat to low. Simmer, stirring frequently, until rhubarb and onion are very soft, about 45 minutes.
Let cool. Pour the sauce into a blender, filling the pitcher no more than halfway full. Hold down the lid of the blender with a folded kitchen towel to prevent splashes, and puree the mixture in batches until sauce is smooth.
Note: The sauce is thin, not thick like store-bought barbecue sauce. It's OK to add two or three more stalks of rhubarb, if you have plenty to use up.
Rhubarb Salsa
From allrecipes.com
This recipe is adaptable. Adjust the ingredients to your liking.
2 cups thinly sliced fresh rhubarb
1 small red onion, chopped
3 large peppers (one each red, green and yellow) seeded and chopped
1 jalapeno pepper, seeded and chopped (optional)
1⁄2 cup chopped fresh cilantro
3 Roma (plum) tomatoes, diced
2 teaspoons brown sugar
5 tablespoons lime juice
2 teaspoons garlic salt
ground black pepper to taste
Stir rhubarb into a large pot of boiling water and cook for 10 seconds. Quickly drain rhubarb and rinse with cold water until cool; transfer rhubarb to a large bowl.
Place red onion, green, red, and yellow bell peppers, jalapeno pepper, and cilantro into a food processor and pulse 3 or 4 times to finely chop; transfer pepper mixture to bowl with rhubarb. Stir in roma tomatoes.
Dissolve brown sugar in lime juice in a bowl; lightly stir lime juice mixture into rhubarb mixture. Sprinkle salsa with salt, garlic powder, and black pepper and stir salsa again. Refrigerate at least 3 hours to blend flavors.
Note: Don't cook the rhubarb longer than 10 seconds, and don't skip the cold-water rinse. The goal is to retain the rhubarb's crunch.
Rhubarb-Infused Vodka
I improvised this, but there are plenty of recipes on the internet. My version: Fill a quart jar at least half full of chopped red (not green) rhubarb. Add about ¼ cup sugar and fill jar to the top with vanilla vodka. Cover with a tight-fitting lid and store in dark place for at least two weeks, or up to two months. Gently shake the jar every few days to mix, and taste to see if it's to your liking.
Use a strainer to remove the rhubarb. (A coffee filter works well for straining out the last bits of fruit.) Pour the vodka into its original bottle or a decanter for serving.
Note: If desired, include some chopped strawberries with the rhubarb.