I was scrolling through Facebook the other day and I discovered that a photo of mine has become a meme – one of those pictures with a caption that spreads rapidly over social media.
Last summer while kayaking, I snapped a picture of two fellow paddlers and shared it with them. The peaceful scene is of the two men on the Big Sioux River in their kayaks, with a bridge in the background. I had to blink twice when a black-and-white copy of my photo showed up on the Facebook feed with the caption, "IF YOU EVER KAYAKED THE BIG SIOUX RIVER, YOU'RE IMMUNE TO THE CORONAVIRUS!!"
Hey, wait a minute. Shouldn't I get royalties?
What a serious, scary time we have been living through. I do appreciate, though, the ability of Americans to poke fun of themselves, to laugh through gloom. I asked friends and family to keep track of some of the funniest things we've read since the COVID-19 pandemic came upon us, and they came up with some good ones.
Let me be clear: I do not laugh at the terrible situation we are in, I hurt for all those affected by the virus and I applaud all the people who work to keep us safe. By repeating the social media one-liners below, I mean no offense. I see laughter as part of a regimen of good medicine. If you don't agree, it's OK. But if you can use a little levity, I offer the following.
Food
What if they close the grocery stores? We'll have to hunt for our food. I don't even know where Doritos live.
Grocery shopping has become an episode of "Chopped." What can I make with a bruised apple, a can of deviled ham, breadcrumbs, chicken feet and maple syrup?
Quarantine meal schedule: 7 a.m. - breakfast. 7:15 - dessert breakfast. 8:30 - panic snack with news. 9:45 - chocolate. 11:30 - snack while standing up staring. 12:30 p.m. - lunch with small dessert. 2 p.m. - post-nap luncheon. 4:30 - trail mix. 6 p.m. - dinner with weird vibes. 10 p.m. - ice cream.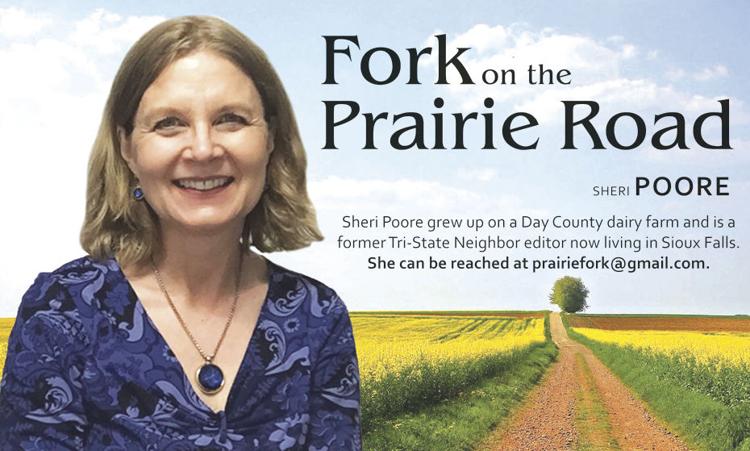 I'm going to start mixing Emergen-C in my vodka. I call it a Quarantini.
Religion and philosophy
Pray for pastors as they attempt to make this Sunday's livestream not look like a bin Laden capture video.
If you bought 30 rolls of toilet paper, you owe three to the church. Tithing is not canceled.
"Where two or more (but less than 10) are gathered."
Three viruses - COVID-19, Spanish Flu and Black Death - are sitting in a bar. Says the Coronavirus: "My vision is not to kill people per se, but to raise awareness around access to public health." Black Death rolls his eyes and thinks: "Crazy millennials."
Social distance
Pray for the huggers. We are not OK. Do you know how hard it is to not hug when you're a hugger at heart?! The struggle is real.
(Photo of a bagpiper.) Social distancing tool. (Same could be said of a banjo.)
(Photo of a barren country road): South Dakota: Practicing social distancing since 1889.
We are all Edward Hopper paintings now.
CDC: "Stay 6 feet apart from each other." South Dakota Scandinavians: "That seems a little close."
Bathroom humor
The best people to know right now are school custodians. A lot of toilet paper is not being used at school.
You know that stash of fast-food napkins in your glove box? It's about to be their time to shine.
I ran out of toilet paper, so I have begun using old newspapers. The Times are rough.
I used to spin that toilet paper roll like I was on Wheel of Fortune. Now I turn it like I'm cracking a safe.
(Photo of Lionel Ritchie with a package of Charmin.) Hello. Is it me you're looking for?
Since everyone has lost their minds and hoarded all the toilet paper, mind your own business when you see me scooting across the lawn. You created this monster.
My body has absorbed so much soap and disinfectant that when I pee it cleans the toilet.
What did one sock say to the other? Better stay together or we might wind up as toilet paper.
My grandson saw the empty toilet paper shelves and asked: Does this mean everyone will start using Pull-ups? I said: Depends.
My house got TP'd last night. It's now appraised at $875,000.
School and kids
Parents: I need help with my kids. They won't do their work or listen to me. Teachers: They don't act like that in my class. What are you doing to cause this?
Parents: What the …? I don't know how to teach fourth-grade math and science! School districts: You're gonna learn today.
And just like that, no one ever again asked a stay-at home-mom what she does all day.
The parents will soon come up with a cure the longer the kids are at home. My daughter told me that doing dirty laundry was bad for her health and she would be social distancing herself from it.
The Class of 2020 outdid themselves with senior skip day this year.
I'm a retired high school librarian who has read a lot of young adult dystopian fiction. Don't worry, there is a 17-year-old girl out there who is going to solve COVID-19 as soon as she decides which of the two hot guys, who are fighting over her, to settle on.
Saw my neighbor out early this morning scraping the "My Kid is a Terrific Student" sticker off her minivan. Guess that first week of homeschooling didn't go so well.
Business
So technically showing up at the bank in a mask and gloves is OK now.
This quarantine is affecting everyone in the workforce, but it's especially bad for men. They are losing $1 for every 79 cents women are losing.
Our cleaning lady just called and told us she will be working from home and will send us instructions on what to do.
Worker staring at computer: "My gosh, these meetings really could have all been emails."
We thought we'd have flying cars by 2020. But no, here we are teaching people how to wash their hands.
Travel
Airlines in 2019: Your baggage is 1 pound over? That will be $150. And you want to sit next to your wife? Hahaha! Airlines in 2020: Hello, remember us? We've got a favor to ask.
Planning your next wine tour made easy. (Floor plan of a house with wine goblets in the kitchen, the bathroom, the master bedroom, the living room and the patio.)
Quarantine rules are airport rules: Have a drink at 9 a.m. if you want to.
I think it's hilarious that I remember seeing Ireland in the news only twice in my recent memory. 3/15/2020: Pubs in Ireland asked to close due to coronavirus. 3/16/2020: Irish develop testing kits to confirm coronavirus in 15 minutes.
I put four beers in every room … I'm about to get cleaned up and go bar hopping.
Style
Customer: I didn't ask for hairspray! Stylist: This is Lysol.
With people avoiding the salons, in about six weeks we will know everyone's true hair color.
They said a mask and gloves were enough to go to the grocery store. They lied. Everybody else had clothes on.
When swimsuit season hits, I just want y'all to remember the gyms were closed during Reese's peanut butter eggs season.
I know you're bored, but do not cut your own bangs.
Life
Due to the quarantine, I'll only be telling inside jokes.
This is like the exact opposite of that Pokémon Go summer.
That moment when you're worried about the elderly and realize that you are the elderly.
Just think: People who kiss their dog knowing he licks his behind are in a panic to buy hand sanitizer.
Wow – bars, clubs and gyms all closed? My life is about to seriously be exactly the same.
Can we uninstall 2020 and reinstall it? I believe it has a virus.
(Photo of Tyrannosaurus Rex): Couldn't wash hands. Is now extinct.
This year is now being written by Stephen King.
I've almost completed my 90-day trial of 2020. How do I cancel?
I don't think that anyone expected when we changed the clocks in March that we'd go from Standard Time to The Twilight Zone.
Relationships
Single man with Purell and Lysol seeking single woman with toilet paper for some good clean fun.
Ladies, check on your sisters-in-law. They are stuck at home with your brothers; they are not OK!
Dear single friends: Stay positive and optimistic. After three weeks of lockdown, there will be plenty of divorces and new opportunities.
They say don't hang out with more than 10 people. Heck, I don't even like 10 people!
And on a serious note
Not all heroes wear capes, but a whole bunch of them wear scrubs.
Children are going to remember how their family felt during this coronavirus panic, more than anything specific about the virus. Our kids are watching and learning about how to respond to stress and uncertainty. Let's wire our kids with resilience, not panic.
Now for a true story
I'm not kidding about this one: My brother and sister-in-law work for a company that builds and sells specific hydraulic valves for manufacturing. My brother received a panicked call from a customer last month, requesting that a part be shipped overnight. His whole factory was on standstill until the new valve arrived.
Given the frenzy at the stores last month, the urgency was understandable: The factory manufactures toilet paper.