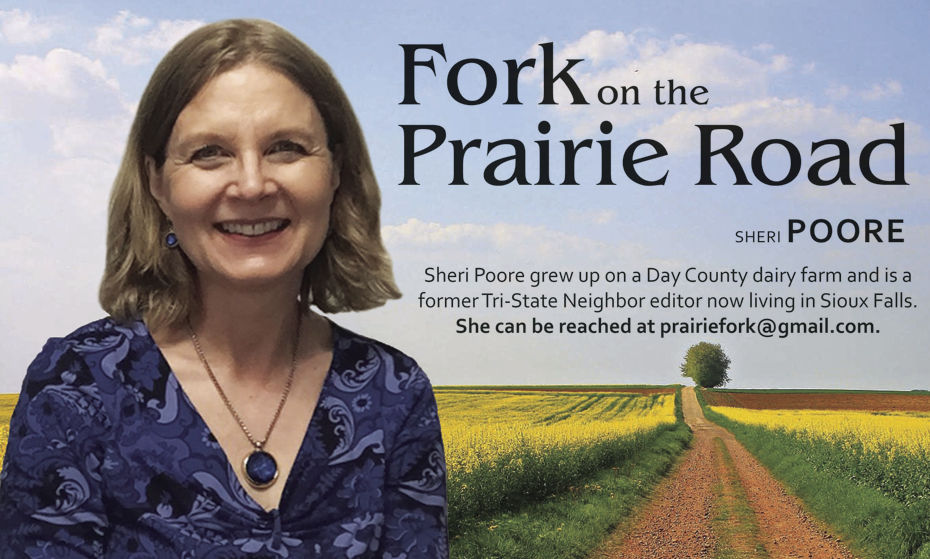 My colleague recalls eating a lot of beans when she was a child. Her large farm family sometimes experienced "too much month at the end of the money." Without boxes from the local food pantry, there were days they might have gone hungry.
Now that she is an adult with a secure job, food distribution programs are near and dear to her heart, and she supports them enthusiastically. As we helped load boxes for a mobile food pantry this fall, she remarked that it's gratifying to see kid-friendly foods such as pizza and cookies in today's boxes.
What a lovely thing to live in a region where neighbors take care of each other. I surmise all of us have either benefited from a food box, or we know someone who does, especially in this crazy year.
Sometimes the boxes contain food that you are not accustomed to cooking, or the amount is larger than you would usually buy. But cooked right, even those ubiquitous dried beans are delicious.
If you are a volunteer who helps distribute food, feel free to photocopy these recipe ideas, or download and print PDF versions to share in the boxes. (Visit www.tristateneighbor.com, click Menu, then choose E-Editions and navigate to the page you want.)
Dried beans
Dried beans are loaded with protein and good-for-you-fiber. Add them to soup, make them into refried beans, or roll them in tortillas with cheese. Consult your cookbooks or go online to find recipes for baked beans, chili, calico beans, or an easy, filling beans-and-rice dish.
Dried beans must be soaked before cooking or adding to recipes. Follow this overnight soak method provided by South Dakota State University Extension (extension.sdstat.edu). Make sure you use a large pot, since beans expand to double or triple their size when soaked and cooked. One cup dry beans yields about 3 cups cooked beans.
1. Place beans in a pot and cover with water at least 3 inches above the beans.
2. Soak overnight. Drain the soaked beans; rinse with clean water and drain again.
3. Put beans in pot (or keep in same one), add clean water (about 3 cups if you started with 1 cup of dry beans), bring to a boil, turn down to low, and cook slowly until tender – about 2 hours.
4. You may need to add more water during cooking. The beans are now ready to use in recipes that call for cooked or canned beans.
Note: For recipes with a long cooking time, such as soups or baked beans, you can use the drained beans once they have soaked overnight, then follow directions in the recipe.
Dried split peas and lentils do not need to be soaked before cooking. Use them in soup with bits of ham or bacon, or add them to salads and vegetable dishes. For details and recipes visit loveandlemons.com/how-to-cook-lentils/.
Meats and canned vegetables
Bologna-style luncheon meat is more than sandwich filling. If it arrives in a log, wrap with bacon and smoke it on the grill. Broil or brown slices in a pan for breakfast, or dice and add to bean dishes or soup.
• Line muffin cups with slices of bologna and crack an egg into each. Sprinkle with a bit of cheese and bake. See details at cookpad.com/us/recipes/413488-bologna-breakfast-cups
• Find a recipe for bologna casserole using just macaroni, canned tomatoes, bell pepper and bologna at southernfarmandkitchen.com/2016/03/19/bologna-casserole/
Bake frozen breaded chicken patties until hot and lightly browned. Eat them plain, with gravy, or on a sandwich. Alternatively, if you choose to cut them up for casserole, it is not necessary to bake them first.
Add canned vegetables to casseroles, salads and soups, or pack them into a pot pie. Adapt this pot pie recipe by using almost any meats, cream soups, canned vegetables, and toppings on hand.
Easy pot pie with your choice of crust
The recipe calls for a baking mix crust, but you can choose to top this dish with biscuits, tater tots, pie crust, or prepared cornbread mix instead.
1 cup chicken broth
2 cans cream soup (such as cream of chicken, mushroom, or celery)
1 to 2 cans mixed vegetables (or any canned vegetables of your choice), drained
About 8 to 12 ounces cooked, diced chicken
Mix above ingredients and place in greased 9-by-13-inch pan.
1 cup baking mix (such as Bisquick)
1 cup milk
Stir baking mix and milk until well blended. The batter will be thin. Pour evenly over the meat-vegetable mixture and bake at 375 degrees for about 35-45 minutes, or until the top is browned.
Peanut butter and oatmeal
Use peanut butter to make a tasty Thai peanut sauce for dipping chicken or adding to any stir-fry meal. Find recipes online, or try this one. (If you save packets of red pepper flakes that come with takeout pizza, this is a good use for them.)
5-ingredient peanut sauce
Source: minimalistbaker.com
½ cup creamy peanut butter
2 to 3 tablespoons soy sauce
1 to 2 tablespoons maple syrup, or honey, or corn syrup, or another sweetener
1 teaspoon chili garlic sauce or red pepper flakes (adjust to preferred spice level)
2-3 tablespoons lime or lemon juice
About 1⁄4 cup water, to thin
In a medium mixing bowl , starting at the lower end of the measurement range where applicable, add peanut butter, soy sauce, syrup or honey, lime or lemon juice, and chili sauce or red pepper and whisk to combine. Add water a little at a time until a thick but pourable sauce is achieved . Taste and adjust seasonings as needed. Store leftovers covered in the refrigerator up to one week.
No eggs? No problem. Rolled oats and peanut butter are the basis for tender, crumbly peanut-butter-oatmeal cookies. Find a no-bake version at livewellbakeoften.com/peanut-butter-no-bake-cookies/.
Egg-free peanut butter oatmeal cookies
Source: lovingitvegan.com
½ cup butter, shortening, or stick (not light) margarine
½ cup white sugar
1⁄4 cup brown sugar
½ cup peanut butter
1 teaspoon vanilla
3⁄4 cup all-purpose flour
1 cup rolled oats
½ teaspoon baking powder
½ teaspoon baking soda
½ teaspoon salt
Add the butter and white and brown sugar to an electric mixer bowl and cream them together. (Do this very well; let the mixer run a couple of minutes while you get some other ingredients ready.) Add the peanut butter and vanilla while the mixer is running and let them mix in well.
In a separate bowl, stir together the flour, rolled oats, baking powder, baking soda and salt. Add all the dry ingredients to the butter-sugar- peanut-butter mixture. Mix with a spoon; don't use the electric mixer for this part.
Preheat the oven to 350 degrees F. Use a scoop or a spoon to scoop out even-sized amounts of dough onto a parchment-lined or greased baking sheet. Aim for roughly 2-tablespoon-sized balls to yield about 20 cookies. Flatten the cookies with a fork .
Bake for about 15 minutes. When you bring them out of the oven, they will be soft in the middle but lightly browned on top. Allow them to cool directly on the baking sheet so they firm up before you move them.
Cheese and pasta
Besides the usual, such as sprinkling on salads, pizza or pasta, grated cheese can be used (instead of sliced cheese) in grilled cheese sandwiches. If there is no butter available, spread the outside of the bread with regular (not light) mayonnaise to produce a toasty brown sandwich. The mayo flavor disappears while grilling.
It may come as a surprise that both cheese and jugs of milk can be stored in the freezer for consumption later. Cheese might have a crumbly texture after freezing but is still good. If you freeze milk, first loosen, or remove, the cap and use a little of the milk, so that the jug does not burst as the liquid expands.
Macaroni and cheese
8 ounces (2 cups) uncooked macaroni
1 12-ounce can evaporated milk
8 ounces (about 2 cups) shredded cheese
Pepper to taste
A few tablespoons of butter or margarine (optional)
Cook macaroni according to package directions, then drain. Mix cooked macaroni, milk and cheese, and pour into a greased casserole. Sprinkle with pepper and dot with butter, if desired. Bake at 325 to 350 degrees for about ½ hour, or until bubbly and lightly browned. This dish may also be cooked in a slow cooker on the high setting for about 45 minutes to 1 hour.
Notes: Here's a good substitute for a 12-ounce can of evaporated milk: Stir 1 cup powdered milk into 1.5 cups of water until thoroughly dissolved.
This recipe does not have to be prepared with elbow macaroni. Any pasta you have on hand will do. Eight ounces (2 cups) of dry elbow macaroni yields about 4 cups of pasta when cooked. A bunch, about 1.5 inches in diameter, of long dry pasta (spaghetti, vermicelli, fettucine), is about 8 ounces, and also yields about 4 cups of pasta when cooked.
Sheri Poore grew up on a Day County dairy farm and is a former Tri-State Neighbor editor now living in Sioux Falls.