Thank goodness it is spring, or I would be in rhubarb withdrawal.
When my parents moved into town, Dad and I dug up a rhubarb plant at the farm, divided it and set four plants in their new yard. That was about a year and a half ago; it may need another season to get established. We are grateful that the family who bought the farmstead lets us drive out to pull armloads from the plentiful patches still there.
As my friend Pat says, it is too bad rhubarb requires so much sugar; it counterbalances all the ways rhubarb is good for you.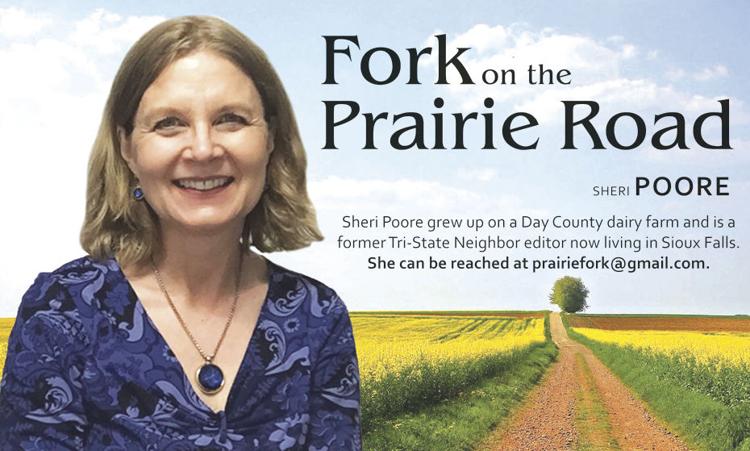 I have experimented, however, with rhubarb dishes that do not require as much sugar, such as the chutney and wild rice pilaf recipes printed here.
When I wrote a food column for The Roanoke (Va.) Times, I had the pleasure of interviewing pastry chef and culinary arts professor John Schopp. His grandparents homesteaded in northwestern South Dakota, and he honored their German-Russian prairie legacy by serving kuchen at his Virginia catering business. (Hm, perhaps there will be rhubarb kuchen for my next birthday.)
Rhubarb chutney
Adapted from allrecipes.com
Brush this chutney over pork, chicken, duck, or lamb during roasting. Make extra and spoon it over juicy slices of roasted meats, or over crackers and goat cheese.
3⁄4 cup white sugar
1⁄3 cup cider vinegar
1 tablespoon minced fresh ginger root
1 tablespoon garlic powder
1 teaspoon ground cumin
1⁄2 teaspoon ground cinnamon
1⁄2 teaspoon ground cloves
1⁄4 teaspoon dried red chile pepper
4 cups diced rhubarb
1⁄2 cup chopped red onion (white or yellow may be substituted)
1⁄3 cup golden raisins (regular raisins may be substituted)
Combine sugar, vinegar, ginger, garlic, cumin, cinnamon, cloves, and red pepper in a large saucepan. Bring to simmer over low heat, stirring occasionally, until sugar dissolves. Add rhubarb, onion, and raisins. Increase heat to medium-high and cook until rhubarb is tender, and mixture thickens slightly. Remove from heat and let cool completely.
Rhubarb Wild Rice Pilaf
Adapted from allrecipes.com
This dish has a mild tartness which makes it pair well with fish or poultry.
1⁄4 cup slivered or sliced almonds
2 tablespoons olive oil or canola oil
1 cup chopped onion
2 cloves garlic, minced
2 cups chopped rhubarb
1⁄8 cup chicken broth or white wine (optional)
1⁄2 cup golden raisins (regular may be substituted)
½ teaspoon ground cinnamon
1⁄8 to 1⁄4 teaspoon cayenne pepper
2 tablespoons honey
1 tablespoon soy sauce
1 cup cooked wild rice
1 cup cooked long-grain white rice
Spread almonds in a large nonstick skillet. Stir and toast over medium heat until golden, watching carefully so they do not burn.
Set almonds aside. In same skillet, heat oil over medium-high heat. Sauté onion in hot oil until just translucent, 5 to 7 minutes. Add garlic and sauté until fragrant, about 1 minute. Mix rhubarb into onion and garlic and sauté until slightly softened, about a minute.
Stir raisins, cinnamon, and cayenne pepper into rhubarb mixture. If you feel additional liquid is needed, add 1/8 cup chicken broth or white wine – but be aware that as the rhubarb cooks, it will release liquid. Cover the skillet with a lid, reduce heat to medium-low, and simmer until rhubarb is tender to the bite but still firm, about 5 minutes. Add honey and soy sauce; stir.
Mix wild rice and white rice into the rhubarb mixture; cook and stir until rice is heated through. Top with toasted almonds.
Note: If you wish, experiment with adding curry spices.
Chef John Schopp's Kuchen
From roanoke.com
Dough
1 package (¼ ounce) yeast
1⁄4 cup lukewarm water (about 100 to 110 degrees F)
1 cup milk
1⁄2 cup shortening
1⁄2 cup sugar
3 eggs
4 ½ cups (approximately) bread flour or all-purpose flour, plus extra for rolling
¾ teaspoon salt
½ teaspoon baking soda
½ teaspoon baking powder
If you are accustomed to baking homemade bread or sweet rolls, prepare the dough as you usually would. If you need instructions, I've included details from a recipe on foodandwine.com: Stir yeast into the lukewarm water and let stand for 5 minutes, Measure milk, shortening, sugar and eggs in large bowl of a standing electric mixer fitted with a dough hook. Stir in yeast mixture, then add the 4 ½ cups of flour, salt, baking soda and baking powder. Knead at medium-low speed until a silky, soft dough forms, about 10 minutes. Transfer the dough to a buttered bowl, cover with plastic wrap and refrigerate overnight.
Butter four 9-inch pie plates. Divide the dough into 4 pieces and flatten into disks. On a lightly floured work surface, roll out each disk of dough to a 9 1⁄2 -inch round. Place each round in a pie plate, making sure that the dough does not extend past the rims. Cover the pie plates with plastic wrap and let stand at room temperature until the dough has risen slightly, about 1 hour.
Pastry cream
3 tablespoons flour
1 cup sugar
2 cups milk
2 cups cream
4 eggs
In a medium bowl, combine the flour with 1/4 cup of the sugar and 1/4 cup of the milk and whisk to a paste. Whisk in the eggs. In a medium saucepan, heat the cream with remaining milk and sugar over moderate heat until the sugar is dissolved. Gradually whisk the hot milk into the egg mixture, then cook the entire mixture in the saucepan over moderate heat, whisking constantly, until thickened and no floury taste remains, about 4 minutes. Transfer the pastry cream to a bowl and cover with plastic wrap, pressing it directly onto the surface. Refrigerate overnight.
Fruit filling
Pit about 2 pounds of fruit, such as peaches, plums or apricots, or peel about 2 pounds of apples, then slice the fruit. Or chop about 2 pounds of rhubarb. Soaked prunes or soaked dried apricots may also be used.
Lightly press the prepared dough in pans with your fingers to deflate it. Arrange the fruit on the bottom in a single layer, dividing evenly over the 4 pans of dough.
Preheat the oven to 350° and set racks in the upper and lower thirds. Spread the pastry cream evenly over the fruit.
Topping
1 cup sugar
1 cup flour
1⁄2 cup butter or margarine
Pinch of cinnamon (optional)
In a medium bowl, combine the sugar with the flour and butter and rub with your fingers until the texture is sandy. Sprinkle the topping over the pastry cream and, if desired, dust lightly with cinnamon. Bake the kuchens for about 30 minutes, until the crusts are deeply golden. Transfer the kuchens to a rack to cool completely before serving.