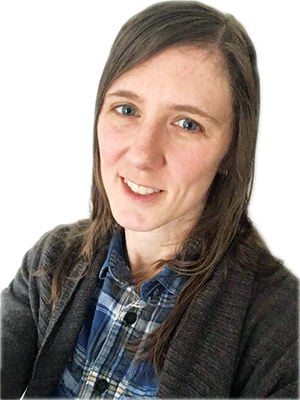 Let's talk about the weather and for one second nevermind this pandemic that's disrupting life and the traditional holiday gathering as we know it.
In my little corner of South Dakota, we had a few beautiful days to close out the month of November. Contrary to my usual luck, these days fell not in the middle of a work week when I was bogged down with deadlines and chained to my desk, but during a long holiday weekend. No Thanksgiving travel plans meant my little family got to enjoy a few days with no real agenda. When the thermometer began to climb upwards of the 50-degree mark, we headed outside to soak in some sun on an afternoon hike. It was glorious.
The weather predictors are telling us we're in for a La Niña winter, which for South Dakota means cold and wet. These 50-degree days won't last forever.
Really, I don't mind the cold. I've lived a number of winters in milder climes. My early adulthood was spent in Washington state. No, not the rainy side. Eastern Washington had its share of winter cold and snow. But it doesn't compare to the extended stretches of negative degree days we commonly see in South Dakota.
When I moved home I braced for the winter, wondering if I'd lost my Midwestern hardiness. Sure, it was cold. I had forgotten the feeling of frozen nose hair. I had also forgotten how nice it is to see the sun in the winter months. I didn't live on the rainy side of Washington, but the winters could get quite gloomy. Back in South Dakota, I could get through any arctic chill, as long as it came with sunshine.
My standard defense against the cold is layer upon layer of clothing. I'm a firm believer in long underwear. The cool, outdoorsy types call it a base layer these days. I've always called them long johns. I've amassed quite an arsenal of the gray, waffled duds, having bought them over the years on end-of-season sales. Sure, some are more than a decade old. Some have holes, but I have enough to get me from laundry day to laundry day.
I discovered recently that the lot of them has gone missing, and I'm woefully unprepared for our La Niña winter.
I'm of the type who packs away her clothes for the season. It's something my mom always did. It makes sense in my adult life, too. I've found myself in a 100-year-old house with tiny closets. And I might have a clothes hoarding problem. (See recent reference to 10-year-old underwear.)
I've gone through every plastic tote that stores out off-season gear. I've checked them and checked them again. No long johns.
Sometimes I get a wild hair and resolve to trash or donate any seldom worn or worn out articles. It's possible a few old pairs of long johns wound up in the trash when summer hit, but certainly not the whole stash.
I'll keep searching for my long lost treasure of winter warm. In the meantime, I hope the cold stays away and that the sun keeps shining.
Janelle is editor of the Tri-State Neighbor, covering South Dakota, southwestern Minnesota, northwestern Iowa and northeastern Nebraska. Reach her at jatyeo@tristateneighbor.com or follow on Twitter @JLNeighbor.