If you are in the same age bracket as the old stockyards guy and you are thinking "what should I do today?" allow me to make a suggestion. Simply grab a pencil, notepad and a cup of coffee and write down how life, both personally and professionally, has changed over the last 35 years. At the strong suggestion (command) of editor Janelle, I will attempt in this column to do just that, except the underlying theme will be the Tri-State Neighbor as we celebrate our 35th anniversary.
I have written before about my introduction to the founders of the Neighbor, Bill and Lynne Byrne. Without their vision, grit and willingness to take a chance, it's a good bet that my inherent literary skills would have remained buried deep in this Irish-Bohemian body. There are those who believe that the world would be a better place were that the case, but what do my McManus cousins know?!
There have been so many people, who were responsible for the success of our publication, and I would start with longtime general manager, Randy Ahrendt. In his own quiet and unassuming manner he was one of the best professional leaders I have ever worked with. He made the trips to the fairs, to the farm shows and other ag-related events, and he was comfortable in all of those settings. My only complaint was that as strongly and as often as we invited him to the Mogen's Heroes stage for a sing- along, not once did he accept the offer. Perhaps he knew something we didn't!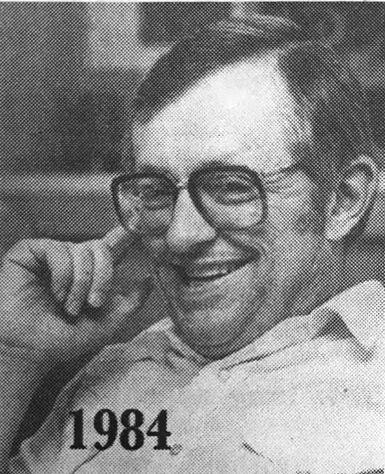 35 years of writing has given me the opportunity to work with many editors, whom I won't list, but know that without them my columns would have never made the paper.
Most readers know that every editor was stuck with getting me going each time by setting up the page upon which I wrote, but oftentimes the task of helping little Jimmy went further. For example, when Krystil Smit, who now heads up the South Dakota Farm Bureau, was in charge, I had the misfortune, while working cattle, of sticking my hand in the wrong spot of the chute headgate. The resulting surgery on a couple of fingers meant that someone had to not only "set up" but also do the typing. That lucky person was editor Krystil Smit, and although we were very good friends, how we got through that experience without a total separation is beyond me. I think it important to point out that most of the "fights" were started by her.
Each editor had their unique connection to the land, and editor Janelle is certainly no different. I have learned so much about this very talented person through her columns, including the fact that her mom was the school chef at the Clear Lake school, meaning I probably ate her cooking at an FFA awards banquet. Her column on Grandma Juanita (Nov. 23, 2018 issue) was marvelous. Grandma's life experiences truly tied Janelle to the land. That column is a must read!
The folks behind the scenes, such as Pat Rundell, have been the glue, and there have been many such people.
35 years personally has taken our high school kids to parenting and far away cities and was also a time of losing all of the generation who came before us – all of our parents, aunts and uncles – meaning we are now the oldest generation. Oh, did I mention that it was also during those years that Penny and I became Grandpa and Grandma? Wow!
All of the friends I have made over the past 35 years because of my life in the cattle business in no small part because of farm visits and public speaking can't be excluded in this memory lane excursion, and I especially think of my Olsen-Frankman partner for 23 years, David Frankman. God truly blessed me when we teamed up in the business.
Most importantly in this reflection would be all of the readers, who began this 35-year journey and are still reading. From all of us who have been a part of this publication. Thank you!
As we wander into 2019 growing season and beyond, only our higher power knows what lies in store, as it should be. What I do know and you should also is that all of us at the Neighbor are wishing for our farm and ranch friends to have a healthy and prosperous year, knowing that if you do, chances are good so will all of us!