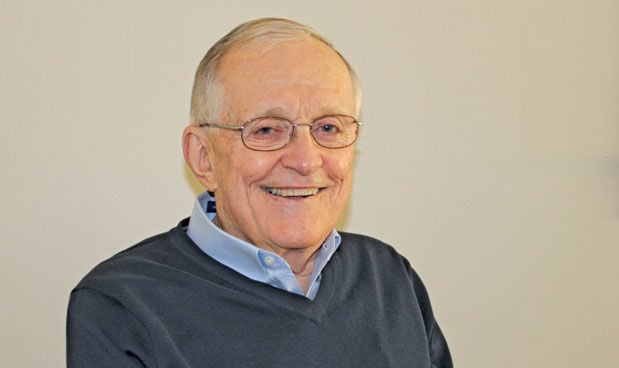 Realizing that Father's Day is a couple weeks down the road and I will probably include a bit about our Dad in that column, for this effort I will relate a thought about COVID-19, Dad and how most of us have very little control over the virus.
Following the exploratory surgery in Hennepin General Hospital in downtown Minneapolis in June 1968 and the subsequent two months until his death, Henry Woster had little, if any, control over his life. In retrospect, I believe that was the most difficult aspect of his battle with an incurable cancer.
Like all farmers and ranchers, when a problem came up our dad dealt with it. He and Uncle Frank assessed the situation, talked about the possible solutions, perhaps involved a "expert" for additional input and then made a decision. They controlled the situation. Most of the time the solution worked and when it didn't, they tried again. The bottom line, be it a bad case of calf scours, a tractor motor in need of overhaul or 7 miles of snow-drift-covered dirt road, they were in control.
I have thought often about the lack of control we seem to have over this devastating assault and I don't say that because of a personal grievance. The Woster clan, from Sioux Falls, to Minneapolis, to Los Angeles to New York are blessed. The kids in middle school, high school and college seem to have adjusted to distance learning while their parents and uncle continue to work from home with relative success. And most importantly, everyone continues to possess good health.
Still, in those quiet hours of the day, one can't help but wonder about what is down the road. Will schools open next fall? Will we continue to get better at dealing with the virus on a daily basis? And who will win the NFL opener in Minneapolis between the Packers and Vikings? Okay, in the big picture the latter ranks quite low on the scale.
We would love to have enough control of the situation to make all of the decisions, but we don't and we won't. For the most part, control is in the hands of those who lead.
Speaking of the NFL and sports in general, I mentioned in a previous column that I hope that the fall college and professional sporting schedules and perhaps even mid-summer baseball will happen. People, especially those who are confined to their living quarters, need that diversion. I learned that lesson many years ago from our neighbor across the street.
Marj was a widow who lived alone, and each Sunday evening Penny would include her in our Sunday supper via the Woster method of take out. One of those evenings while delivering the meal, I noticed that Marj was visibly exhausted. When I asked if she was OK, her answer was quite telling. I did not know that this lovely lady and former pianist for the Duluth Symphony Orchestra was a huge fan of the Minnesota Twins. She told me that the evening before, her Twins played a 16-inning game in Seattle and with the time difference, it was "a bit after 2:30 when I finally crawled into bed."
Marj went on to tell me that in addition to music, athletic competition on television was her daily diversion from the tedium of life for a person who seldom left the house. She loved any sport played by the Gophers, the Vikings and yes, the Twins. She concluded with a simple, "It's what keeps me going."
I know it will be financially challenging to offer those games with less than a full house but for the sake of those who seldom leave their abode, I hope the powers that be can work something out. In fact, the old stockyards guy has grown tired of watching the SDSU versus NDSU football game replay. Thank goodness for reruns of old movies and television series!
For those who may have missed it, the PBR will be at the Denny Sanford Premier Center this coming July 10-12 with a championship event. If you have recently watched a PBR event on television, empty arena and all, it is truly a sign of the times to see the best bull riders in the world wearing masks and surgical gloves. I guess if they are willing to do it we all can. You folks hang in, be safe and thanks for what you do.
Jim is associate editor of Tri-State Neighbor and also works with the SDSU Alumni Foundation.