When I was a kid, it never occurred to me to wonder if my dad liked farming.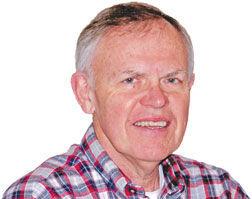 I never thought in terms of him "liking" it, the way people may like nor not like a job. Farming was what he did, all day every day, whether he was combining wheat, scooping cracked corn to the feeder cattle or busting drifts of snow to get to the north dam on a bitterly cold January morning to break the ice so the herd could drink. Farming was what my dad was, as much a part of him as was singing in the choir on Sundays or reading the Saturday Evening Post after supper.
I didn't realize until I was grown - maybe not until after Dad had died – that he really enjoyed the work. He liked, probably loved, the life and the labor and the land. Because he liked it all, he was able to handle low markets and crop diseases and hail storms and other disappointments and downturns, as well as all of the hard, physical work that farming demanded then and demands now.
It was all part of the deal. You pay your money and you take your chances. Dad knew the risks of farming, and he figured the rewards outweighed those risks.
I read a quote attributed to former President Dwight Eisenhower that goes, "Farming looks mighty easy when your plow is a pencil and you're a thousand miles from the corn field." I didn't run a fact-check to see if Ike really said that. It sounds like something a Kansas farm kid would say. That's good enough for me. Out on the land, farming is the real thing, and Dad knew that. I think he'd have liked the Eisenhower quote. I think he'd have repeated it more than once while he waited for Ab Vehle to weigh the truckload of wheat at the elevator in Reliance.
I'd never heard that quote when I was growing up. If I had, I'd have understood it pretty well, I think. It embodies part of the reason I knew I could never be a real farmer as a lifetime thing. I liked being on the land well enough. I just couldn't imagine being responsible for the land, the animals and the crops.
I also read recently a quote attributed to former President John F. Kennedy. That one says, "The farmer is the only one in our economy who buys everything at retail, sells everything at wholesale and pays the freight both ways.'' As far as I know, Kennedy never spent any time on a farm except maybe during the Iowa presidential caucuses. Even so, he had a point about the business of agriculture, especially family farming, especially in the days before the huge corporations became so deeply involved in so much of it.
When my dad was starting out on the farm, it was just his family. His parents bought what became the home place in eastern Lyman County and moved up from Nebraska back in the early 1900s. They raised three boys on the farm, adding a bit of land here and there as they went. The oldest, George, was a bit like me, I guess. He couldn't picture himself farming, so he split for engineering school in Iowa and settled in Kansas City. He seemed content that way, but he sure loved to look at the stars in the night sky when he brought his family home for visits. That's a part of the farm I still love, too.
My dad and his second older brother, Frank, stayed. They stayed for their entire lives, with the exception of a couple of years. The family lost the land for a while during the Depression. The folks moved to Reliance. Dad and Frank traveled to the Black Hills and tried unsuccessfully to land jobs as gold miners at Homestake in Lead. Eventually, Dad found a job driving school bus and Frank got a job surveying dams. Over time, they got the land back. Over time, each brother married and raised a family – seven kids for Frank, five for Dad. Those kids grew up knowing what it's like to work the land, play in haylofts, kick through shelterbelts and see amazing sunsets and clear nights with billions of stars.
I can't even imagine what life – mine, my folks', my brothers' and sisters' and my cousins' - would have been like if things had turned out otherwise. I'm glad I never had to find out.
 Terry is a well-known regional columnist who lives in Chamberlain, S.D.