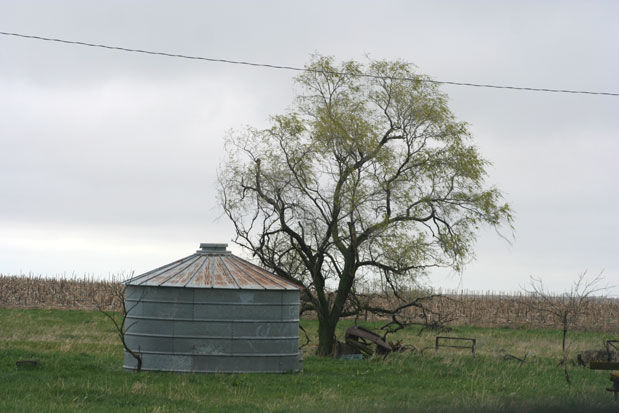 After months and months of pandemic distancing, our granddaughter from Minnesota came to visit for a weekend and we took a drive through some powerful memories.
Well, the memories were powerful for me, anyway. I think they were for the granddaughter, too. It sure seemed like it as she gazed at the Lyman County landscape where her grandpa and his siblings came of age on a family farm that has long fallen into disrepair and the dust of a dry-land agricultural enterprise.
The granddaughter came with her parents from Brookings. We hadn't seen them for months and months, either. It's surprising how a guy can survive the distance and the absence of some of the most important people on earth – until he sees them again and gets a chance to give them a welcoming hug. In any event, I stepped away from the embrace and thought, "Gosh, how is it possible I was able to go on living without having these people around now and then?''
It's been possible because it has been necessary in this public health crisis, of course. But it has taken a toll on the mind and spirit, not being able to see these important people for so long a while. I wonder if I've been out of sorts just missing them and didn't recognize what it was that was dragging me down now and then. I guess I chalked it up to winter, gloomy days, frigid cold and the absence of leaves on trees and songbirds among the leaves.
Even the eagles that used to so faithfully perch, morning after morning, in the ancient cottonwood on the river bank have been gone for long stretches in the past several months. Now and then I catch a glimpse of one of them soaring past the kitchen window, heading I know not where, upstream or down along the Missouri bluffs. Perhaps they've been out of sorts, too. It's for sure something has changed the habits I came to know in the time we've lived in our house on the river bank.
So, we did finally get a weekend visit from the Brookings-Minnesota members of the family. On the Saturday of that visit, we piled into my pickup and drove the rutted back road north from Oacoma to the old neighborhood, passing places I'd known as a child, recalling who had moved away and who had taken their places, checking for signs that life continued in the world of my childhood. As we drove the gravel road, I'd gesture toward one farmstead or another, call out the name of a family that once lived there (still does sometimes, not for a long while other times) and pass along an interesting tidbit or two.
"They used to make their own beer." "He was a CPA at one time." "My cousin and I built a steel bin right on that spot, wonder when if it finally fell down." "They moved that house out from Reliance a number of years ago." "Our mailbox sat at this corner, a mile from the home place."
At one point in my rambling narrative, I wondered if I was being as boring as the guy with the home movies or the box of slides of his family vacation to Yellowstone. (For most people, it seems to me, the only family vacation photos that matter are the one from their family's trip.) But the granddaughter seemed fascinated by the whole scene, so I figured, why not spill whatever random facts come to mind and let her sort them out?
We visited the cemetery north of Reliance, where more of my kin are buried than I can readily recall. After that, we headed east of the river to the Healy neighborhood near Pukwana. Jim Healy and I graduated together from Chamberlain High School. Bob Healy and my big brother Jim were close friends. Our families had a history well before our daughter married a Healy offspring, which means this granddaughter has deep roots in Brule County, too.
At the Healy home place, I was about to tell a story of FFA sheep judging at that farm when the granddaughter spotted a couple of horses. They were more interesting, temporarily, than a tale from half a century ago. That was OK, too, because she was experiencing another moment in her link to the old days.
As we headed back to town, it occurred to me that the old roads may be a little rough, but the old memories are as smooth as ever.
 Terry is a well-known regional columnist who lives in Chamberlain, S.D.