This long, wet spring hopefully drawing to a close has reminded me of times on the farm when the rains came so often and so steadily that all one could do was hunker down and wait for Nature to play nice.
One of the wettest springs I recall from my childhood years happened when I was in fourth or fifth grade. We'd had a bad winter for snow, and it was still melting when spring rains began. The roads weren't that good in our neighborhood back then. Sometimes they were downright impassible, and the fool who tried them wound up either in the ditch waiting for a tractor and logging chain or smack in the middle of the road surface with tar-like mud packed so tight in the wheel wells the darned things just gave up and quit turning.
A time or two that spring, my dad used wire cutters to open a hole in a barbed-wire fence and traveled cross-country until he reached gravel, keeping to the high places in the pastures and gunning it through the deep puddles when he had to cross a low spot. That worked sometimes. Other times, even the pastures were too swamped for travel.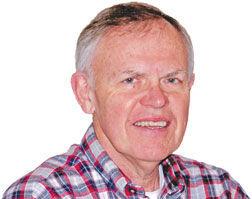 Well, just about the time school let out for the summer, we had a short shot of mild weather and I got permission to bring a friend out from town for a couple of days. His folks no sooner than dropped him off but the skies opened again and there we were, cut off from the rest of the known world.
My friend and I didn't mind a bit. We'd eat the pancakes and eggs my mom cooked for breakfast, then we'd throw on rain gear and overshoes and head out the back door, looking for adventure. Our rain gear consisted of black, knee-length slickers and those floppy water-proof hats called Sou'westers. We'd worn those outfits during the homecoming parade the previous fall, when our class theme was knights of old. We were sweltering, and we looked goofy in the parade. I suppose we looked goofy heading out the door at the farm, too. We didn't care. We were kids and school was out.
We spent a ton of time down around the north dam, splashing through the soggy pasture, dragging heavy railroad ties (my dad used them for corner posts) to the dam bank. We nailed planks across the ties and had ourselves a couple of fine rafts. With a touch of imagination, they were the spitting image of pirate ships.
The railroad ties were coated with black stuff, creosote, maybe? They barely kept us above the waves, but we managed.
The north dam was normally a small pond, barely big enough to water the cattle. It held a few frogs, some bullheads and half a dozen green-and-orange water snakes. The frogs gave us a wide berth, but the snakes sometimes slid up onto the edge of a raft to catch a ride.
That spring, the dam was so swollen by rain that it ran more than half a mile over the pasture, and we sailed every inch. If we'd fallen in with that rain gear and those boots, I doubt we could have paddled to safety. I'm surprised my mom let us out of the house, although in her defense, we were a little vague about our outdoor activities. We'd come in for a bowl of hot soup at noon, call it quits just before the evening meal and plan our next day's adventure as we read comic books in the bedroom late into the night.
The rain kept on falling, and my friend stayed two or three days longer than planned. We just couldn't go anywhere. I suppose if it had been a medical emergency or something else that dire, we'd have taken a tractor for help. But just to get a kid back to town? In those days, you just waited for things to dry out. Sometimes, whether drenching rain, scorching drought or brutal blizzard, Nature shows who is in charge. When that happens, all we can do is hunker down. As a farm kid, I thought that was just great.
As an adult I understand that farm life can be wonderful. It can also be challenging, frustrating and sometimes downright heartbreaking. I watch the news of flooding across the middle of the country this spring and all I can do is pray the people on the land will survive this bout with Nature.