If Dad and Uncle Frank hadn't been such good farmers, they might have brainstormed ways to put some tractor manufacturer out of business.
Fortunately for John Deere, Allis Chalmers and International Harvester, the two Bohemian brothers and their family farm partnership were pretty good at feeding Hereford cattle, marketing wheat and growing corn. I say fortunately, because farming is what the brothers wanted to do with their lives. They did some nifty stuff with their tractors, though.
Once, in a particularly wet spell – one to rival the last couple of years – they reworked the front end of one tractor so it would accommodate truck tires. Those were larger and fatter than regular front-end tractor tires common in those days, so this tractor became kind of a swamp buggy. It churned through some pretty mucky ground, I'll tell you. I'll also tell you it wasn't perfect. I'm the kid who proved that, burying the reconfigured tractor up to the axles in an especially soupy piece of ground.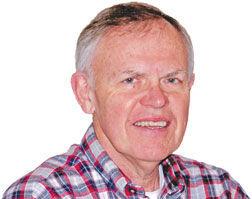 That big tractor lacked power steering, and it took a determined pull to make it turn the least bit. I struggled. My dad, who had arms like that Cincinnati slugger Ted Kluzewski, twirled the steering wheel as if it was a child's toy. A neighbor borrowed the tractor once. His boy drove it a short ways, the story goes, and asked why it didn't have power steering. "Son,'' his dad replied, "Hank Woster doesn't need power steering.''
Another time they bought attachments and rigged one of our Ford tractors with metal tracks, like a miniature Sherman tank. The result was a tractor that packed silage like it was designed specifically for that job and that rode over the tops of most snow drifts as slick as an Olympic bobsled. Of course, the little Ford had no cab, so the guy riding over those snow drifts felt every bit of a farm country northwest wind.
You can see that the brothers were innovators. As I said, they could have been tractor geniuses, but they liked prime Herefords and bumper crops of wheat and corn. OK, I'm exaggerating about the corn. Dad and Uncle Frank judged it a good corn crop if the August dry spell ended and there were still enough stalks standing in the field to come close to paying for the gas it took to pull a silage cutter down the furrows. But you get what I'm saying, right? The brothers did about as well as anybody in the township when it came to making a go of dryland farming.
I mentioned dryland farming just then. Whenever I say those words, I think back to the time my big brother – sure, you know him, Jim – learned and sang incessantly a Frankie Miller song while he was riding a tractor in a distant field. Sound carries a long ways out on the land, so I got familiar with the lyrics to "Blackland Farmer'' just by hearing my brother's tenor voice from half a section away. As I said, Frankie Miller wrote it. Most people who know the song at all probably think of the Faron Young version.
When Brother Jim sang it, the lyrics made me think of Dad and Uncle Frank. The way I remember the first verse, it goes, "When the Lord made me, he made a simple man, not much money, not a lot of land. He didn't make me any banker or legal charmer. When the Lord made me, he made a blackland farmer.''
The second verse talks about "breaking up the new ground, early in the day, gonna plant some cotton, gonna plant some hay.'' Man, did I like that image. Many things about farming I took to with little enthusiasm, but I did enjoy the throaty sound of a John Deere 720 diesel pulling a three-bottom plow across a piece of unbroken ground, and I truly loved the sight and the crisp, earthy aroma of the freshly turned black sod as it rolled off the shiny plowshares and lay open to the summer sun. How can a guy not be romantic about farming with memories like that?
I'd be out there farming to this day, if all the experiences were that romantic. But I remember too well the dusty, sweltering branding afternoons, vast stretches of prairie grass that needed fencing and acres and acres of alfalfa, mowed, windrowed and ready to stack. I found nothing romantic in those experiences.
And I was lousy at tricking out a tractor.