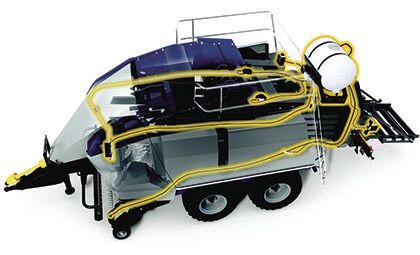 A preservative applicator for large square balers has been introduced as the 700 Series applicator from Harvest Tec. The new technology makes the process of applying preservative easier and more efficient, and has the capacity to match the speed and higher production of today's large square balers.
The system monitors hay moisture with two star wheel sensors at the bale chamber entrance. The highly-accurate sensors use conductivity to read levels through the entire bale from 5 to 70 percent.
Using the latest component technology results in precision delivery throughout the entire system, and most importantly, to the spray tips, ensuring precise application of the preservative to effectively protect the crop.
Baler operators can observe the continually changing moisture levels on their choice of monitoring device ... viewing on the Harvest Tec virtual display, an Android or Apple tablet, or with most baler monitors. Information displayed includes current moisture levels, the reading of the last bale, amount of preservative being applied as well as the target rate, the average amount of preservative used and the total amount for the job being done.
For more information, visit www.harvesttec.com; phone 1-800-635-7468.