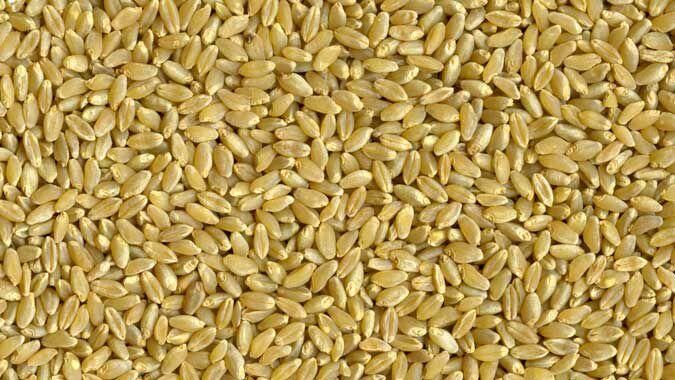 Durum prices in recent weeks in the U.S. have retreated slightly, but overall they have remained strong during the marketing year.
"With durum, we've maybe had a little setback in prices. Part of that is we're getting to the tail end of old crop and some of the other markets have weakened a little," said Jim Peterson, marketing director for the North Dakota Wheat Commission. "Prices are still relatively strong compared to earlier in the marketing year. We're in that $6.50-$6.75 range for some of the old crop bids with an average of $6.60. For a while we were up to $7 on some of the durum, so we've set back about 10-20 cents a bushel."
Peterson noted that new crop bids across the region have been ranging around the $6.50 level, trying to hopefully encourage more durum acres, especially across North Dakota.
"We'll see what happens. Obviously, prices are a big factor, but I think this year the dry topsoil, as well as subsoil, are the biggest unknowns on producers' minds for which crops to put in," he said. "On one hand, a drier bias probably favors holding durum acres a little bit just because it can be seeded a little bit deeper than canola or pulse crops and producers can seed it a little later. And maybe the weather pattern will continue to change and bring more moisture.
"(The recent rain/snow) has certainly been welcomed and I think once it melts and we get into warmer temps again it will help accelerate planting. But it's still a little early for durum, so I think guys will go on their other crops," he added.
As of April 10, North Dakota durum planting progress was pegged at 3 percent seeded, so producers are just getting started.
Outside of planting conditions and trying to decide whether producers will increase durum acres from the March survey or not, some of the other factors influencing the market is that on a world scale for durum, in the current marketing year, there has been relatively tight inventories, and also smaller crops in the European Union as well as in North Africa where the better demand has been.
"Both the U.S. and Canada had larger durum crops in 2020, and going into the 2021 crop year, Europe and North Africa maybe will have more of a price negative impact on the market," Peterson said. "That's a flip from last year when they were the supportive factors on prices."
The International Grains Council (IGC) recently came out with its initial look at world durum in 2021. The IGC is calling for a 5 percent increase in the world durum crop, up to 1.3 billion bushels (BB), which is up slightly from 1.24 BB last year. Most of that increase is driven by expectations of a 10 percent increase in the European durum crop, up to about 290 BB, according to Peterson.
"That's based on a 5 percent increase in seeded area to close to 6 million acres, which is a little less than what some people were thinking, but we're expecting better yields this year versus a year ago in Europe. And of course it's still very early," he said.
In North Africa, the IGC is looking for a much stronger crop in Morocco, up almost double from last year, which was impacted by a severe drought. Algeria is unchanged, but nonetheless, overall there's a bigger crop coming out of North Africa, which would impact trade a little bit.
Looking at the IGC's early thoughts on world durum usage, they're calling for about a 3 percent increase in food use to about 1.2 BB. Pasta demand continues strong worldwide. Peterson noted the IGC is also looking at about a 25 percent increase in feed use, primarily in parts of Europe and maybe Canada to some degree.
"Overall feed use is only about 50 million bushels, so the percentage looks high, but from an overall perspective, the growth in food use is certainly a positive," he said. "From a world price level, expectations are for maybe a slight retreat in prices because ending stocks are expected to grow about 10 percent. All of that is based on the starting gate of the 2021 production year. A lot can still change."
Looking north of the border, Canada had a very good export year this year and sales are running about 26 percent ahead of last year, with about 125 million bushels (MB) shipped through the end of February. That's up from 100 MB a year ago.
"Their big markets have been Italy and North Africa. Unfortunately, that's where the U.S. has struggled a little on exports, trying to compete into North Africa. Part of that is driven by our robust domestic use in the U.S.," he said.
He noted the early outlook for Canada in 2021 is that they're expecting about a 4-5 percent increase in seeded acres to about 6 million acres. Their initial planting survey will be released the end of April. Production there is projected slightly lower however, because they're expecting somewhat lower yields.
"The drought that is impacting the U.S. durum area is also impacting Canadian durum areas and the extended outlook doesn't look for a lot of precipitation this growing season," Peterson said. "They caught some moisture recently which will help with planting and germination, but they're certainly going to need some timely rains through the growing season, as well."
Another factor in Canada that Peterson pointed out is higher feed use of durum. Unlike the U.S. and its domestic use, feed use in Canada makes up a larger component than food use, and that's even stronger this next year just because of the price of corn. Both durum and non-durum wheat are seeing strong feed use in Canada.
In the U.S., he said there's not a lot of new data to work with, but that USDA did come out with updated supply and demand numbers on April 9.
"On a positive note for durum, USDA did lower expected imports down to 40 MB, which is the lowest level in 4 years," he said. "Part of that is durum prices in Canada are actually stronger than the U.S., and with their strong export program and the strong feed base in Canada, there really hasn't been the pressure to bring it into the U.S. market."
Looking at Canadian export numbers, their exports to the U.S. are only 50 percent of a year ago. USDA kept exports and domestic use the same for the U.S., so it cut expected ending stocks by June of this year to 27 MB, which would be the lowest since June of 2015, and down 35 percent from a year ago.
"In the U.S. market, we do have some stronger fundamentals relative to the world market, and our domestic use is at a record level of 91 million bushels, which is a growth of 14 percent since 2019, and of course the COVID pandemic has been the big factor behind that," he said.
Looking at the U.S. market, the March survey surprisingly indicated a reduction in durum acres in North Dakota by about 20 percent.
"We'll see if the final planted acres hold to that, but if they don't increase from that level and we continue to struggle with the drought conditions, which most extended forecasts indicate some nip and tuck moisture if not some pretty severe drought conditions by mid-summer, we could be looking at a very tight balance sheet in the U.S.," he said. "Of course, that will have to be balanced against the expectations of a rebound in Europe and North Africa, so we'll see how all that plays out with prices.
"Right now the durum market has maybe retreated a little from its peak in mid-March, but it is still holding pretty strong at the $6.50 level. Until we get some more significant precipitation, or an indication that producers are going to plant a lot more durum than expected in March, I would anticipate continued support in the durum market until we can get a better handle on what the growing season is going to give us in terms of moisture," he added.