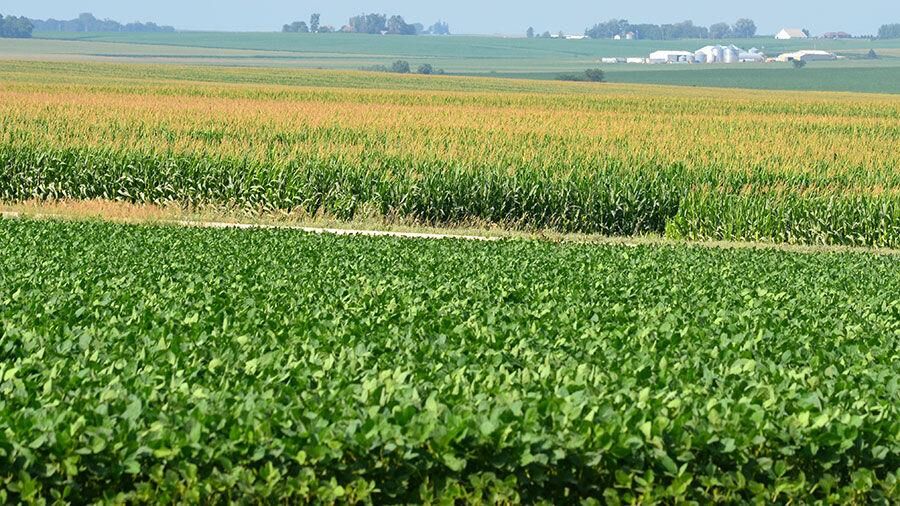 The conditions for the soybean market are similar to that of the corn market, but the dynamics are slightly different than corn. One similarity is on the production side where there will be a record U.S. soybean crop, and the second-highest U.S. corn crop, based on the USDA numbers from October.
"We will set a new total production number for soybeans this year. If the numbers are right, this will be a record soybean crop year, but not by a lot," said Frayne Olson, grain marketing economist at North Dakota State University. "That's going to be hard for a lot of North Dakota farmers to wrap their minds around because we didn't have as good a soybean year as we were hoping because of the drought. But when you look at the national numbers, that eastern Corn Belt had some good yields."
Also very similar is that some of the risk premium that was in the marketplace for this unknown yield – what is this yield going to do – is starting to come out of the market. The market is getting a better read on what U.S. soybean yields are going to be, as well as the number of total bushels.
"We're going to have a good year. But how quickly are we using these up? Given the very high soybean oil prices and very good, strong soybean meal prices, the domestic crushing industry is going to have a good year again," Olson said. "Profit margins for domestic soybean crushers are really strong right now and they're expected to stay strong.
"Right now, based on what we know today, domestic crushers are going to have a good year. (The crushing industry) doesn't grow very rapidly, but it's been chugging along every year and we keep adding more plants, which is a good thing, at least from a farmer's perspective," he added.
Unlike corn, Olson pointed out that about half of U.S. soybeans are exported and half is used domestically. "And everybody knows the export market makes a huge difference in the soybean world," he said.
To break it down in simple terms, he said three numbers will give a good indication of what's going on with the global soybean industry: the supplies coming out of the U.S., the supplies coming out of Brazil, and the demand base out of China. There are some other things going on that need attention, too, but those are the big three.
It's known the U.S. has a good year coming for soybeans, but what is unknown is the South American soybean crop. Right now, the Brazilians have started planting their crops, starting in the north and working their way south. Based on the recent numbers in the World Agricultural Supply and Demand Estimates (WASDE) report, about 36-38 percent of Brazil's soybean crop is already planted. Normally that figure is about 27-30 percent, so they are ahead of average.
"Last year they were behind the curve because of very dry conditions. This year they have much better soil moisture conditions," Olson said. "There are a few pockets in Brazil that have some dry soils (that) are relatively small, but overall the soil moisture conditions are looking very good. They're having rapid planting progress and soil moisture conditions are good."
Brazil is expected to increase their planted acreage by about 2.5 percent from last year, according to the latest estimates. And last year was a record production. Using trend line yields, Brazil is expected to, by far, have a new record for soybean production.
"To put that in perspective, the current market estimate is calling for a Brazil crop of about 140 million metric tons, and this year's U.S. record crop was 120 million metric tons," Olson said.
Right now it doesn't look like there's a big problem on the supply side, but on the demand side, China is "the big 800 pound gorilla" and is, by far, the largest buyer of soybeans globally and the No. 1 customer for U.S. soybeans. Mexico is the No. 2 buyer of U.S. beans.
Olson said that most people would use the term "soft" to describe the demand base for soy oil and soy meal in China. However, there are some issues starting to show up. Pork is the number one meat product in China and their pork production is still being hurt by African swine fever. China has been trying to rebuild its herd and their hog numbers are coming back up, but they're nowhere near the level they had before African swine fever.
"They're still struggling. Pork prices are starting to fall," he said. "They were at record-high levels at the start of the year, but they're starting to fall now, partially because the Chinese economy was not as strong as it was mainly because of COVID, and the economic challenges (the U.S.) is having. They're hitting China, as well."
He also noted the profit margins for soybean crushing in China were negative for most of the summer but are starting to turn positive now because soybean oil prices are recovering.
"But again, the demand base for imported soybeans going into their crushing industry has been stagnant. It's not robust, which is part of the reason we're seeing the soybean futures market softening a bit," he explained.
"U.S. soybean export sales to China have been good so far. They're not off the charts, but they've been solid," he added. "Again, because of high ocean freight rates, the place where you can buy soybeans right now the cheapest is out of the PNW (Pacific Northwest), but that's starting to change. Looking at the forward bids, if I'm China and I'm worried about buying soybeans, where can I get the cheapest bids for soybeans delivered in my port in March? Right now, by far, that's Brazil. So our export window, our ability to sell more soybeans into the Chinese market, is very seasonal."
Olson further explained the U.S. typically has a cost advantage starting from about right before U.S. harvest in September/October, through about January. However, by the time February rolls around, when the Brazilian soybean harvest starts, the U.S. starts to lose its pricing advantage.
"Our sales and shipping window for soybeans into China is very seasonal which means we'll have strong Chinese buying from the U.S. through January," he said. "But then they'll start switching and buying for delivery out of Brazil just because it looks like they're going to have a really big crop and they're going to be at lower prices than we will, even with high freight rates."
Looking at local prices, Olson noted that for this time of year basis levels are exceptionally strong.
"The cash market is trying to convince farmers that they need to sell their grain. I think we have a window of opportunity where we're going to be able to do that, but be cautious and careful because by the time we get into February, especially with some rapid planting progress now in Brazil, I think Brazil's harvest is going to come on board and we're not going to get a lot of new sales," he said.
"China has always been very sensitive to prices. They're a value shopper. They want good quality, but they're also willing to pay for it, and if they can get the same quality somewhere else, they will flip," he continued. "So, we have an opportunity yet, but that window, for soybeans in particular, is pretty tight. My suggestion to farmers is to be watching very closely, and if they have beans left to sell, try and get them marketed in this November-December-January timeframe because the market is not going to try and present an incentive to store any longer and it looks like Brazil is going to have a big crop."
Looking at local prices, at one local elevator in west central Minnesota regularly followed in this column, as of Oct. 26, the November cash price for old crop soybeans was $12.10 per bushel and basis was -26 cents under. The April 2022 futures price was listed at $12.64 and basis was -1 cent under.