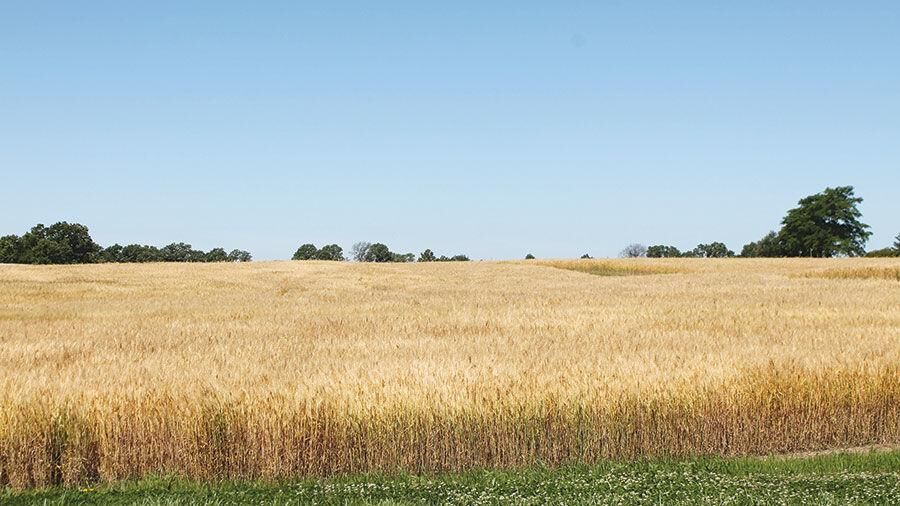 As harvest winds down, unlike durum, which has seen prices skyrocketing up, spring wheat prices have continued to move in a sideways trading pattern. But, also unlike durum, there has been some buying and selling of spring wheat, whereas there has been little of either for durum.
"Spring wheat prices have mostly been in a sideways trading pattern for the last month or so," said Erica Olson, market development and research manager for the North Dakota Wheat Commission. "Today (Aug. 31) the nearby futures are trading around $9.10 a bushel. That puts cash prices between $8.40 and $8.80. That's a pretty good price and we've seen a fair amount of spring wheat moving to the elevators, so that is attracting sales."
One reason the market hasn't edged higher, Olson believes, is because the market has already taken in or absorbed the reality of a smaller U.S. crop. The U.S. spring wheat crop is projected to be down 40 percent and harvest results that have come in are confirming that.
"I think that's already been built into the market," she said. "We've had some producers report that they were pleasantly surprised by yield outcomes, but still below average though. But then you have the other side where they're seeing extremely low yields, and of course, abandoned fields."
The amount of abandoned acres is difficult to ascertain, but Olson said it will likely be "well above normal."
Recent rains in late August did cause some harvest delays, but still, by the end of the month close to 90 percent of the U.S. spring wheat had been harvested. North Dakota's spring wheat harvest was at 85 percent complete at that time.
So far, although the quantity of this year's crop is lower, the quality, at least in terms of kernel characteristics, has been very good.
"Based on the samples analyzed at the NDSU wheat quality lab, we're seeing strong test weights, very high protein levels, which were averaging 15.3 percent (as of Aug. 31)." she said. "There have been no falling number issues, low damage and the crop has had good color. So far it's a good crop, good prices, but we are seeing lower demand from both export and domestic customers. Considering that spring wheat is at about a $2 premium to winter wheat, we are definitely going to see millers add in more winter wheat in their blends, and at those price levels it makes sense to do that if it works."
On the export side, spring wheat sales are similar to durum sales in that they are lagging behind last year's pace. U.S. spring wheat sales are down 25 percent compared to a year ago. The U.S. stands at 95 million bushels (MB) in sales, which compares to 127 MB last year.
"We're down to most of our top, most consistent customers, specifically in Asia," Olson said. "I do think we are seeing some increased competition with Australia having a better crop this year. So far Canadian exports are also down in this new marketing year. Overall we're seeing customers a little hesitant at these prices."
Looking at the Central and South American region, the U.S. export pace is actually higher there and that's primarily due to Mexico.
Stats Canada released its highly anticipated report on Aug. 30, which included the latest production estimates. As Canadian crop conditions had deteriorated under the heat and drought conditions this summer, there was a lot of speculation about where that estimate would end up. The report put Canada's all wheat estimate at 841 MB.
"That was about what the trade was expecting, so it wasn't a real big shock," she said. "The spring wheat estimate came in at 592 million bushels, which is a 38 percent decline. So, a big decline in Canada, a big decline in the U.S., but the market was kind of expecting that so we didn't see much of a reaction in prices."
Elsewhere around the world, in Europe the production estimate was lowered a bit simply due to lower yields and also some quality concerns. Russia's production estimates have also come down in recent weeks with lower than expected yields. Olson noted there has also been some concern in Argentina, which has been dealing with very dry conditions and that might impact more of their crop for next year.
On the flip side, there's a potential record crop in Ukraine.
"Overall world wheat production is actually expected to still be higher than year ago and ending stocks are expected to just be marginally lower," she said. "Of course, where the big production issues are they're impacting specifically spring wheat, that's why we're seeing that spread in prices from the other classes of wheat."