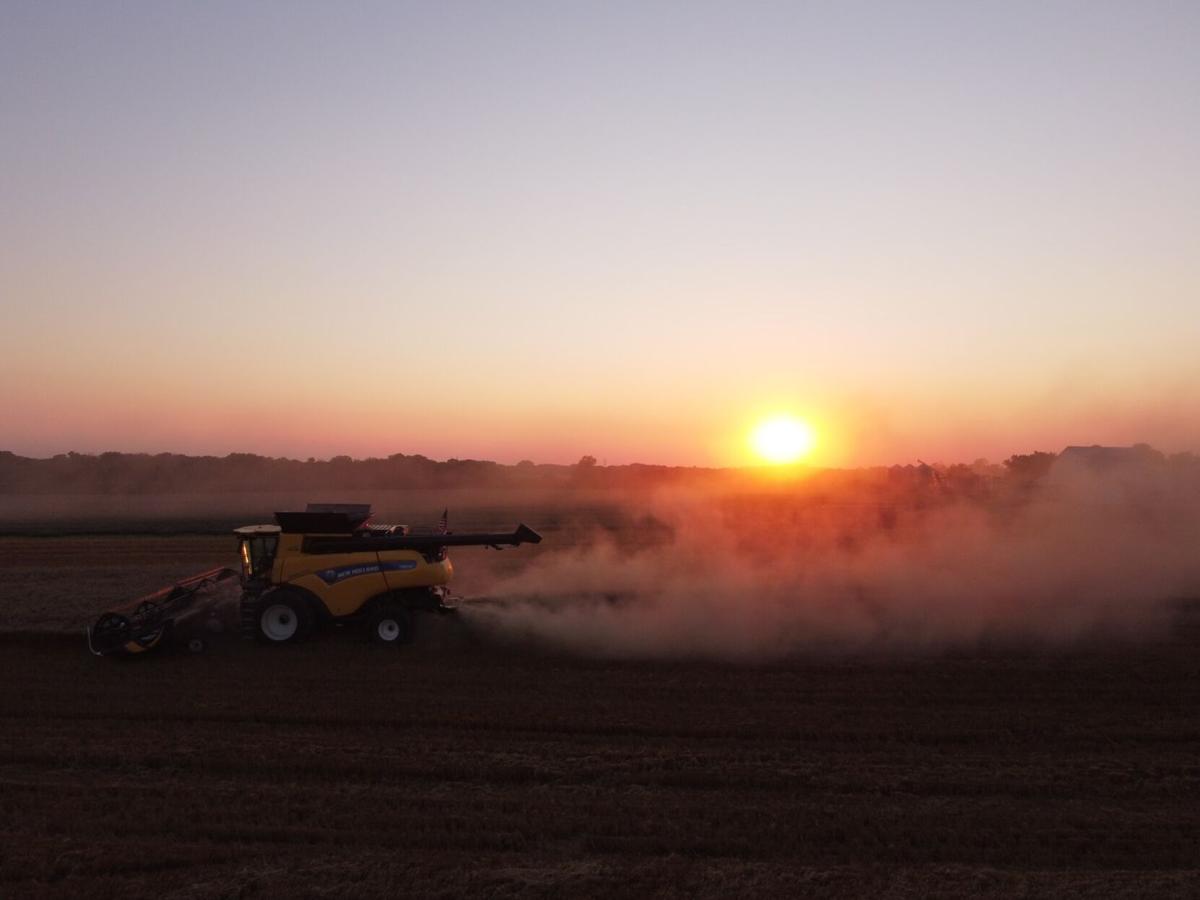 It's been just over a month since Jim and Tracy Zeorian left their home in Manley, Neb. Dipping south into Kansas, the grain harvesting duo has been spending their summer chasing the "prairie gold" up through America's heartland. On July 20, Jim and Tracy were harvesting wheat on the prairies of eastern Colorado.
"The wheat has been doing pretty good. They have an issue here with sawflies and that has been our biggest challenge," Tracy reported from the cab of her New Holland combine.
She went on to say the laid-down wheat, casualties of the rabid little insect, was a bit of an issue, but overall the wheat seemed to be yielding fine – somewhere around 50 bushels per acre with the farmer reporting one field as high as 73 bushels per acre.
The sawflies by and large were the biggest problem for the Zeorians, but Tracy said this particular job has been pretty stop-and-go. Some spotted rain showers and occasional patches of green wheat made for less contiguous work days.
On the afternoon of July 20, Tracy estimated there wasn't much left to harvest at this particular site, so they should be wrapped up by the early evening. During a normal year, the Zeorian's would be pointing their equipment north to Montana, but severe drought, coupled with grasshoppers, has curtailed their entire northern run.
After they finish harvesting in Colorado, Jim and Tracy aren't exactly sure what their next move will be.
"As of right now, we haven't had any leads on jobs, so I don't know what the plan is. Are we going to take equipment north and sit and wait or are we going to take equipment home?" Tracy questioned.
To say this has turned into a stressful harvest season would be an understatement. The realities of this drought are weighing heavy on Jim and Tracy's shoulders. The Montana portion of their harvest run budgeted at roughly half of their summer income and facing the probability that they are straight up out that money is petrifying. The bills have to be paid either way.
Tracy admits, dealing with the stress of their current situation is trying. Jim has been losing sleep while Tracy is trying her hardest as his life partner to be supportive and understanding. She herself is leaning on her faith to get through it all.
"God has a plan for us – we've just got to be patient. The hardest part for me is waiting for what is supposed to be unveiled," Tracy said.
Tracy was quick to point out, it isn't just Zeorian Harvesting and Trucking that has been taken out at the knees by this drought. Fellow custom harvesters are reporting their northern runs have also been greatly diminished or canceled, as well.
"There is nothing we can do about it. It is stupid Mother Nature and grasshoppers, that is just all there is to it," she said.
The stint in eastern Colorado hasn't been entirely cloaked in stress. Three of Jim and Tracy's daughters came to visit them at this stop and Tracy was more than happy to take them all for a spin in the combine. In fact, her oldest grandson, who is eight years old, even took a turn driving the combine. The life of a custom harvester is a unique one for sure, but Jim and Tracy can't help but hope that combine rides with Grandma will help spark a passion for the industry in their grandchildren.
The last week of July has certainly been clouded with uncertainty for Jim and Tracy Zeorian and all they can really do is put one foot in front of other. They will need to clean the combine and prepare their loads for transportation. They just don't know yet if their rigs will be headed north or back home to Nebraska.