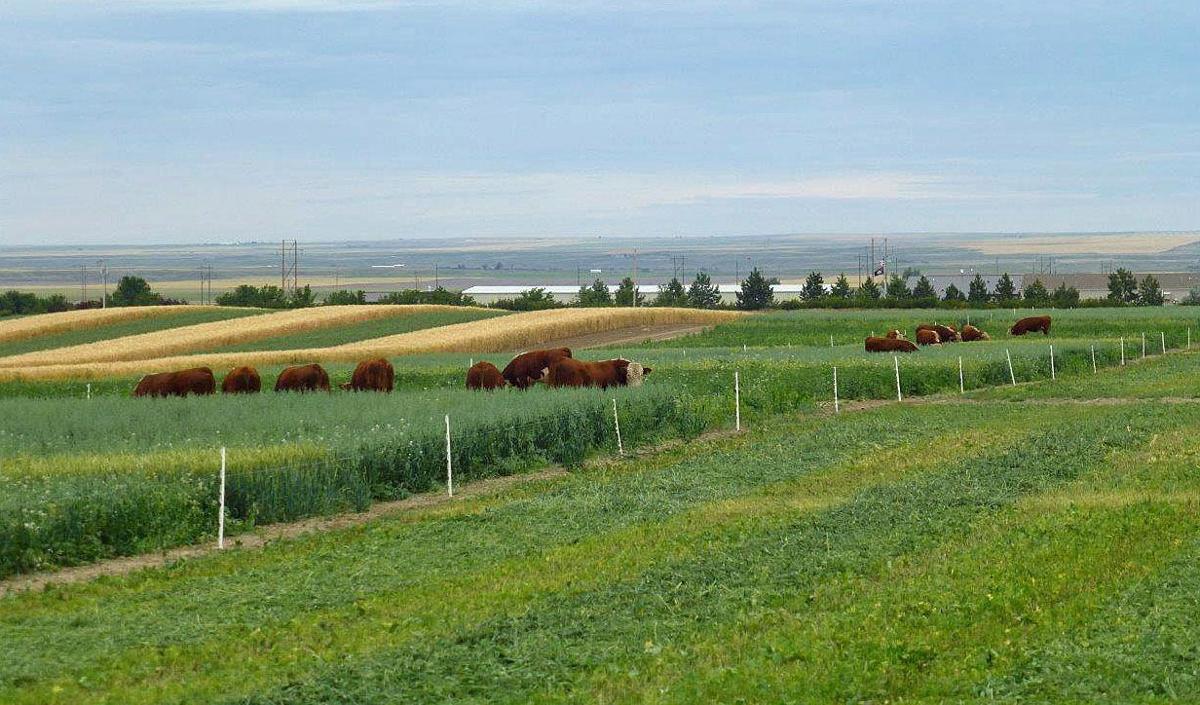 In northern Montana, livestock specialists have been studying cover crops and grazing for years.
Darrin Boss, Montana State University livestock specialist and superintendent at the Northern Ag Research Center (NARC) in Havre, Mont., shared some exciting news about their long-term study.
"We just completed eight full years of studying cover crops with livestock last year in a two-year wheat rotation," Boss said.
Boss' colleagues will be publishing the results in a few months for producers.
There will be a publication on the effects of crops, the effects of forages (the grazing and haying study with cover crops and livestock), and the effects of soil health after eight years of cover crops in a wheat rotation. The check was a wheat/fallow rotation.
With the cover crops, they grew them and terminated them with grazing or with swathing and baling for haying, or sprayed them out for the soil health-only benefit.
"We tried to evaluate what these three different endpoints with cover crops looked like in our wheat rotations," Boss said. It was a typical two-year dryland rotation with wheat and cover crops.
Some years, when there was exceptional rain in the wheat rotational years, they did not see a yield drag in the wheat yield.
In comparison to a wheat/fallow rotation, that worked out to be an equal yield.
With stressors like reduced rainfall, they did see a yield drag of up to 15 bushels per acre in certain years.
"That is a definite economical hit to producers if their wheat yield goes down because of cover crops," Boss said.
But they found by having an alternative economic stream, such as haying or grazing, and having animals on the land, producers could "weather that decreased wheat profit."
Boss said the next step would be a full economical analysis.
"We did not work on the economics, such as equipment costs and the depreciation of equipment. That will be the next step we want to work on," he added.
The study showed promise. However, Boss said the rotation probably wouldn't work for everyone in the Northern Plains to get away from a crop/fallow system. Moisture is still the determining factor.
"We know Montana soils change very slowly in organic matter or increasing soil microbes for soil health," Boss said. "By having livestock on the land, it may offset those wheat drags until we get to what we think is a healthy, sustainable, cropping system with livestock, cover crops and wheat rather than a crop/fallow rotation.
This could, however, work for those producers who have livestock, and take a more diversified approach to their operations, with crops and grains.
Some producers want to find a way to bring livestock back onto the land for economic and soil health reasons.
At one of the recent NDSU farmer panels, Kevin Sedivec, NDSU Extension range specialist, said producers should definitely consider adding livestock grazing and cover crops to their rotations.
Livestock is one of those tools that is a "no-brainer" to add to an operation – a quick way to add economics to an operation, he pointed out. Adding cover crops is not just for one year, it should be for the long-term and adding livestock gives an operation an economical edge.
"I am a big fan of livestock on these cropping systems for what it adds – new biology that much of these crop grounds haven't seen for decades," Sedivec said. "The idea of the hoof action and the urine and the manure, that creates this different micro population and adds new value and a new component that benefits your soil micro populations, which helps break down more organic matter."
Winter cereals with cover crops have become a popular rotation because it allows growers to keep green tissue on the ground earlier in the spring and longer in the fall.
Sedivec said they were studying the rotation, looking at dual uses of the land.
"Winter rye was the most productive of our winter cereals, producing about 2 tons per acre by June 8, and our second most productive was triticale," he said. "You can take it off as a hay crop for winter or graze it in May for spring grazing."
Their heifers gained nearly a pound a day on winter rye.
"Winter rye was our most economical option, costing 65-85 cents a day to feed those heifers," he said.
Willow Creek winter wheat for grazing or haying was "a much slower growing variety," and didn't start producing aggressively until June.
Grazing cover crops is also a good way to "get rid of winter feed costs," according to Jerry Doan, who ranches in McKenzie County (N.D).
Doan pointed out he doesn't just plant cover crops in late summer for grazing, but planting cover crops for grazing are a major part of his crop rotation on his operation.
"You can build soil health without livestock, but you'll get there 10 times faster with grazing," Doan said.
The mix he uses is diverse, including several millets, brassicas and collards.
"Collards are keys to winter grazing because they are like a cabbage plant without the head and they stay green and leafy and even if we get snow on the ranch, cattle will dig through that snow to get that green material," Doan said.
Brown mid-rib (BMR) forage grazing corn and BMR sudan/sorghum cross were meant to be grazed by cattle, and they are included in some of his mixes, he said.
"The millets are good for winter grazing, too," he said.
In December last year, Doan said the cover crops were still waiting in the fields for grazing. They were only half the usual tonnage due to drought in the region over the summer and fall.
His livestock had been busy grazing corn stover and native range he saved for winter grazing.
"When we graze cover crops will depend on the year. Sometimes we'll get into the cover crops for grazing in November," he said. "My goal is to wait to use the cover crops as long as possible."
The Doans never bring their cows into the yard and feed anymore.
"We keep them on the land for soil health. If we have to supplement, we take it out there. We have built some portable windbreaks and we have winter protection," he said.
Doan said they use cover crops to improve depleted soils that had been tilled and were wheat/summer fallow a generation ago and to be able to attract wildlife for their tourist venture.
"When I grew up, wheat and summer fallow were common and I didn't know if we could bring those soils back and we have been impressed that we have," he said. "We test our soil biology every year and it has improved with grazing. We see it going in the right direction."
Doan said he has sandy soils and was told he probably wouldn't see worms in them because the sandy soils are abrasive. That was untrue because he has found lots of worms, as well as improved regeneration of soils, land and water.
"It is all about regenerating, not sustainability," he said. "We do enjoy telling the story to the public of how we can help with the issue of our natural resources."