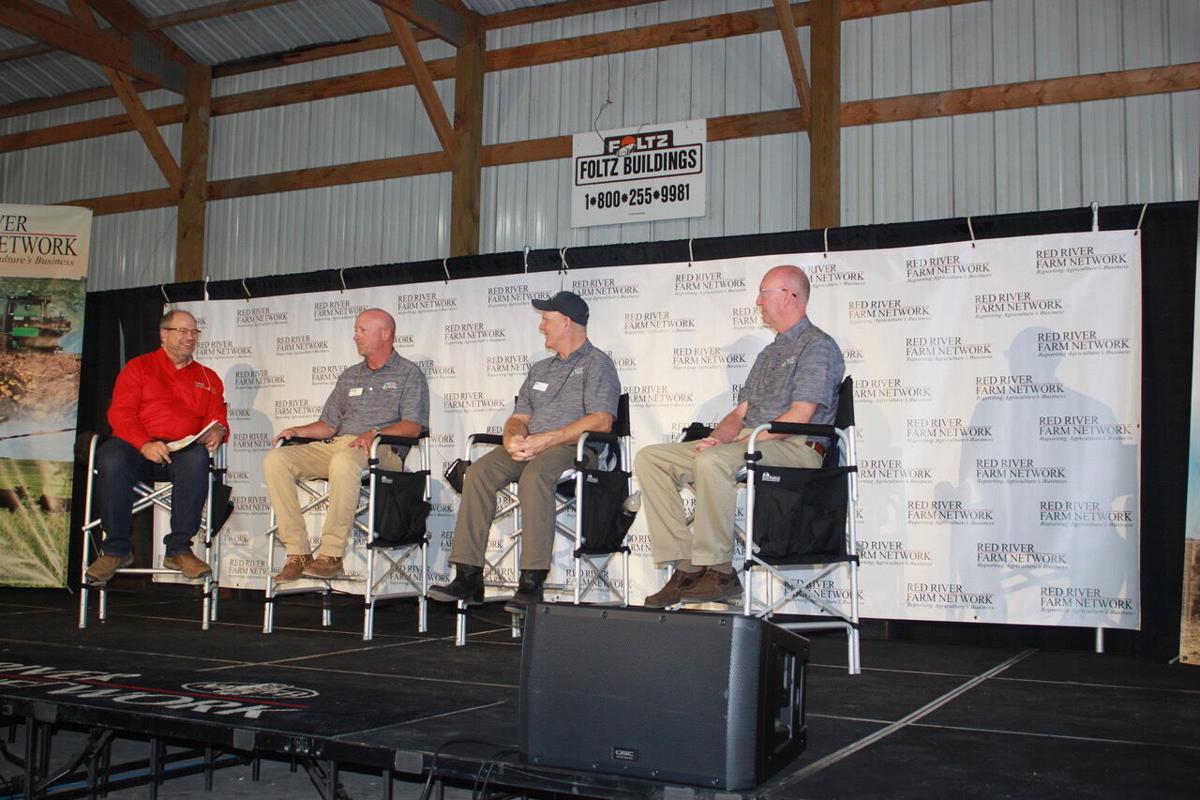 WEST FARGO, N.D. – With high commodity prices and low interest rates, a seller's market has developed for farmland, said Dale Weston, Farmers National Company agent, Fargo, N.D. Weston was one of three Farmers National Company agents to speak on a panel during Big Iron. The seminar was moderated by Red River Farm Network's Don Wick.
"With the grain market is up, government ad hoc payments last year, and strong demand, we are looking for more land to sell," Weston said. "We have more buyers than sellers. We've had a number of buyers call, and that's great, but I need sellers."
The northeast North Dakota/northwest Minnesota agents said they wouldn't be surprised if prices for high quality land move to or above prices paid in 2011-13.
"When we were selling land (Tier 1) in 2012-13, in the Valley for $6,000-$7,000 per acre, it was mind blowing," he said. "Now we expect to have at least that…where they are very competitive on potato ground, it could go higher."
Prices vary for land with issues – unusually-shaped fields, combination soil types, poor drainage, loss of topsoil and lack of residue, weed or disease issues or poor fertility. On these types of farmlands, the market corrected itself after prices moved too high in 2012-13. The agents said they weren't sure yet what buyers were willing to pay for these "Tier 2 or Tier 3" pieces of land in 2021-22.
The market is not fully actualized yet for pasture ground either. Short-term high prices to own pasture will depend on the infrastructure of the livestock industry in the nearby region.
One group that is selling farmland is absentee landowners in their 60s or 70s. They grew up on the farm but realize their children and grandchildren don't have the same emotional or knowledge base.
"They realize the next generation has never seen the farm and is not going to agree on what to do, so they (the older generation) realize that cash is easier to deal with than an asset," according to Kyle Nelson, agent for Farmers National Company.
Top secret
Most farmland buyers and sellers are not interested in showing their cards to their neighbors right now. Bidding online allows confidentiality that people like, Weston said.
"Maybe you don't want to bid against your neighbor, whereas if you're sitting at your computer, you can have some confidentiality," he said. "There's an ease for the farmer to shut down the combine for a few minutes and use a smartphone and bid from the combine."
Getting accurate appraisals, as well as studying comparable farmland sales, can help determine fair market value.
There are cases, though, when land is worth more than the fair market value – if it abuts current farmland for instance. Sentimental value can have a role in the price, too.
From a renewable energy standpoint, wind turbines take a relatively small amount of farmland out of production, while solar gardens may take all the farmland. Buyers are showing less interest in solar gardens during this time of high commodity prices, according to Scott Huether, Farmers National Company agent.
The price for recreational land or hunting land has been on a slow and steady increase higher. Usually, wooded land will bring more demand than prairie for deer hunting. There's been an uptick in waterfowl lands in some regions. The "shouse," a shop/house, has also gained in popularity, Nelson said.
"The size of the tract matters – 40 acres will bring more per acre than 80 acres – because with housing values going up, we can take a home equity loan and buy 40 acres without much problem," Nelson added.
Investor purchases in farmland is slowly moving higher, but farmland doesn't usually have the fast rate of return, so that limits farmland investors. That could be a different story if the investor lived on a farm, left home, and now wants to own some farmland.
"We do have people who want to buy land, but when you dig into it, it is someone who grew up in the area, moved away, was successful, and has an attachment for owning some land," Weston said. "When you get to the institutional investors, it's still fairly thin, although we're seeing an uptick in those who are buying the land."