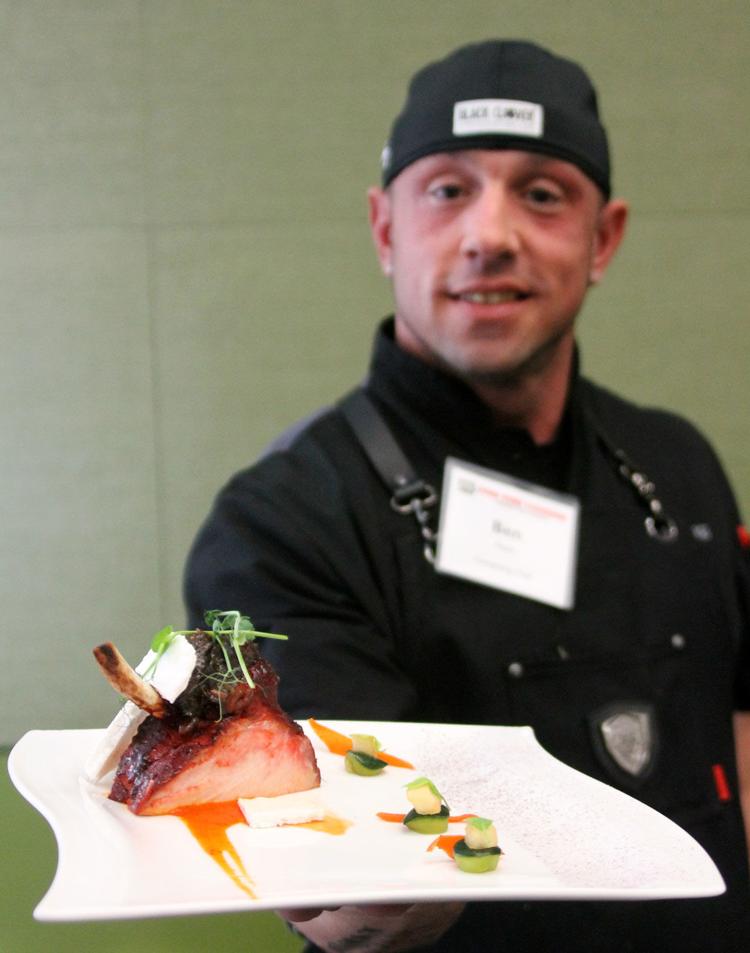 DES MOINES — There was a time when Ben Hayes had a choice to make between the gridiron and the griddle.
Hayes, this year's winner of the Iowa Taste of Elegance contest sponsored by the Iowa Pork Producers Association, was a talented high school football player at Pleasantville High School, just southeast of Des Moines.
"I wanted to be a professional football player," he says now. "That didn't come to be."
When there weren't a lot of big-time football scholarship offers, Hayes started to think about what he really wanted to do in life. He had grown up in town but had spent time making hay for local farmers and washing dishes at a local restaurant. He decided what he wanted to do in the long run was to be a chef, so he entered the Iowa Culinary Institute at Des Moines Area Community College in Ankeny.
"I didn't have my cooking chops yet," he says, "But I learned a lot."
By the time he graduated he had experience working in various restaurant situations, including food service. He got a job as kitchen supervisor at the Iowa Events Center in Des Moines, a job that taught him about how to provide great food for a big crowd. He moved to become executive chef for the ICubs baseball team, supervising food for concessions and people in suites. He also ran the food service at Jack Trice Stadium at Iowa State University.
But Hayes also wanted to see the world. He spent time in South Bend, Indiana, and Missoula, Montana. Those jobs were rewarding, but the hours were long and the stress levels were high. When his mother was diagnosed with cancer, Hayes decided to move back to Pleasantville and help to take care of her.
"That was one of the most important growth periods of my life," he says. "It was very challenging."
Eventually, he re-entered the culinary world, running the Peace of Cake Café at the Facebook in Altoona. In that capacity he runs food services for the employees at the data facility.
Now 36 years old, Hayes still has a love of cooking, and the Taste of Elegance contest provided him with an opportunity to experiment and grow. This year's contest, which features chefs from white tablecloth restaurants across the state, included 11 chefs. All of those chefs were required to use a crown roast of pork, which is a bone-in loin.
For his entry Hayes combined some Asian influences with his Midwestern upbringing in a dish he called East Meets Midwest.
When it comes to pork, Hayes offers some basic advice. The most important thing is to not overcook it. He advises cooking it long and slow over a low heat. As long as the internal temperature reaches 145 degrees, that is perfect. A second piece of advice is to let the meat rest for 5 to 10 minutes after taking it off the heat. Putting a piece of foil over the meat can help. Marinades work well with pork, he says, and it is worth considering what other foods to pair with it because it goes well with so many things.
"The options are really endless," he says.