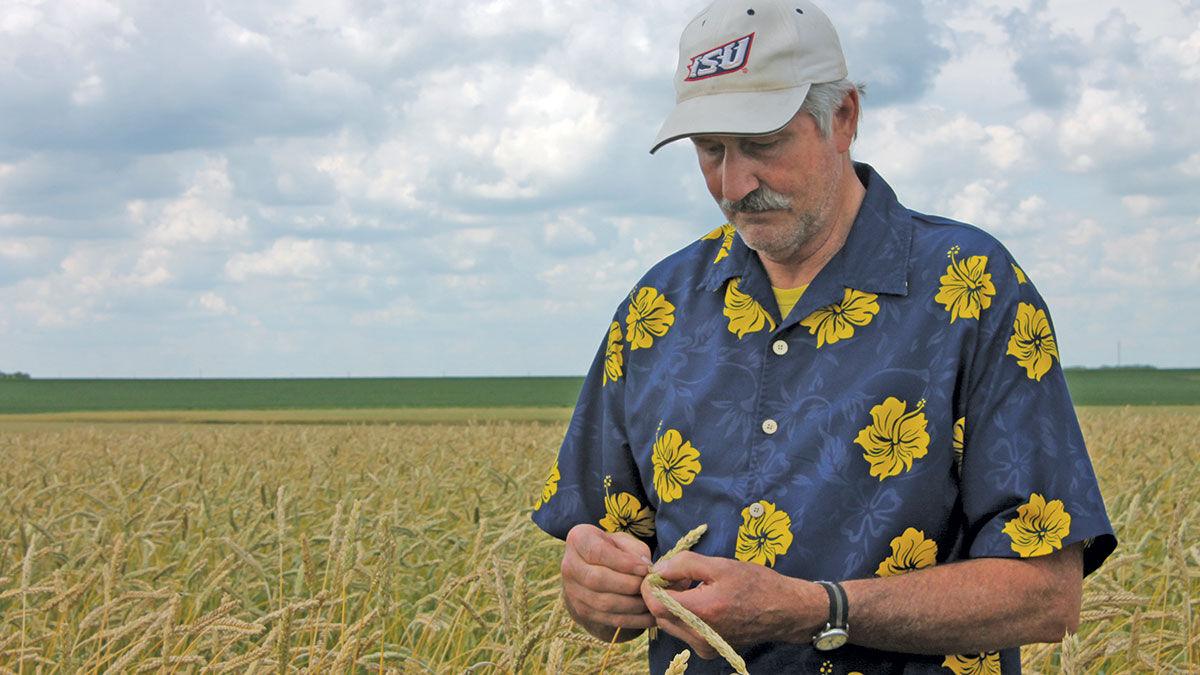 SUTHERLAND, Iowa — Paul Mugge steps into a field of triticale on his organic farm in northwest Iowa.
The triticale is part of a crop rotation he is always tweaking, always experimenting with. In a way, that is the same thing happening across the organic agriculture industry. Farmers and regulators and industry leaders are continually tweaking and, in many cases, arguing over the best way forward.
Consumer demand for organic food continues to grow, according to Laura Batcha, CEO and executive director of the Organic Trade Association.
"I think the consumer interest in organic food and fiber products has never been higher than it is today," Batcha says.
In 2020, the market grew by about 12%, its highest rate since 2008, and it accounted for nearly $62 billion, or about 6% of food sales in the United States. That means more farmers are going into organic production as well, Batcha says.
But that growth in the organic industry brings with it some inescapable conflicts.
One of those is that organic traditionally was identified with small and local production, but the certification has nothing to do with size. As it becomes a larger industry, there have been issues regarding imports.
"That's a hot issue," Mugge says.
He says there has been concern in the past several years that USDA was not updating and enforcing standards in regards to imports. The United States imports about 80% of its organic grain, and 70% of its organic soybean meal comes from India. Many Midwestern farmers question whether all of that imported grain meets organic guidelines.
And large-scale U.S. production is also sometimes controversial. For example, there has been debate about USDA animal welfare rules, such as outdoor access for poultry. Many organic farmers support requiring any organic animal production to have access to grass and outdoor spaces. Batcha says a rule was passed in 2017 that would have made that a requirement, but it was withdrawn by the Trump administration. She says the Biden administration is signaling that it may revisit that rule.
"That's a big lightning rod issue," she says.
Hydroponics are also a hot topic, and Batcha says the USDA needs to step in and clarify the rules. Many organic industry leaders argue hydroponic production should not qualify as organic.
"The original intent of organic production was all about healthy soil," Mugge explains. Hydroponic production doesn't use soil.
Part of the problem is the industry is growing quickly. While moving from a series of separate certification organizations to one national certification and label were good, the USDA is struggling to keep up with the industry. Batcha says the national organic program there has only 63 people on staff, and only two of them actually write standards.
For Mugge and many other farmers, there are also individual production challenges, and that is one of the things that can make the job both fun and frustrating. Mugge earned a college degree in aerospace engineering and worked in that industry before returning to the family farm four decades ago. He loves the science and experimentation that goes with being an organic farmer.
On his 300-acre farm, about a third of the land is in corn, a third in soybeans, and a third in small grains, generally triticale or oats with red clover. But he is always checking test plots and reconsidering rotations and specific practices. For example, he cultivates and also uses a burner for weed control.
Some organic farmers are experimenting with the idea of no-till. Amy Bruch and her husband farm near York, Nebraska. She says many organic farmers are trying to reduce tillage, and Mugge adds that while he does do several tillage passes, he does not do any type of deep tillage.
Bruch says some farmers are using a roller crimper to assist in laying down cover crops. Challenges of early insect pressure from the cover crop or a thin stand due to winter kill are still an issue. And trying to get the right program for terminating the cover crop and planting the cash crop is still an issue.
Some farmers are also experimenting with ideas such as 60-inch rows or intercropping.
"The road map for what is possible hasn't necessarily been finalized," Bruch says.
Of course, the biggest issue for almost any industry is price. Mugge says this year's organic corn prices haven't shot up very much compared to commodity corn prices. Recent organic prices have been in the $9 range, he says.
But organic soybean prices, perhaps buoyed by some import issues, have shot up close to $30. A general rule of thumb has been that organic crops have been closer to twice the price of non-organic crops, he says, although the figure can vary dramatically.