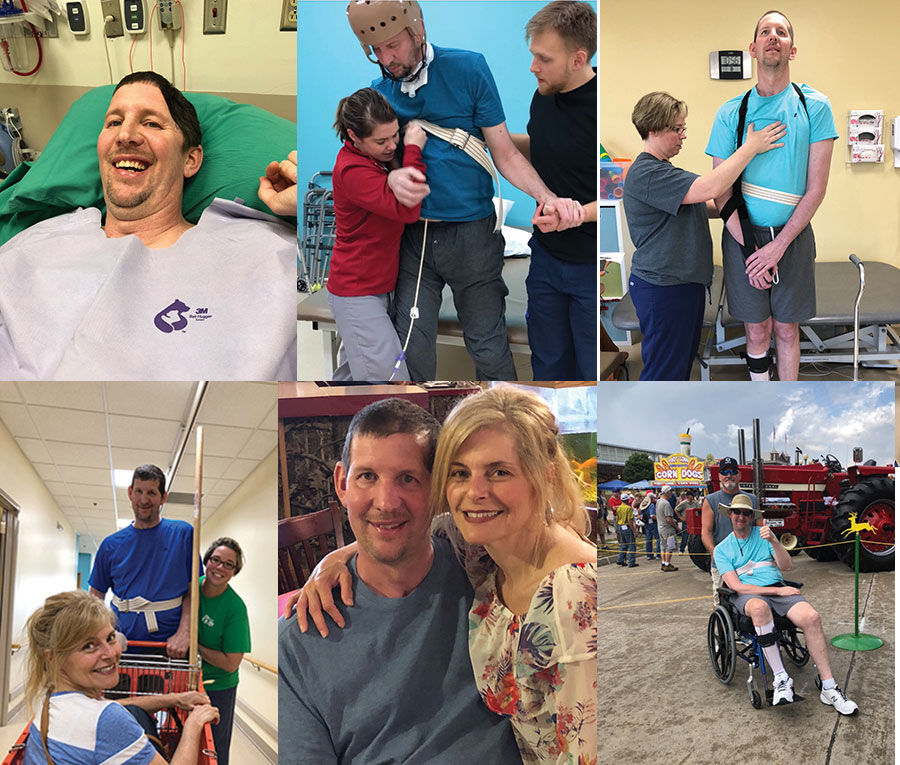 Chris Pliner wants to be able to look out the window at cornfields.
That may sound like a simple thing, but simple things are what Pliner thinks about these days. He and his wife, Kate, saw their life change dramatically three and a half years ago when a massive stroke struck down the big man with a big personality.
Since then, life has been a series of baby steps. Say a few words. Be able to smile. Be able to walk. See a cornfield.
Pliner grew up on a farm near Gowrie, Iowa, and began raising a family. He had known Kate since the two were children in Sunday school.
"He was this lanky kid who used to follow me around," Kate says. "I would tell him, 'Chris, you are getting on my nerves.'"
At the time she didn't think anything of it. They each lived their own lives. But one day she was working in her hair salon and a relative told her that God wasn't going to just drop someone into her life. She stepped out in the hallway and there was Chris. A year later they were married.
"We were living the life," Kate says.
But that married life wasn't without challenges. The two loved each other. They were both deeply religious and went to church together. But Kate began having serious medical issues. She went to doctor after doctor. She couldn't eat, couldn't sleep. It was like the worst flu, but it lasted for a year and a half, she said.
Finally, they determined her illness was caused by mold. They had their house tested. There was a mold problem.
Kate had to move in with her parents. While they were looking at options for a new home, Chris continued to farm and to drive a truck. Neighbors knew him as the friendly man who would grade the gravel road when it got too rough.
Always a big man at 6 feet 6 and a half inches tall, he was the guy in the neighborhood that you couldn't miss, the friendly giant.
Then something else happened.
"He called one day and said, 'I just had the worst headache and I had to lie down,'" Kate remembers.
He had spent three hours under a truck working with his arms above his head.
Then, on Jan. 1, 2018, he suffered a massive stroke. One of his three sons found him in his farm office. Kate and the boys reacted quickly, but by the time he got to the hospital in Fort Dodge and then was eventually flown to Iowa City, the damage had already been done. He was 49.
Chris spent 22 days in the intensive care unit and was later transferred to On With Life Rehabilitation Center in Ankeny. Doctors did not offer Kate much encouragement. The damage had been extensive. They had to cut out part of his skull to relieve the swelling.
But Kate didn't give up. The couple lost their home and their livelihoods. They have remained in Ankeny so Chris could get treatment. They worked with a speech therapist and other experts.
Slowly, painfully, and against the odds, Chris learned to walk a little, to say a few words, to communicate, to smile. There were problems. He suffered seizures.
"I'm his full-time caregiver," Kate says. "Which is OK. We're joined at the hip anyway. He's my best friend and the love of my life."
But today the couple is trying to raise the money to build a small home back near the old farm by Gowrie. It won't be large or fancy, but it has to be handicap accessible. They also need to buy a custom-made chair for him. And it really needs to have a view of a cornfield.
"We want to get back home. People heal better in their own environment," Kate says. "He's a farm boy and he needs to be in the country."
Friends and strangers have donated to the effort. Donations are still being accepted via Venmo to @ckhomefund (phone confirmation 5550) or by check made out to Kate or Chris Pliner sent to Community State Bank, 1640 SW White Birch Circle, Ankeny, IA 50023.
Through it all, they say their faith has helped. Chris says he is sure he saw Jesus when he had his stroke and was on the edge of death. That faith has carried them through the difficult times that followed Chris' stroke, they say.