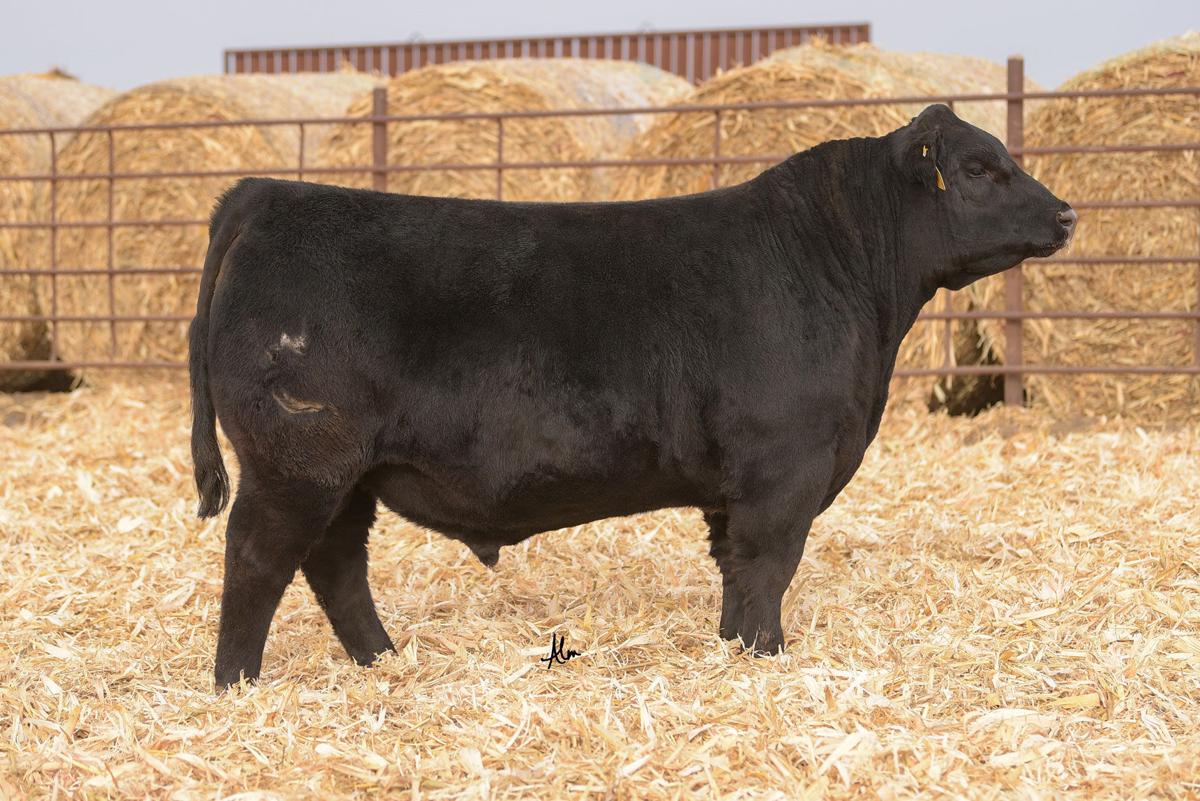 It's not every day that an Angus bull sells for $900,000, but Danny Poss was not surprised.
His bull, named Poss Deadwood, sold via phone bid to TK Cattle of Menard, Texas during the Poss Angus Ranch annual bull sale Feb. 5 in Scotia, Nebraska.
"Everything just kept leading up to this sale," Poss said.
They had an idea that Deadwood would bring a lot of money when before the sale, they had semen orders of 4500 units. Buyers expressed interest from Texas to Montana, from California to Florida, and all the way to Delaware.
"People in almost every state wanted semen from this bull," Poss said, adding that he also had calls from Australia.
The American Angus Association says the $900,000 price tag represents the second highest selling Angus bull in the modern era. Another bull in Nebraska sold for a higher amount sometime between the late 1980s and early 1990s.
Herbster Angus Farms in Falls City, Nebraska in 2017 purchased a bull for $755,000 for half interest, so American Angus Association officials say, all told, that bull was valued at $1.51 million. It sold by Schaff Angus Valley Bulls of St. Anthony, North Dakota.
"While a final price of $900,000 was incredible, the Poss bull had created quite a buzz across the industry for many months so I wasn't totally surprised when he sold extremely high," said Mark McCully, chief executive officer of the American Angus Association.
He gives the family's quality program credit.
"The Poss family is very dedicated to producing high quality Angus seedstock. This record sale was affirmation of the acceptance and demand that exists for their program," McCully said.
Poss said his family is proud of Deadwood's genetics.
"The cool thing is most of Deadwood's pedigree is out-cross genetics and allows for mating flexibility," he said.
The bull has the muscle, structural correctness, good feet and legs and EPD (expected progeny differences, which evaluate an animal's genetic worth as a parent). Poss calls it a profile that was hard to fault.
Deadwood is an artificial insemination bull sired by Poss Maverick, born in September 2019. His mother was raised at the Poss Angus Ranch.
In the Poss sale book, Danny Poss calls Deadwood, "a standout since day-one and on the radar of the Angus world."
He is long-bodied, thick, stout and long with a square-hipped stature. He as "unspeakable eye appeal," Poss said.
It's a bull that caught worldwide attention, with his elite genetic tabulation.
"No bull in the breed can compete with his combination of calving ease, growth, carcass merit, and a big-hoofed bull and a strong deep heel designed for covering large areas of rangeland," the sale book said.
Even the commercial breeders want semen on this bull, he said. Deadwood has leading edge genetics but not too extreme, and he's got the right amount of frame, as Poss explains it.
"Deadwood is the ideal Angus bull, whether you're in the Badlands, the desert, or in highly productive areas," he said.
Poss farms corn, soybeans, hay and alfalfa and ranches with his family, which includes his wife Kristi, sons Nolan and Nathan, and daughters Neleigh and Natalie.
A first-generation Angus breeder, Poss credits his family for their immense support. Each plays a major role in the operation.
"For some, it may seem like we had some good luck, but the fact is we work together for the same vision," Poss said.
He credits Nolan for having a keen eye for cattle and a memory that is far better than the rest of them. He takes care of a lot of the paperwork, and probably most of the ladies at the Angus Association know his name, his dad said.
Nathan is their hands-on cowboy who can handle any kind of cattle husbandry. He's been running the feed wagon since he was 10.
The girls are hardworking and dedicated to the operation, their dad said. They help with AIing, night checking, and working the cattle.
"They are all excited about their own cattle and the progression they are making with them," Poss said. "We work together, and we are blessed."
A progressive Angus breeder is how Poss labels himself.
"I want the best of everything," he said.
As for the top-dollar bull, Poss reflected: "There are so many elites in the Angus breed. Everybody wants first place, and this is a bull that's gonna make that happen. His sons and daughters could be even better than him."
Reporter Amy Hadachek is a two-time Emmy Award winning meteorologist and a storm chaser who earned her NWA and AMS Broadcast Meteorology Seals of Approval. She and her husband live on a diversified farm in Kansas. Reach her at amy.hadachek@midwestmessenger.com.