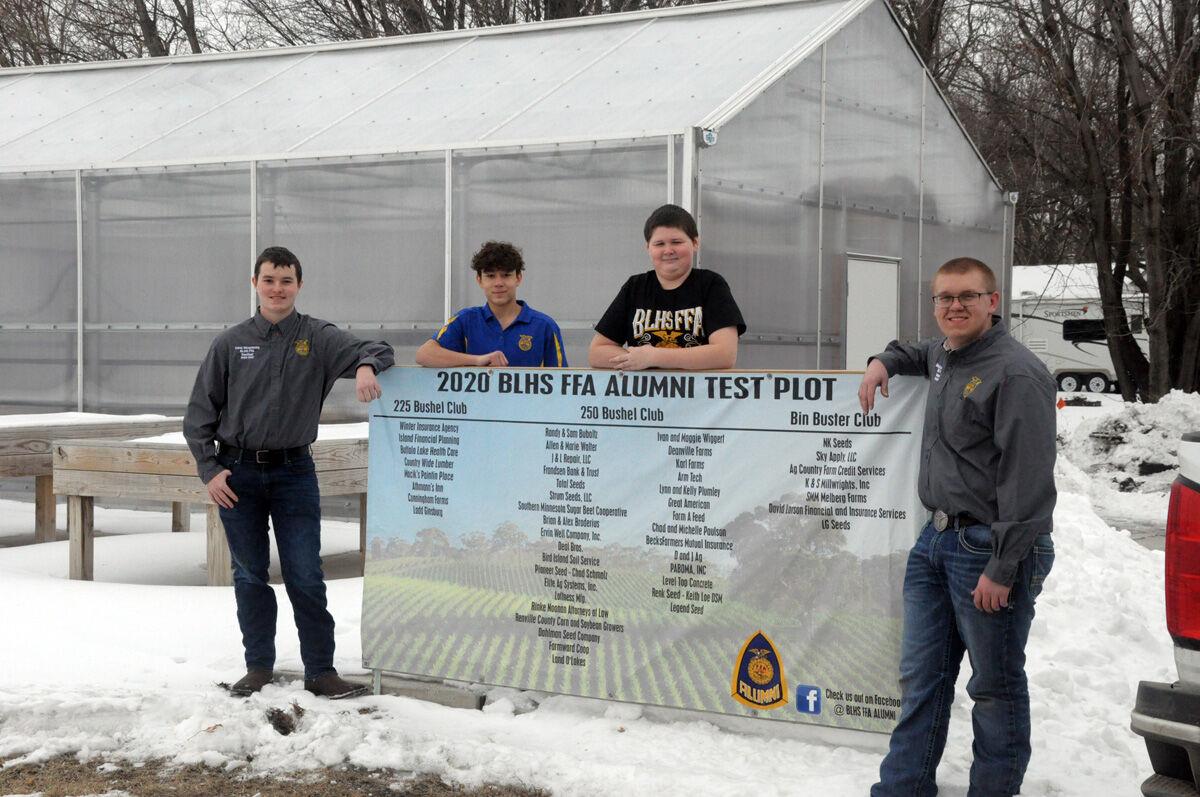 HECTOR, Minn. – Building greenhouses and growing plants have something in common – both require patience and steady progress to reach fruition.
That's the case for the Buffalo Lake/Hector/Stewart High School Greenhouse where FFA students will offer plants for sale later this spring.
It's been more than four years since ag instructor Mrs. Jill Grams applied for a Monsanto grant to help pay for the commercial quality greenhouse.
"We are very, very excited," said Grams during a Jan. 27 phone interview. "I have my first ever greenhouse class that started yesterday."
She applied for a Monsanto $25,000 grant twice. The first year, the proposal wasn't selected, but the second year, in the fall of 2017, it was.
In 2018, she worked on commercial greenhouse permitting with the city of Hector. With more challenges than expected, the greenhouse construction was put off until 2019.
That same summer, Grams began receiving chemotherapy due to a cancer diagnosis, but it didn't stop progress on the greenhouse.
Many people got involved, including the BLHS FFA Alumni Association. They helped with some of the work, and were the major financial contributor for dirt excavation, pouring concrete, and construction. The school contributed the plumping and electrical work.
The remaining large expense was heating. Central Region Cooperative of Sleepy Eye, Minn., donated the labor to put in a gas line and donated a propane tank. Local farmer, Larry Dean, donated the first fill for the 2021 greenhouse.
"The greenhouse itself was about $25,000 and we have another $25,000 invested," Grams said.
It's all paid for.
The 18-foot by 36-foot commercial greenhouse is accessible by wheelchair. In addition to its concrete floor, the greenhouse is surrounded by a concrete apron that supports three outdoor raised beds.
With 275 students in grades 6-12, BLHS offers multidisciplinary coursework. Most students are involved in some aspect of agriculture education, and 40 students are involved in the FFA program at BLHS. Grams hopes many departments will add the new greenhouse to their curriculum.
Planting seeds, plugs and baby plants is planned for March based on the dates for the community plant sale. Then, tomato plants will be planted in the raised beds in late June for use in the school lunch program later in 2021.
"This is our first year, so we are getting our feet wet, but the ultimate goal is that every year, there will be one or two student managers of the greenhouse," she said. "The goal is to have some bedding plants, some vegetable plants grow, and have a plant sale that will be run by the greenhouse class and FFA."
When asked about what makes the BLHS school district unique, Grams gave a lot of credit to the students, teachers, support staff, and administration, of course, but also to the communities, ag businesses, and farmers.
Babe's Blossoms of Hector, owned by Cara Hanson, has been a great resource, Grams said.
Hector also has a community garden, and the workers for the garden will be a great resource the greenhouse, too.
It isn't just the greenhouse project either. When new welders were needed for the shop class, a local farmer gave money for four new welders.
Loftness Specialized Equipment, in Hector, has also been a major sponsor of the ag department. Community experts come into the classroom, too, to share their skills in the metal shop or the wood shop.
One of the things that has always been important to the BLHS FFA Alumni Association is providing experiences for all youth. Funds for wood or metal projects are donated so students don't have to pay. Contributions pay for FFA trips and activities.
The communities of Buffalo Lake, Hector, and Stewart have come together to support the school district as a whole, she added.
Using school and community funds, new or gently-used clothing, basketball shoes, and sports equipment are donated when there is a need.
It's the desire of these rural citizens that every child receive opportunities to grow and become their best selves.
These communities realize that – like the greenhouse – nurturing young people and creating something special takes time. It isn't always easy and there may be hurdles to overcome.
Working together, the greenhouse has been built and is ready for student to learn more about food production, plant sciences, business and more.
"We have really good kids out here. We have good students. We want to be sure they have opportunities," Grams concluded.