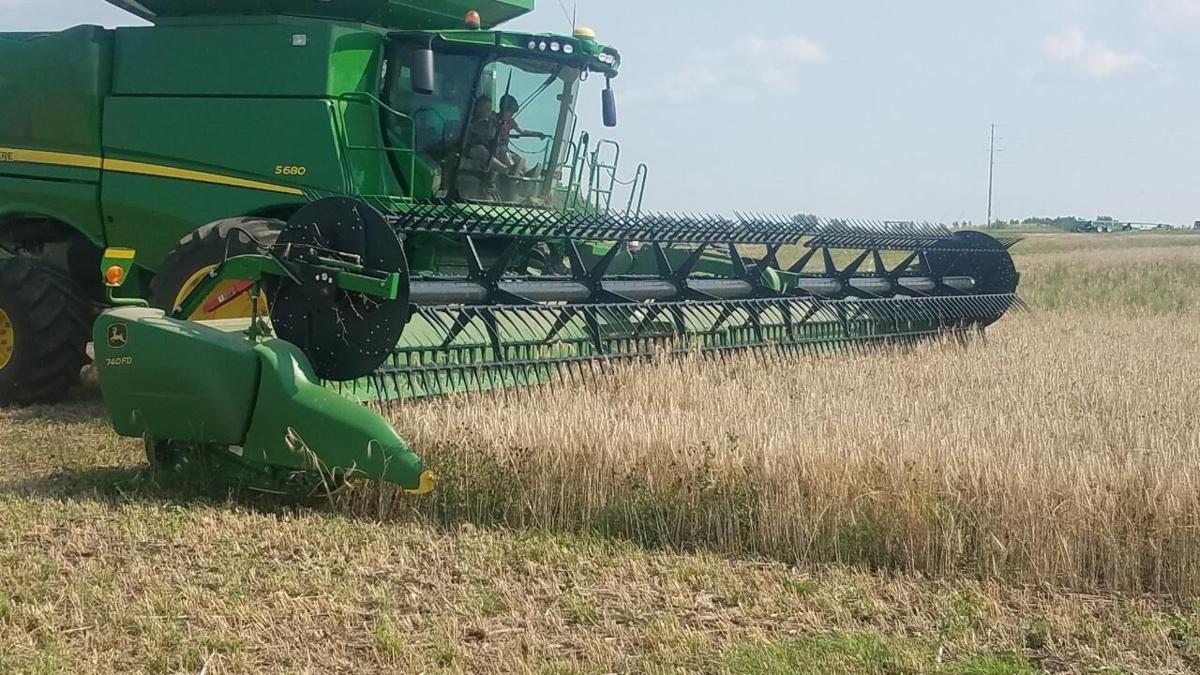 SHERBURN, Minn. – Most of the Krusemark crops reached the "autosteer stage," so Rochelle Krusemark had time for several activities.
Those activities included going to Farmfest on Wednesday, Aug. 4. Rochelle helped in the Minnesota Soybean tent, booth 620.
Minnesota Soybean's booth highlighted soy oil uses, including RePlay road sealant and Goodyear's soy-based Assurance WeatherReady tires. The booth also featured a custom-built soy-based Outdoor Getaways all season fish house.
Like other Minnesota Soy leaders, Rochelle enjoyed Farmfest to meet face-to-face with members after the long COVID-19 shelter-in-place.
Another great reason to attend Farmfest on Aug. 4 was the biodiesel pull-off at the Redwood Speedway. It was a fun activity for Rochelle and Brad Krusemark's grandchildren. Minnesota Soybean is a major sponsor of the United Pullers of Minnesota.
Back home in Martin County, A.J. Krusemark harvested his field of triticale on Aug. 2.
"We have not grown triticale for seed until this year, but had hoped for a better yield," said Rochelle.
Martin County is in severe drought. In addition to combining, A.J. was busy managing the cow herd and storing away feed for the winter.
"The lack of precipitation directly effects the amount of forage grown to feed the cow/calf beef herd," Rochelle said. "Rotational grazing requires moving temporary fencing more often and increasing the supplemental feed."
Out in the cornfields, the corn pollinated and was filling kernels as much as possible. The soybeans were in the critical August stage of development.
"Without sufficient precipitation, the soybean plants will abort pod development, and corn test weight will be lower than average," she said. "We will continue to scout for aphids in the soybeans; so far, no problem."
Wildfire smoke hung in the air. Rochelle and a couple of her grandchildren are more sensitive to smoke, so like many others, they tried to stay inside when they could.
"We pray for the firefighters and people whose homes and businesses are in danger or lost to the fires," she said. "I hope governing agencies will develop a plan to manage the forests that may more effectively control future fires."
As a national soybean leader, Rochelle is continually thinking about ways to help the soybean industry. She wants farmers to know how diligently ag leaders work for them, and she encourages others to get involved in their commodity groups.
For instance, checkoff funds have played a major role in improving corn and soybean genetics and production practices.
"Checkoff investments in research and development of drought-tolerant hybrids will result in harvesting more grain in 2021," she pointed out.
Pig farmers also benefit from the soybean checkoff. The Krusemarks were going to try using "PoreShield," a soybean-based sealant, on the barn slats. They had a load of hogs going out, and PoreShield will be applied before the next group comes in.
"I am excited to see how PoreShield extends the life of the slats and seals to protect the concrete from salts by the feeder," she said. PoreShield was developed in partnership with the Indiana Soybean Alliance checkoff investment and PoreShield.
Wanting to see agriculture benefit everyone at the local level, Rochelle added that the Martin County Farm Bureau is building a Sukup Safe T Home® at the Martin County Fairgrounds.
"This permanent structure will be used for ag education and promotional activities during the fair," she said.
Their plans include adding activities for children, benches for fair goers to rest, and living crops raised in Martin County. Signs will explain each crop and how it is used.
Martin County is the largest producer of pork in Minnesota and in the top 10 across the United States. It includes more than 400,000 acres of top-quality farmland and ranked third in the state for corn and soybean production, according to the 2017 Census of Agriculture.
The Krusemarks hope everyone in their county is proud of the enormous role Martin County plays in U.S. and even global production.