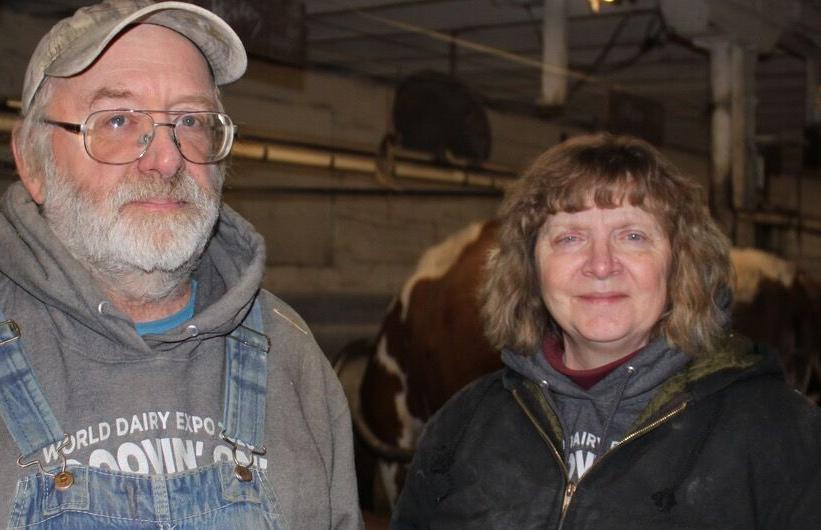 NEW ULM, Minn. – Maybe it's because they have worked their whole lives with dairy cows. Maybe it's just a natural bent to teach others about farming.
Whatever the reason, Paul and Melanie Fritsche continually share and successfully explain how their dairy farm works. They happily discuss their philosophies and share stories about why they've come to those conclusions.
So when the Fritsches finished up harvest early in 2020, this reporter thought it was a perfect opportunity to begin following this social media savvy dairy farm.
The Fritsches planned out their 2020 cropping season so they could attend the World Dairy Expo. Then COVID-19 showed up in March, and the show was cancelled. The Minnesota State Fair was cancelled, too. With many meetings cancelled, Paul was willing to share his activities with readers.
He and Melanie also use Facebook to share information about their farm to a large audience and learn about other farmers, members of the ag community and consumers.
Here are some of their updates during the winter of 2020-21:
Paul and Melanie dairy farm with Arlon Fritsche, Paul's dad, as well as Andrew Fritsche, their son. The majority of the herd is Registered Guernseys, but in recent years, Brown Swiss, Black and White Holsteins, and Red and White Holsteins have been added to the lineup.
"Our Swiss numbers have been increasing," Paul said. "The Holsteins and the Red and Whites, some are owned by our son and some are owned by others. We house cattle for other people also."
Also involved in the operation are Paul and Melanie's son, Daniel, who is married to Julie. Dan and Julie have two sons, Adam, 7, and Ryan, 4, who love to visit the farm. They both work at the Land O' Lakes Corporate Office and live in Hugo, Minn.
In early November, Andrew drove to Louisville for the 2020 North American International Livestock Exposition (NAILE) . His heifer, PAFarms Showtime Cadbury (9/3/19) stood seventh out of a class of 20 Guernsey fall calves. It was a good showing considering the quality of livestock at the show.
Back home, feed supplies at Fritsche Dairy were excellent in early December. The cows receive feed and water both inside the tie-stall barn and outside in their large pen.
A dairy cow may eat over 100 pounds of feed per day. The cows are fed corn or corn silage four times a day and have free-choice hay or balage.
Temperatures in November varied. Several days had temperatures in the 60s and 70s, but there were also days when the highs only reached into the low 30s. Paul added aureomycin crumbles to the calves' feed to avoid respiratory issues.
The first part of December had mild temperatures and the cows were very comfortable out on dormant grass.
The winter triticale was also doing well. It went into dormancy with 6-7 inches of growth. Triticale is the first crop to green up in the spring.
Two cows and one heifer freshened. To make room in the dairy barn, Paul dried off a couple of cows. Cows are generally dried off about 6-7 weeks before calving, but if milk production has slowed down, it's possible to dry cows off sooner.
Good news arrived – three of the Fritsche's 16 Purebred Guernseys were ranked in the Top 200 Guernsey Cows in the U.S. for December 2020. A Fritsche Guernsey "milk" bull is also ranked second in the nation and is used as an AI bull stud.
"That was exciting with our small number of cows to have three cows on that list," Paul said.
In December, the Fritsches decided to do something to light up the sky – they installed a 9-foot Christmas star on their Harvestore. Paul and Arlon built the star about 30 years ago, but this year, Andrew decided to restring it with LED lights. It was a beautiful Christmas reminder.
Melanie works in the floral department at Cash Wise and needed an early "Christmas present." She purchased a 2006 Ford F150 Super Crew Cab pickup to replace her 1998 Mercury Mountaineer. She kept both vehicles.
"With it being winter, I feel better with a dependable vehicle to drive, even if I use the Mountaineer a bit longer for work," she said.
Temps were in the 30s and 40s in late December. The heifers and dry cows stayed out on pasture, even though they had a bedded shed and bedded outside pile available.
Getting exercise is important for cows, and the dry conditions made it safer to walk around. Often, getting gestating cows out for a walk helps calving go easier.
More calves were born – two Guernsey bulls and a Brown Swiss heifer. Paul would have liked one or two Guernsey heifers, but that didn't happen this time.
The veterinarian stopped by to check for pregnancies. There were some open animals that were culled.
"That's just the way it is," Paul said. "Things don't always work the way you want them to in life."
The Fritsches completed their Dairy Herd Improvement Association (DHIA) milk testing during an evening milking and again the next morning. The herd is tested each month.
They appreciate DHIA because they can find how their cows are milking in comparison to similar cows in other herds.
"You can look in the bulk tank, but this way you know how each individual cow is doing," he said. "We get our information put into the national system. We've been a strong supporter of DHIA and classifying our cattle for as long as I can remember."
The Fritsches use the Dairy Margin Coverage program as their risk management tool. Payments of $2 per hundredweight were expected throughout the first half of 2021.
More calves were born in early 2021, and the newborn calf pen was getting full. Located right next to the tie stalls, it is very easy for the Fritsches to see how the young calves are doing throughout the day. A maternity pen also in the tie-stall barn often holds a cow or a cow/calf pair that may have experienced a difficult birth or any other problem.
For January, February and March, Paul and Melanie began sitting in on Zoom meetings. These meetings were for the Minnesota Purebred Dairy Cattle Association, AMPI, and the Minnesota Guernsey Association.
Melanie worked on the farm books in January, too. She posted her accomplishment on Facebook:
"That positive feeling when your farm account books balance at the end of the year with the bank! Bank statements to checkbook to monthly cashflow to general ledger! Now on to the tax worksheet and 1099s for the accountant since we can't have a face-to-face with COVID concerns this year," she wrote. "I'll have to make sure the CPA has plenty of notes for the farm and our personal accounts."
February's activities included Holstein Association USA classification. A professional classifier traveled to the farm and evaluated the cows for 17 individual traits reflecting five major dairy attributes.
The "perfect" cow would score 100. An "excellent" rating is 90-97, with a "very good" rating being 85-89 points.
The Fritsches always aim to raise cows that are classified as "excellent." They use the system to evaluate their herd and make mating decisions. A registered cow with a good classification score has more value, too.
Following a blizzard back on Dec. 23, the dry cows and gestating heifers stayed in the pen and open-sided shed. There were no more walks out to the pasture until spring.
From Feb. 5-19, daytime temperatures barely made it out of the single digits at Fritsche Dairy. Nighttime temps were well below zero. Paul had to keep all of the milking cows indoors. Frozen teats are too great of a risk for cows.
With the cows all inside, there was more manure to deal with and the gutter manure cleaning system froze up. That meant prying and pitching some manure to get the cleaner moving again.
Shortly after the cold spell, one cow that was confirmed pregnant sloughed her fetus. She had to be rebred after about two months of pregnancy. Other cows stayed bred or calved, though, with lots of activity for the maternity ward.
Another four calves were born in late February.
Things were so busy that the Fritsches set up the laptop computer, Paul's cell phone, and internet access in the barn so he could attend Zoom meetings while he was doing chores.
While the technology was impressive, Paul and Melanie would rather attend meetings in person.
"It's different," he said. "I still don't like it. It's not the same and you can't get together because of COVID."
Getting away from the farm is a very important aspect of successful dairying. It gives a person a chance to reset. COVID has made it nearly impossible for this to happen, but it was the best anyone could do.
A significant snowstorm arrived in March, but with plenty of warning the Fritsches had the cows ready. The pens were scraped and the animals were all bedded. Temperatures only dropped into the 20s, and the farm received some good moisture ahead of spring in the form of snow.
With the snow melting just a few days later, it certainly looked like an early 2021 growing season.
Paul purchased fuel and fertilizer well ahead of the growing season. The decision worked out well as both fuel and fertilizer prices have since moved significantly higher.
As the end of March approached, it was time to pick up the seed for planting. The fall triticale started to green up and will be the first crop harvested in the next few months. The alfalfa remained in dormancy.
"It's too early for the cows to be out in the grass," he said. "It's not greening up yet. If you let them out there too soon, they just make a mess."
This is the last report from Fritsche Dairy, and Paul and Melanie wanted to say thanks to everybody who took time to mention they were reading the articles.
In addition, Paul is thankful to all of the individuals and groups that kept things going through the COVID-19 stay-in-place requirements.
"I really do appreciate the efforts that co-ops and boards, individuals and farmers have done to try to keep things going," he said. "The World Dairy Expo, the Minnesota State Fair – they are trying to make it so things can get up and running again. It hasn't been easy, so I do appreciate that."
Our sincere thanks to Fritsche Dairy Farm for sharing their reports this winter, and for providing high quality milk and beef products all year long.