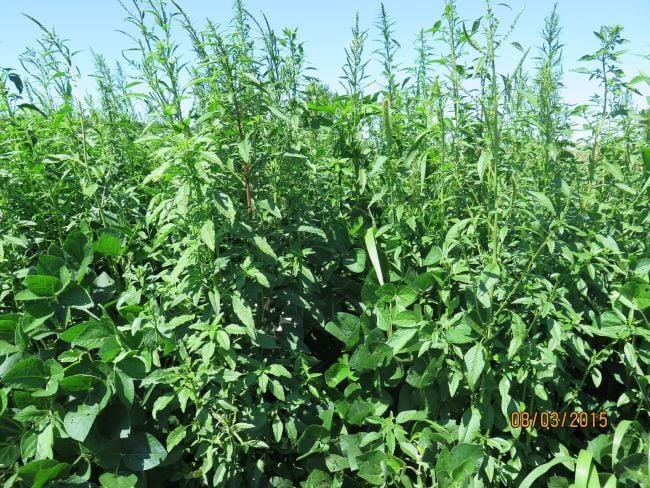 A recent announcement by Bayer says a new herbicide for waterhemp and Palmer amaranth should arrive around 2024.
Diflufenican (Di-flu-fen-e-ken) will be introduced under the brand name Convintro (Kon-vin-tro) mid-decade.
Convintro is currently being researched and tested for use as a soybean field burndown and pre-emergence application. It could also serve as a new broadleaf weed herbicide with some grass control for corn production.
Growers will be encouraged to use Diflufenican as part of a season-long weed management program, along with additional herbicides with various modes of action.
Waterhemp and Palmer amaranth have high seed production and germinate throughout the growing season.
According to "Take Action Pesticide-Resistance Management," one waterhemp management step includes use of an "effective, soil-applied residual herbicide that introduces an effective herbicide group, such as Group 15 (Dual II Magnum, Zidua, etc.) to the control program and delays emergence of waterhemp."
Delaying emergence of waterhemp protects soybean yield potential from early-season interference.
For more information on waterhemp biology, genetic diversity, herbicide resistance, and management steps, please visit iwilltakeaction.com/weed/common-waterhemp.
Diflufenican is in the Group 12 Mode of Action group. It is a pigment inhibitor, and specifically a phytoene desaturase (PDS) inhibitor. It has a bleaching effect on certain weeds, and has been used in Europe for many years in small grain production. It is similar to the Group 27 HPPD inhibitors, but has a different Site of Action.
"There are other molecules within the Group 12 Mode of Action; however, Diflufenican is unique amongst them, in that Diflufenican has been submitted for registration in corn and soybeans," said Frank Rittemann, Bayer product manager for corn, soybeans, and cotton herbicides, in a phone interview with this reporter.
"Only one member of the Group 12 category has a soybean use – none of the others are registered in these crops."
Specifically targeting pigweed species, Diflufenican's strength is early-season residual control of Palmer amaranth and waterhemp.
Bringing Diflufenican to the North American corn and soybean farmers is expected to bolster weed control programs – and increase the longevity of other herbicides too.
"We recommend that growers always start with a strong pre-residual," Rittemann said. "Today, many growers use PPO's to start the season, and Diflufenican as a Group 12 will add one additional tool in the pre-plant, pre-emergence toolbox."
He added that researchers are looking for technologies to broaden the application window of Diflufenican to last longer into the growing season. Development beyond pre-emerge use is a number of years out, he said.
While the herbicide is new to the North American market, the Diflufenican molecule was actually discovered in the 1980s. It's been used extensively in Europe for control of broadleaf weeds in small grains.
"Diflufenican has a long established safe use history in markets outside North America," he said. "For the North American market, it's been sitting on the shelf for some time. Sometimes innovation takes the form of some older molecules that we find new uses for, so that's what happened here."
Bayer invests heavily in research and development to find new molecules for use in corn and soybeans, but also looks at their library of existing products to see if there might be a new fit.
Diflufenican was singled out for development because of its very good efficacy on waterhemp and Palmer amaranth – as well as crop selectivity.
"Not only did it provide control of these weeds, but also we knew it could be safely applied to corn and soybeans," Rittemann said.
The molecule was submitted to the Environmental Protection Agency (EPA) early in 2021. There will be at least two years of testing, before an expected launch for the 2024 growing season.
"You can expect to see Diflufenican in test plots in 2022 and 2023," he said.